Pretty nice
By
Shopper

(Yaphank, NY) - November 4, 2012
This was a gift to my brother he seems very happy with it. I thought the grade of leather would have been less shiny and more of a butter soft, but overall pretty nice gift idea for the executive.

A good product
By
Amy G.

(Mobile, AL) - August 27, 2012 (
See all reviews by this customer
)
I am satisfied with this portfolio. It looks just like the picture online. I got the gold script personalization. If I had my choice, the name would be in smaller font. It looks just like the preview picture of the personalization, though. After just a few days of having it, the quality seems good. For the price, this product fulfills my expectations but does not exceed them; I got what I paid for.

Looks very professional, cheap notepad
By
Shopper

(Milpitas, CA) - July 9, 2012
The leather portfolio itself is very nice, and the personalized name was done beautifully, which made the whole thing look very professional. It has a good amount of slots inside as well. The notepad it came with is cheap though, writing on it with a sharp pencil will rip the paper. Otherwise, great buy!

Chic portfolio
By
Nevine E.

(Canada) - June 10, 2012 (
See all reviews by this customer
)
I ordered this for my hubby's bday. Quality and customization is excellent! The only reason I didn't give them a 5 is because the freight was very slow for what they charge. Other than that a good gift!

Excellence
By
Kenneth B.

(Lynbrook, NY) - April 13, 2012 (
See all reviews by this customer
)
This was my first purchase from your website and will continue to purchase from your website.
The quality of product exceeded my expections
Keep up the great work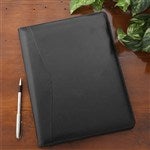 Product features that you like
By
Kathleen A.

(Kooskia, ID) - March 17, 2012 (
See all reviews by this customer
)
I got this as a gift for my pre-law student, and was very pleased with my choice for a portfolio. I did have it personalized with his name on it. The only "con" I have with my perchase is that, I wished they had used a bit more ink because the black leather can almost be seen through the silver. Looks like with a bit of wear it would rub off!

Nice
By
Shopper

(Orlando, FL) - March 5, 2012
The portfolio itself is very nice. The quality is very good and looks beautiful in person.

I only have 4 stars because the engraving on mine was not well done. I chose the gold script but it doesn't look complete,and there is gold glitter all over the front. It's as if it went the box before it was completely dried.

Overall it is still a very nice item.

Very stylish and professional
By
Margaret S.

(Antelope, CA) - February 11, 2012 (
See all reviews by this customer
)
Perfect for professional appointments/business meetings

Good!
By
Shopper

(Forest Hills, NY) - January 1, 2012
This portfolio is rather useful and a good size. If you're expecting to put A LOT of papers in the folders of the portfolio, you might want to look at a different one. However, the quality of it is rather good and the design is classy. I am enjoying it greatly!

Fairly good quality
By
Shopper

(Saint Peters, MO) - December 30, 2011
Received one personalized, and the lettering was already smearing off, so I called & they shipped another personalized one immediately - the 2nd one was perfect.

Satisfied Customer
By
Nicole S.

(Summit, NJ) - December 9, 2011 (
See all reviews by this customer
)
I ordered two of these for Christmas gifts. When I received them I was happy to see how nicely they packaged them. Beautiful and sturdy black cardboard with a nice touch of silver stretch band. The inside was covered nicely in tissue paper and the quality of leather was nice. I wish the lettering could be just a bit more clear but I'm assuming the type of ink or whatever they used spreads the smallest bit once its on the leather. Overall I am very happy and would definitely order again.

Lettering is not good
By
Jim M.

(Bolivia, NC) - September 17, 2011 (
See all reviews by this customer
)
Lettering leaves much to be desired. Will probably go away over time. Otherwise quality is quite good. Considered returning it due to the lettering but is too much trouble, so kept it.

I like the personalization on the leather
By
Nour A.

(Canada) - July 23, 2011 (
See all reviews by this customer
)
My husband liked it a lot to use it for his work papers and meetings.
The engraved name on the front cover makes it unique and just differentiate it from other regular business folders available in other stores. The quality of the leather could be improved though.

Plady's Review
By
Patricia R.

(Homewood, IL) - May 29, 2011 (
See all reviews by this customer
)
great gift to give !!!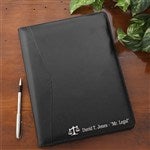 Graduation Gift
By
Shopper

(Arlington, TX) - May 20, 2011
Purchased this for my sister's college graduation present. Delivery was prompt and on time. Item looked very nice. Only disappointment was that it did not come with a pen pictured. So I had to scurry and find a nice pen to put with the portfolio. Otherwise, very satisfied.

Official Bennett Review
By
Thomas B.

(New York, NY) - April 30, 2011 (
See all reviews by this customer
)
Excellent quality. The only thing missing is a a pen holder.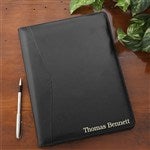 Great Gift
By
Shopper

(San Antonio, TX) - April 29, 2011
This is a really nice leather portfolio. My husband really loved the look and feel of it and was excited to get it!

The only con: Whoever designed the address card insert is out of their mind. They included a space for your social security number. I strongly suggest throwing that insert away before giving this as a gift just to be on the safe side.

Very professional
By
Shopper

(Jacksonville, FL) - April 23, 2011
The portfolio looks very professional. My friend got it for his birthday and he loves it!
The only reason I gave it 4 stars instead of 5 is because when I got it it was with the different font. I sent email to the customer service and within few days I got the right one. Now my friend has two portfolios:) I didn't have to pay for the second one.

Well-done!
By
Shopper

(Brookhaven, NY) - March 4, 2011
This black portfolio is of high quality in construction and material. The silver lettering is sized and printed perfectly to suit the item. A beautiful gift for a great value.

Personalized Professional Look!
By
Carmen S. B.

(Buffalo, NY) - January 9, 2011 (
See all reviews by this customer
)
I received the black leather personalized portfolio as a Christmas present. I have ordered many personalized gifts from personalization mall and have never been disappointed. The portfolio is high-quality and the personalization adds the touch of professionalism without being gaudy. The only disappointment I have is the limited amount of pocket space. I can not use it as a stand alone during meetings and conferences. The portfolio is a great accompaniment with a leather brief case. I would definitely recommend this item to others.

Highly satisfied
By
Laura N.

(San Marcos, TX) - December 26, 2010 (
See all reviews by this customer
)
The portfolio itself is very nice. The leather is fantastic quality. I bought it for my husband for Christmas and he loved it! However, the embossing was not perfect. His name was a little faded on the front and part of one letter was not printed fully.

Consider the engraving?
By
Cindy W.

(Clovis, CA) - May 29, 2013 (
See all reviews by this customer
)
Love the book, however, the engraving seemed a little big and took away some of the class. I would consider a smaller font and/or skipping the engraving on this one item.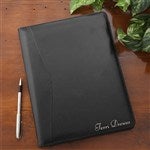 nice
By
Ayelet R.

(New York, NY) - August 2, 2012 (
See all reviews by this customer
)
This is nice, but looks much better on the website then in real-life. Got it as a gift for someone. on the website it looks much "fancier" then in reality.

normal for money
By
Shopper

(doral, FL) - June 21, 2012
Is good but shine, dont look like leather

Leather description
By
Shopper

(Bartlett, TN) - February 22, 2012
Yes, it is a nice Portfolio, but I was disappointed that the leather ended up being bonded leather which did not have quite the look and feel I was looking for. The description should contain bonded just so buyers know what they are getting.

Portfolio
By
Shopper

(Louisville, MS) - November 29, 2011
The portfolio was really nice. My only problem was with the personalization-the gold used in the name was flaky and there was an uneven quality to the name.

print
By
LORRAINE G.

(Canada) - September 19, 2011 (
See all reviews by this customer
)
It was ok not really great.. the print looks like it would peel easily was hoping it would be more solid.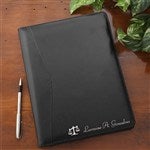 Personalized Portfolio Just "Okay"
By
Carol G.

(Winter Park, FL) - November 12, 2010 (
See all reviews by this customer
)
I ordered this as a gift for someone graduating from college with their Masters degree in Business Administration. Fortunately it is not the "primary" gift. I believe I would of liked it more without the personalization. The "printed" name could have been better. The portfolio is "average," the cover looks nicer than inside. Even the pad of paper inside must be replaced.


Personalization looks cheap
By
Lauren E.

(Taylor Mill , KY) - December 4, 2013 (
See all reviews by this customer
)
The personalization on this portfolio is horrible. It looks like a sticker that will peel off in a month! I'm going to exchange this portfolio for a brown one because the brown one actually embroiders the name into the planner.. Nice planner, but embroidery makes this not so cheap item look cheap!

Leather Portfolio
By
Shopper

(Fullerton, CA) - May 11, 2013
I'm disappointed in the quality of the item. Stitching on the leather and the printing of the name give it a cheap appearance. But due to lack of time, I had to send it out of state for a graduation gift. Sorry. I won't be returning to your site.


I use this daily
By
Lynne N.

(METHUEN, MA) - March 25, 2013 (
See all reviews by this customer
)
Very nice leather pad-folio. I use it daily. The personalization ink is not good. I've had it a month and my name is coming off. So I would purchase elsewhere without your name. My next one will be embossed.

Nice Portfolio - poor personalization
By
Shopper

(Austin, TX) - May 10, 2011
The Portfolio was a very nice gift. However the lettering that was done did not look like it was worth what was paid. The silver ink has places where it didn't stick. The lettering looked so worn that it looked like it was 3 years old. Would buy the portfolio again, but take it elsewhere to be personalized.

Disappointing
By
Mellisa T.

(Abingdon, MD) - August 5, 2010 (
See all reviews by this customer
)
I found this item disappointing. The quality of the engraving is poor and it looks like it will fade off the item relatively quickly. I don't believe it's worth the price.

portfolio
By
Rosina K.

(Canada) - June 23, 2010 (
See all reviews by this customer
)
If you are looking to spend $60 on a portfolio. Dont do it on this one. Very cheap and not much to it for the price!

Not worth the money
By
Lorena J.

(Edison, NJ) - March 8, 2014 (
See all reviews by this customer
)
I was very disappointed with the quality of the portfolio. It looked more sophisticated on the website than in person. The engraving also left a lot to be desired. Overall a cheap looking product.

Leather portfolio
By
Wes W.

(Kailua, HI) - January 16, 2012 (
See all reviews by this customer
)
Was very unsatisfied especially for the price. The leather was wrinkled, not constructed well. The leather is glossy and does not look of high quality.

Fake leather
By
Ronnie G.

(Furlong, PA) - November 11, 2010 (
See all reviews by this customer
)
I purchased this item 7 days ago. I should have went with my "gut" feeling about the product. It arrived very quickly, packaged considerably well, and the quality of the portfolio was inconsistent with the description by the seller. I called customer service and complained that the $70 I spent in total for the item did not even have a scent of leather. Their reply "it is a coating we put over the outside to keep off fingerprints". Totally unacceptale.