college graduation
By
Shopper

(Lacey, WA) - December 8, 2012
My daughter is graduating from college and this portfolio will give her the professional look needed for going on interviews. I'm very pleased with the product and personalization.

Great Legal Portfolio!
By
Melissa C.

(Millbury, MA) - November 17, 2012 (
See all reviews by this customer
)
I ordered this Portfolio for my cousin, who just passed her BAR Exam a couple of months ago. She is now finally working in the Law field! She can't wait to take this Portfolio to work with her!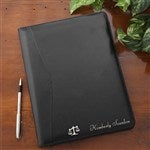 Exactly as Described!
By
Belinda H.

(Buena Park, CA) - November 5, 2012 (
See all reviews by this customer
)
I bought this for my boyfriend for his birthday. He is majoring in the medical field and this gift was perfect for him! He loved it! He really likes how its leather and the sleek look of it. He also loved the medical symbol I added and of course his name in the silver script font. Highly recommend!! Thank you!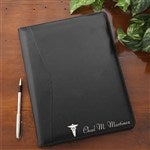 Good
By
ludwig L.

(France) - November 2, 2012 (
See all reviews by this customer
)
Excellent Product . Well printed .

nice gift
By
Shopper

(Piggott, AR) - September 2, 2012
I was very happy with this purchase. The only thing that would make it better is if there were more or better options for the type and size of font.

Traditional 3 Year Wedding Gift!
By
Amanda D.

(Indianapolis, IN) - August 21, 2012 (
See all reviews by this customer
)
My husband will absolutely love this gift! I am very happy with the detail and beautiful personalization!!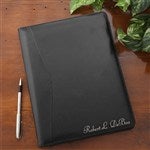 Perfect Gift
By
Shopper

(Flushing, NY) - August 20, 2012
It looks very professional and the Script name imprint looks great.

executive portfolio
By
Shopper

(EUTAWVILLE, SC) - August 20, 2012
Great Grad gift, very professional!

Personalized Portfolio
By
Shopper

(Helotes, TX) - July 30, 2012
Product looks exactly like the picture-no surprises....
Product on time and packed very pretty for gift giving.

Exactly what I was looking for!
By
Shopper

(Columbus, OH) - July 24, 2012
I was looking for a leather portfolio for my husband. This was the perfect fit! It looks professional and the fact that I could add his name to the bottom just sent it over the edge. On top of that it came in a very nice box which made it look even better when he opened it!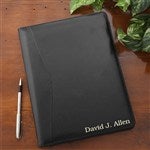 Love it
By
Daniel M.

(Rensselaer, NY) - July 2, 2012 (
See all reviews by this customer
)
It is slim and sleek and very profesional. It is very nice to take into a meeting. The only down side I have noticed is that if you are carrying multiple documents in it, it will tend to bulge. I would also get a very small or sleek pen to put in it as a fatter pen will also make it bulge out. If you just have a few brochures, it is perfect. I use it everyday and could not be happier.

Great product & presentation
By
Shopper

(Broken Arrow, OK) - June 27, 2012
I ordered this for my nephew's college graduation. He was so impressed with it and loved the leather smell. It is very high quality and comes in a nice box with tissue paper and small bow. The portfolio is very professional looking and the "Script" name imprint looks great. Would definately recomend!

Very Pleased
By
Michele D.

(Scottsdale, AZ) - June 27, 2012 (
See all reviews by this customer
)
I am very pleased with my purchase. Just as described and great quality! Would definitely order from this site again.

Awesome!
By
Shopper

(Chula Vista, CA) - June 24, 2012
Great fathers day gif! My father in law loved.

First time using the site
By
Shopper

(Wilmington, NC) - June 18, 2012
Excellent quality, my husband was thrilled with his gift.

Amazing Portfolio
By
Shopper

(Plant City, FL) - May 20, 2012
My boss is an attorney and very picky. He is the guy who has everything and I had been looking for weeks for the perfect portfolio. When I found this one I really liked it and so did my boss. It was one of his birthday gifts from his staff. He carries it with him everywhere he goes, even around the office to his meetings. It is beautiful, professional and looks expensive.

Nice Looking
By
Shopper

(Wheaton, IL) - May 18, 2012
Nice looking, plush leather look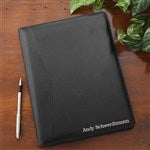 Graduation Gift
By
Shopper

(Fort Bragg, NC) - May 18, 2012
got this for a gift for my brother who just graduated as an engineer. He absolutely loves it.

Very nice quality
By
Christine V.

(Delmar, NY) - May 14, 2012 (
See all reviews by this customer
)
My son just graduated from Law School and when he received this as a gift he was very happy. He loved it. The quality of the leather is very nice and the script looked awesome on the cover. The price was reasonable for the quality of the portfolio. It also was delivered within a few days of the order being placed. Very Satisfied.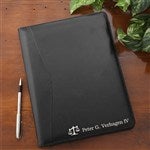 Elegant and classy
By
Shopper

(Memphis, TN) - May 9, 2012
This portfolio is very stylish, elegant and classy. This is a very good item for gifting too. I am glad I bought this one, I cannot wait to carry it with me for my internship.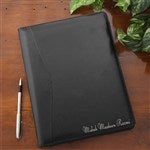 Impressive gift
By
Shopper

(Yorktown, VA) - May 9, 2012
The leather portfolio arrived promptly after ordering and was very impressive. The presentation with the box and the tissue paper assured no need for wrapping. All in all, it makes a lovely statement as a graduation gift,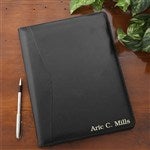 Perfect for a Law School Grad!
By
Shopper

(Chandler, AZ) - May 8, 2012
I purchased this for a friend that is graduating from law school. It is a beautiful portfolio! She'll love it for sure!

Very Impressed
By
Jennifer R.

(Satsuma, AL) - May 7, 2012 (
See all reviews by this customer
)
I bought this for a friend that had just passed the bar. I thought it was going to be a so so gift but it turned out fabulous!. He loved it! User friendly site to order, fast shipping and awesome packaging that I didn't have to wrap!

Beautiful Portfolio
By
Gina M.

(Wethersfield, CT) - May 4, 2012 (
See all reviews by this customer
)
Purchased this with the silver italic personalization for a college graduation gift. Received product very quickly and was very pleased with it.

very nice.
By
George C.

(Knoxville, TN) - May 4, 2012 (
See all reviews by this customer
)
I thought we would have to wrap theses gifts when they came. How ever the gift boxes they came in are even top shelf! Impressive.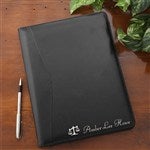 Executive Portfolio
By
Nicole G.

(Delray Beach, FL) - April 30, 2012 (
See all reviews by this customer
)
Giving the portfolio for my sister's law degree graduation. The portfolio came out BEAUTIFUL! Exactly as described.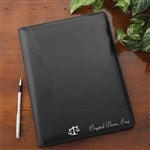 Graduation Gift
By
Ann C.

(Santa Fe, NM) - April 27, 2012 (
See all reviews by this customer
)
My grand daughter graduated from college this spring. We wanted to give her something special and enduring. The black leather folder, complete with her initials, brought her to tears because she was so touched. The leather was soft and lovely to touch and the silver initials gave it a personal touch. As I visualize my grand daughter making her adult way in a world of CPAs, I know this folder will give her professional credibility and a reminder of our love.

gift
By
Shopper

(Philadelphia, PA) - April 23, 2012
Purchased for going away gift for boss. He absolutely love it!

Chic portfolio
By
Shopper

(Egg Harbor City, NJ) - March 30, 2012
Great quality for the cost--leather is smooth and flawless. Nice for either man or woman.

Portfolio for new Federal Judge
By
Deborah M B.

(Colorado Springs, CO) - March 24, 2012 (
See all reviews by this customer
)
I bought this portfolio for my niece who is being sworn in as a new Federal Judge in N. C. and wanted something that was as impressive as the occasion. I had it embossed in silver and it came out beautiful! The portfolio itself is well made and of very nice leather. I will be proud to give it to my niece and I'm sure she will be proud to use it as it worthy of her new position. I was amazed that it shipped to me less than 24 hours after I ordered it online and I received it 2 days later. That's the best customer service I've received in a long time.

Professional
By
CAROL O.

(LEBANON, PA) - March 24, 2012 (
See all reviews by this customer
)
Professional-looking, good quality. Very satisfied.

Great portfolio!
By
Shopper

(Denver, CO) - March 19, 2012
I ordered (and obviously customized) 5 of these portfolios for employees in the office and LOVE them! If and when we need to replace the items, we'll definitely be back!!

Soft leather - initials beautifully done
By
Shopper

(Garden City, NY) - February 21, 2012
I ordered this black leather folder for a very difficult and discerning friend. He LOVED IT!
Leather very soft, even better than pictured. The initials engraved on the front in silver - perfect!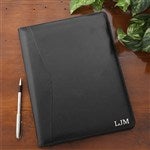 EVERYTHING I HOPED IT WOULD BE
By
Shopper

(pavillion, WY) - February 12, 2012
Arrived promptly. VERY nicely packaged. Very rich looking. The personalization is also very nicely done, and the choice of the silver script was (for me) just perfect!

I can only hope that this product will retain its 5 star rating by lasting a long time.

great product
By
Shopper

(nashville, TN) - January 23, 2012
good quality. very functional. nice engraving

Leather folio
By
Shopper

(Dove Canyon, CA) - January 17, 2012
Received order in a timely manner. It is very high quality, would definately recommend it.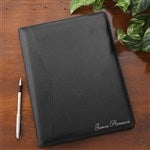 Christmas Gift
By
Shopper

(Pompano Beach, FL) - January 5, 2012
It was a Christmas gift for my son, he loved it!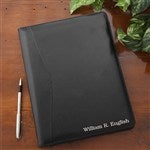 A Great Gift
By
Shopper

(Huntersville, NC) - January 2, 2012
I bought this for my brother who is graduating college soon. He was wanting a leather portfolio to take into interviews that was personalized with his name on it. After looking around at several websites, this one appeared to have the best value. It was very well packaged and delivered. It looks great and made of high quality.

Pleasantly Surprised
By
Shopper

(West Chester, PA) - January 1, 2012
Ordered this portfolio as a Christmas present for my nephew who is a college senior and is interviewing with prospective employers. He loved it and so did I. It presents a very professional image and is a great value for the quality. I knew a portfolio was what I wanted to get him and had shopped around at several leather product local stores and at other online sites before finding Personalizationmall.com the week of Christmas. Not only did I receive the most excellent customer service from their representative when ordering, they got this portfolio to me in plenty of time for the holiday. I truly believe this is the best product available for the money. Comparables were definitely much more expensive and didn't include the personalization. Thank you for the excellent product. Will absolutely order this product again and will shop at Personalizationmall.com in the future. Thanks as well to everyone for your reviews. They definitely helped me make the decision to buy this product. A very satisfied customer....Happy New Year!!!!

Black Leather Portfolio
By
Shopper

(Pelham, AL) - December 20, 2011
The portfolio is very nice and great quality. The personalization looks wonderful. This product exceeded my expectations.