Very Nice!
By
Cheryl S.

(Chaska, MN) - May 21, 2011 (
See all reviews by this customer
)
I ordered the black leather portfolio as a gift for a friend who recently passed the bar. I had his name embossed on the front with the legal "scale" It was beautiful and very well made. I was very impressed with the product and will use personalization mall in the future!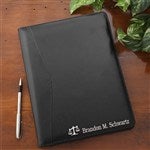 wonderful
By
Shopper

(St.Matthews, SC) - May 13, 2011
Graduation gift to my sister and she loved it. Beautiful gift.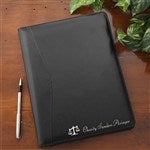 Official Bennett Review
By
Thomas B.

(New York, NY) - April 30, 2011 (
See all reviews by this customer
)
Excellent quality. The only thing missing is a a pen holder.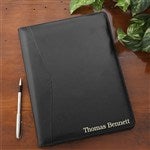 Now I want to be a lawyer.
By
Madlin S.

(Providence, RI) - May 14, 2014 (
See all reviews by this customer
)
After getting this engraved portfolio for my cousin's upcoming graduation, I want to keep for myself, so sad I am not an attorney. Every member of my family I have showed it to said I got the perfect gift and are looking for options to complement my gift to my cousin.Now I can't wait for her graduation day.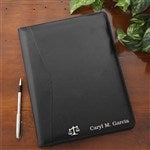 Terrific Business Gift
By
Karen I.

(Orland Park, IL) - December 10, 2013 (
See all reviews by this customer
)
I purchased this as a gift for my partner. He enjoyed receiving it and uses it daily. This folio looks especially sharp and professional when meeting with clients. I will be purchasing this again as a gift.

Awesome portfolio
By
Shopper

(Santa Monica, CA) - July 26, 2013
Bought these in brown and black as gifts. For some reason the silver engravings was slightly peeling when I received the black one. Still a great item, but I would probably go with a carved out engraving style vs. silver lettering (brown one was done the other way and it was beautiful)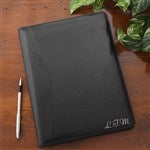 Consider the engraving?
By
Cindy W.

(Clovis, CA) - May 29, 2013 (
See all reviews by this customer
)
Love the book, however, the engraving seemed a little big and took away some of the class. I would consider a smaller font and/or skipping the engraving on this one item.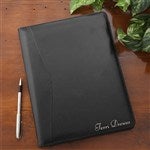 Great Graduation Gift
By
Shopper

(Columbus, NJ) - May 4, 2013
I purchased this item as a gift for a college graduate. I am very pleased with this item. The quality is everything I expected and the personalization was perfect. The stainless steel roller-ball pen is an ideal accompaniment for this portfolio and together, they make a perfect graduation gift. Count me as another repeat and very satisfied customer of Personalization Mall.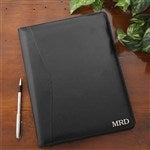 Great Professional Look!!!
By
Ebony E.

(Philadelphia, PA) - April 1, 2013 (
See all reviews by this customer
)
This is excellent portfolio, I enjoy the compartments inside it comes with a pad... Great for meeting and jogging down notes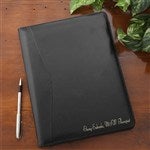 Really Nice
By
Shopper

(Georgetown, TX) - January 4, 2013
I bought this as a Christmas present for my husband. He loved it! Love this website!!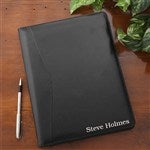 Perfect present
By
Mary Ellen F.

(Yuma, AZ) - December 31, 2012 (
See all reviews by this customer
)
Received this item so fast and it looks fabulous. It is a birthday present for my husband and it looks so wonderful. I know he will get lots of use out of it.

Great Legal Portfolio!
By
Melissa C.

(Millbury, MA) - November 17, 2012 (
See all reviews by this customer
)
I ordered this Portfolio for my cousin, who just passed her BAR Exam a couple of months ago. She is now finally working in the Law field! She can't wait to take this Portfolio to work with her!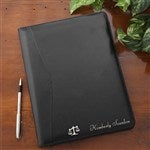 Exactly as Described!
By
Belinda H.

(Buena Park, CA) - November 5, 2012 (
See all reviews by this customer
)
I bought this for my boyfriend for his birthday. He is majoring in the medical field and this gift was perfect for him! He loved it! He really likes how its leather and the sleek look of it. He also loved the medical symbol I added and of course his name in the silver script font. Highly recommend!! Thank you!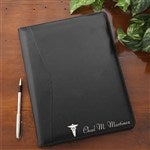 Traditional 3 Year Wedding Gift!
By
Amanda D.

(Indianapolis, IN) - August 21, 2012 (
See all reviews by this customer
)
My husband will absolutely love this gift! I am very happy with the detail and beautiful personalization!!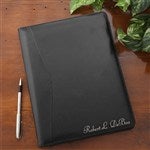 Exactly what I was looking for!
By
Shopper

(Columbus, OH) - July 24, 2012
I was looking for a leather portfolio for my husband. This was the perfect fit! It looks professional and the fact that I could add his name to the bottom just sent it over the edge. On top of that it came in a very nice box which made it look even better when he opened it!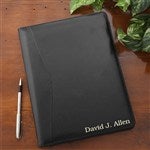 Nice Looking
By
Shopper

(Wheaton, IL) - May 18, 2012
Nice looking, plush leather look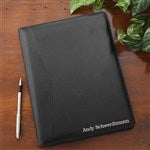 Very nice quality
By
Christine V.

(Delmar, NY) - May 14, 2012 (
See all reviews by this customer
)
My son just graduated from Law School and when he received this as a gift he was very happy. He loved it. The quality of the leather is very nice and the script looked awesome on the cover. The price was reasonable for the quality of the portfolio. It also was delivered within a few days of the order being placed. Very Satisfied.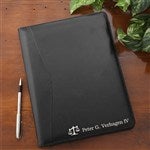 Elegant and classy
By
Shopper

(Memphis, TN) - May 9, 2012
This portfolio is very stylish, elegant and classy. This is a very good item for gifting too. I am glad I bought this one, I cannot wait to carry it with me for my internship.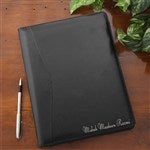 Impressive gift
By
Shopper

(Yorktown, VA) - May 9, 2012
The leather portfolio arrived promptly after ordering and was very impressive. The presentation with the box and the tissue paper assured no need for wrapping. All in all, it makes a lovely statement as a graduation gift,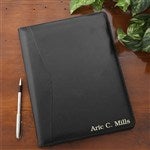 very nice.
By
George C.

(Knoxville, TN) - May 4, 2012 (
See all reviews by this customer
)
I thought we would have to wrap theses gifts when they came. How ever the gift boxes they came in are even top shelf! Impressive.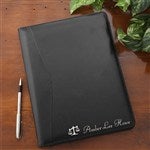 Executive Portfolio
By
Nicole G.

(Delray Beach, FL) - April 30, 2012 (
See all reviews by this customer
)
Giving the portfolio for my sister's law degree graduation. The portfolio came out BEAUTIFUL! Exactly as described.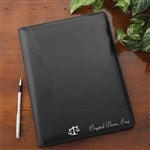 Excellence
By
Kenneth B.

(Lynbrook, NY) - April 13, 2012 (
See all reviews by this customer
)
This was my first purchase from your website and will continue to purchase from your website.
The quality of product exceeded my expections
Keep up the great work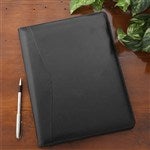 Soft leather - initials beautifully done
By
Shopper

(Garden City, NY) - February 21, 2012
I ordered this black leather folder for a very difficult and discerning friend. He LOVED IT!
Leather very soft, even better than pictured. The initials engraved on the front in silver - perfect!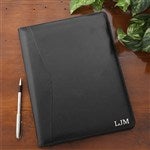 Leather folio
By
Shopper

(Dove Canyon, CA) - January 17, 2012
Received order in a timely manner. It is very high quality, would definately recommend it.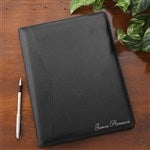 Leather portfolio
By
Wes W.

(Kailua, HI) - January 16, 2012 (
See all reviews by this customer
)
Was very unsatisfied especially for the price. The leather was wrinkled, not constructed well. The leather is glossy and does not look of high quality.

Christmas Gift
By
Shopper

(Pompano Beach, FL) - January 5, 2012
It was a Christmas gift for my son, he loved it!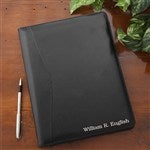 Professional Portfolio
By
Shopper

(Gainesville, FL) - March 30, 2014
This is a quality portfolio for a reasonable price. Its sturdy, well constructed and looks professional. I am only going to give four stars because the the portfolio is not engraved. Which is what I really desired. Otherwise, good investment.

Padfolio
By
Shopper

(Plano, TX) - November 18, 2013
The padfolio arrived packaged nicely and seems to be of good quality. Only complaint is that the website needs multiple products to choose from to give options for the inside of the item.

Satisfied
By
Shopper

(Kissimmee, FL) - September 10, 2013
I was a little nervous about getting it not knowing if that is exactly what my husband was looking for. I wanted to surprise him and I did and he loved it.

Nice looking but...
By
Shopper

(Stratford, CT) - December 2, 2013
Don't love it, but I like it alot. The engraving is a little cheesy but it's nice. It looks like it will wear off over time. It does not look as high-end as it does in the photo.

good quality
By
Shopper

(Harrisburg, PA) - January 19, 2014
Again very pleased with this product. It was a gift and he was pleasantly surprised.outstanding work.

Quality of Personalization
By
Shopper

(Carmichael, CA) - December 27, 2013
The portfolio itself is very good. The leather is high quality and the workmanship is fine. However, I deducted one star from my rating because the silver personalization is average at best. The silver ink appears thin and looks as though it will soon wear off. The edges of the letters are not crisp and clean as I had hoped.

Portfolio Review
By
Shopper

(Escondido, CA) - April 17, 2011
I really liked this portfolio - the quality was great, and it looked very professional. I do kind of wish the paper that came with it was a little better quality. It feels a little like you're giving a nice gift with not-so-nice paper. Paper's easy enough to replace, though! All in all, I thought it was a great quality gift.

Fantastic
By
Shopper

(Downey, CA) - February 28, 2011
I bought this for my girlfriend to use in her job hunting. Her and her family loved it.

Beautiful!
By
Melissa A.

(Camarillo, CA) - February 7, 2011 (
See all reviews by this customer
)
I bought this for my boyfriend for his birthday to use for job interviews. The personalized name is really what sold it. The leather is just beautiful and it even comes with a legal notepad inside! All he needs now is a professional personalized pen to go along with it! Looks exactly like the picture and is very professional looking.

Very Happy!
By
Shopper

(Olathe, KS) - May 11, 2011
Very professional looking. I've already had several complements.

nice quality
By
Shopper

(Cocoa Beach, FL) - June 23, 2011
It looked very good and presentable. I bought it for father's day for my husband, who is doing freelance since he retired.

Very Professional and Handy!
By
Shopper

(Santee, CA) - June 14, 2011
I purchased this for my husband for Fathers Day as he always writes notes on random sheets of paper and then misplaces them. So, I figured this would keep his notes all in one spot AND it looks very professional out on jobsites! The quality is great and perfect for quick note taking, holding business cards, and a few misc items as well.

Very happy with this purchase!


Great Product... sure to please!!
By
Shopper

(Manassas, VA) - May 23, 2011
I ordered this product for a friend who graduated from law school. I was debating on whether I should use "Name, J.D" or to use the legal scales with the name after. I went with the scales and found that it was the best choice according to my friend. I was also nervous about the quality of the product since I was unable to see it due to shipping it directly to the graduate. However, I found that there was nothing to worry about. This is a quality product and was WELL received. Get this product!!! Your graduate/co-worker/friend will LOVE IT!!!!

EXCELLENT!!
By
Shopper

(Ripley, TN) - January 16, 2011
The quality is great! An extremely good product at an excellent price.