Elegant and classy
By
Shopper

(Memphis, TN) - May 9, 2012
This portfolio is very stylish, elegant and classy. This is a very good item for gifting too. I am glad I bought this one, I cannot wait to carry it with me for my internship.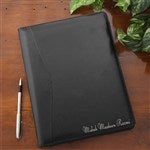 Impressive gift
By
Shopper

(Yorktown, VA) - May 9, 2012
The leather portfolio arrived promptly after ordering and was very impressive. The presentation with the box and the tissue paper assured no need for wrapping. All in all, it makes a lovely statement as a graduation gift,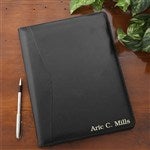 very nice.
By
George C.

(Knoxville, TN) - May 4, 2012 (
See all reviews by this customer
)
I thought we would have to wrap theses gifts when they came. How ever the gift boxes they came in are even top shelf! Impressive.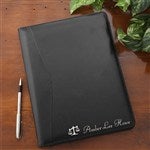 Executive Portfolio
By
Nicole G.

(Delray Beach, FL) - April 30, 2012 (
See all reviews by this customer
)
Giving the portfolio for my sister's law degree graduation. The portfolio came out BEAUTIFUL! Exactly as described.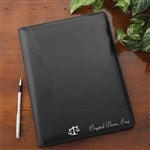 Excellence
By
Kenneth B.

(Lynbrook, NY) - April 13, 2012 (
See all reviews by this customer
)
This was my first purchase from your website and will continue to purchase from your website.
The quality of product exceeded my expections
Keep up the great work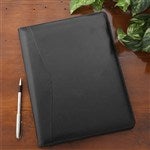 Soft leather - initials beautifully done
By
Shopper

(Garden City, NY) - February 21, 2012
I ordered this black leather folder for a very difficult and discerning friend. He LOVED IT!
Leather very soft, even better than pictured. The initials engraved on the front in silver - perfect!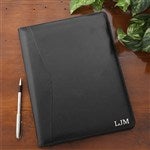 Leather folio
By
Shopper

(Dove Canyon, CA) - January 17, 2012
Received order in a timely manner. It is very high quality, would definately recommend it.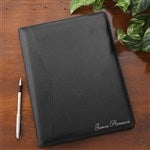 Leather portfolio
By
Wes W.

(Kailua, HI) - January 16, 2012 (
See all reviews by this customer
)
Was very unsatisfied especially for the price. The leather was wrinkled, not constructed well. The leather is glossy and does not look of high quality.

Christmas Gift
By
Shopper

(Pompano Beach, FL) - January 5, 2012
It was a Christmas gift for my son, he loved it!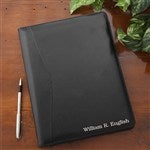 Leather Portfolio
By
Shopper

(Fullerton, CA) - May 11, 2013
I'm disappointed in the quality of the item. Stitching on the leather and the printing of the name give it a cheap appearance. But due to lack of time, I had to send it out of state for a graduation gift. Sorry. I won't be returning to your site.


portfolio
By
Rosina K.

(Canada) - June 23, 2010 (
See all reviews by this customer
)
If you are looking to spend $60 on a portfolio. Dont do it on this one. Very cheap and not much to it for the price!

Great Coach's Gift
By
Margaret C.

(Greenwood, SC) - October 13, 2010 (
See all reviews by this customer
)
Good idea for a coach's gift.

Satisfied
By
Shopper

(Kissimmee, FL) - September 10, 2013
I was a little nervous about getting it not knowing if that is exactly what my husband was looking for. I wanted to surprise him and I did and he loved it.

Personalized Portfolio Just "Okay"
By
Carol G.

(Winter Park, FL) - November 12, 2010 (
See all reviews by this customer
)
I ordered this as a gift for someone graduating from college with their Masters degree in Business Administration. Fortunately it is not the "primary" gift. I believe I would of liked it more without the personalization. The "printed" name could have been better. The portfolio is "average," the cover looks nicer than inside. Even the pad of paper inside must be replaced.


Padfolio
By
Shopper

(Plano, TX) - November 18, 2013
The padfolio arrived packaged nicely and seems to be of good quality. Only complaint is that the website needs multiple products to choose from to give options for the inside of the item.

Nice looking but...
By
Shopper

(Stratford, CT) - December 2, 2013
Don't love it, but I like it alot. The engraving is a little cheesy but it's nice. It looks like it will wear off over time. It does not look as high-end as it does in the photo.

Personalization looks cheap
By
Lauren E.

(Taylor Mill , KY) - December 4, 2013 (
See all reviews by this customer
)
The personalization on this portfolio is horrible. It looks like a sticker that will peel off in a month! I'm going to exchange this portfolio for a brown one because the brown one actually embroiders the name into the planner.. Nice planner, but embroidery makes this not so cheap item look cheap!

I use this daily
By
Lynne N.

(METHUEN, MA) - March 25, 2013 (
See all reviews by this customer
)
Very nice leather pad-folio. I use it daily. The personalization ink is not good. I've had it a month and my name is coming off. So I would purchase elsewhere without your name. My next one will be embossed.

EXCELLENT!!
By
Shopper

(Ripley, TN) - January 16, 2011
The quality is great! An extremely good product at an excellent price.

The Success maker
By
Shopper

(Brooklyn, NY) - January 13, 2011
The portfolio is elegently crafted and gives the impression of professionalism and accomplishment in business,when presented.



Nice Portfolio - poor personalization
By
Shopper

(Austin, TX) - May 10, 2011
The Portfolio was a very nice gift. However the lettering that was done did not look like it was worth what was paid. The silver ink has places where it didn't stick. The lettering looked so worn that it looked like it was 3 years old. Would buy the portfolio again, but take it elsewhere to be personalized.

Very Happy!
By
Shopper

(Olathe, KS) - May 11, 2011
Very professional looking. I've already had several complements.

Fantastic
By
Shopper

(Downey, CA) - February 28, 2011
I bought this for my girlfriend to use in her job hunting. Her and her family loved it.

Beautiful!
By
Melissa A.

(Camarillo, CA) - February 7, 2011 (
See all reviews by this customer
)
I bought this for my boyfriend for his birthday to use for job interviews. The personalized name is really what sold it. The leather is just beautiful and it even comes with a legal notepad inside! All he needs now is a professional personalized pen to go along with it! Looks exactly like the picture and is very professional looking.

finally right
By
Jonanna B.

(philadelphia, PA) - January 3, 2011 (
See all reviews by this customer
)
I was disappointed when I initially received the item. the name was spelled incorrectly. i called and spoke to a representative who ensured me that the item would be corrected. i received the item again the name was mispelled. i called once again and spoke to a representative who again ensured me that it would be corrected. i recently received the portfolio and it was correct. my boss loved it.

Very Elegant
By
Marijo H.

(Canada) - December 8, 2010 (
See all reviews by this customer
)
Can't wait to give this to my husband on Christmas! I want one now too!

Awsome product!!
By
Alyssa A.

(Orlando, FL) - November 18, 2010 (
See all reviews by this customer
)
I wasn't sure at first about how this product would turn out but once I received it I was blown away! The personalization on the front is great, the leather is high quality and it will make for the perfect gift!!

Classic and professional
By
Lorraine C.

(New Fairfield, CT) - November 16, 2010 (
See all reviews by this customer
)
Good quality product with a very professional flair.

Disappointing
By
Mellisa T.

(Abingdon, MD) - August 5, 2010 (
See all reviews by this customer
)
I found this item disappointing. The quality of the engraving is poor and it looks like it will fade off the item relatively quickly. I don't believe it's worth the price.

Fake leather
By
Ronnie G.

(Furlong, PA) - November 11, 2010 (
See all reviews by this customer
)
I purchased this item 7 days ago. I should have went with my "gut" feeling about the product. It arrived very quickly, packaged considerably well, and the quality of the portfolio was inconsistent with the description by the seller. I called customer service and complained that the $70 I spent in total for the item did not even have a scent of leather. Their reply "it is a coating we put over the outside to keep off fingerprints". Totally unacceptale.

Personalized portfolio
By
Sandra M.

(Piscataway, NJ) - December 22, 2010 (
See all reviews by this customer
)
Beautiful portfolio! Exactly what I was looking for. Very nice as a gift!

Portfolio Review
By
Shopper

(Escondido, CA) - April 17, 2011
I really liked this portfolio - the quality was great, and it looked very professional. I do kind of wish the paper that came with it was a little better quality. It feels a little like you're giving a nice gift with not-so-nice paper. Paper's easy enough to replace, though! All in all, I thought it was a great quality gift.

Pretty nice
By
Thomas M.

(McHenry, IL) - March 26, 2013 (
See all reviews by this customer
)
I was really supprised when I received an email notifying me of item shipped, the day after ordering.
This was for my wife's business and arrived in time for a class she was to attend. The portfolio was nicely made but the Personalization is just printed on and not embossed, so I don't know how long it is going to look so nice, the leather finish looks good.

Portfolio
By
Shopper

(Louisville, MS) - November 29, 2011
The portfolio was really nice. My only problem was with the personalization-the gold used in the name was flaky and there was an uneven quality to the name.

Graduation Gift
By
Shopper

(Arlington, TX) - May 20, 2011
Purchased this for my sister's college graduation present. Delivery was prompt and on time. Item looked very nice. Only disappointment was that it did not come with a pen pictured. So I had to scurry and find a nice pen to put with the portfolio. Otherwise, very satisfied.

Great Gift
By
Shopper

(San Antonio, TX) - April 29, 2011
This is a really nice leather portfolio. My husband really loved the look and feel of it and was excited to get it!

The only con: Whoever designed the address card insert is out of their mind. They included a space for your social security number. I strongly suggest throwing that insert away before giving this as a gift just to be on the safe side.

Satisfied Customer
By
Nicole S.

(Summit, NJ) - December 9, 2011 (
See all reviews by this customer
)
I ordered two of these for Christmas gifts. When I received them I was happy to see how nicely they packaged them. Beautiful and sturdy black cardboard with a nice touch of silver stretch band. The inside was covered nicely in tissue paper and the quality of leather was nice. I wish the lettering could be just a bit more clear but I'm assuming the type of ink or whatever they used spreads the smallest bit once its on the leather. Overall I am very happy and would definitely order again.

Lettering is not good
By
Jim M.

(Bolivia, NC) - September 17, 2011 (
See all reviews by this customer
)
Lettering leaves much to be desired. Will probably go away over time. Otherwise quality is quite good. Considered returning it due to the lettering but is too much trouble, so kept it.

I like the personalization on the leather
By
Nour A.

(Canada) - July 23, 2011 (
See all reviews by this customer
)
My husband liked it a lot to use it for his work papers and meetings.
The engraved name on the front cover makes it unique and just differentiate it from other regular business folders available in other stores. The quality of the leather could be improved though.

Very professional
By
Shopper

(Jacksonville, FL) - April 23, 2011
The portfolio looks very professional. My friend got it for his birthday and he loves it!
The only reason I gave it 4 stars instead of 5 is because when I got it it was with the different font. I sent email to the customer service and within few days I got the right one. Now my friend has two portfolios:) I didn't have to pay for the second one.