Great Gift!
By
Shopper

(Lake Charles , LA) - December 19, 2013
I purchased this for the person's name I pulled for secret Santa. We work for Child Protective Services and we work very hard. I thought this would be a touching gift to give her for the great person she is and the hard worker she is. She LOVED IT! Told everyone at the office and showed the frame to them! I designed it a little differently than the frame is supposed to be. I flipped it...in place of the career title, I used her name, and where her name would have been, I used the job title (see photo of product and my actual frame to see the difference). It was perfect. Another hit from Personalization Mall!

GREAT GIFT FOR NEW DENTIST
By
Shopper

(Waubay, SD) - May 8, 2013
I ordered this frame for niece who recently graduated from Dental
School, May 2013. I love the idea that I could personalize everything
about it - name, & her favorite quote. Also was very pleased with
the over all quality of frame and lettering. Very professional looking!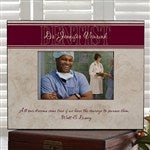 Great gifts for mentors
By
Ana Delia H.

(Alhambra, CA) - March 20, 2012 (
See all reviews by this customer
)
I bought this gift for a mentor of my daughter's and added the the title "Leader" instead of teacher or Doctor and it worked out beautifully! I even added my own leadership quote and she loved it.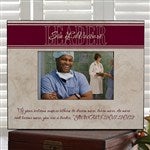 Honoring An Accomplishment
By
Susan J R.

(South Milwauee, WI) - December 26, 2011 (
See all reviews by this customer
)
I ordered this frame for a young woman who graduated in May, 2011. She is employed as a K5 teacher. I work in her room everyday and wanted her to have something that commerated her 1st ever class! I had ordered the frame and was very pleased when I received it. But, upon inspection I found a chip in the frame. Contacting the company they sent me a new frame right away. This type of customer service is unheard of now days. I look forward to purchasing other gifts from the company from now on.
Thank you for making my Christmas shopping a positive one.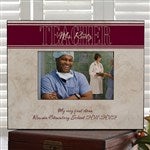 Boss's Day Gift
By
Shannon E.

(Justin, TX) - October 17, 2011 (
See all reviews by this customer
)
I created this for my "boss" for Boss's Day. I placed the order and received it very quickly. I was so excited to get it...it looked GREAT! I left it in her office over the weekend so she would have it when she came in the office Monday morning. She loved it! She said it was really nice. I was skeptical about buying it...I've not ordered from here before, but after this...I'll be buying more! What an AWESOME job!

love it.
By
Shopper

(Brooklyn, NY) - June 28, 2011
great quality. A big frame.

Great to commemorate special award
By
Shopper

(Scottsdale, AZ) - June 14, 2011
I like that you can personalize everything about this item. I put the recipient's last name in shadow and first name in bold on top, then commemorated a special award and the date at the bottom. I love Personalization Mall. Great gift, suoer quick turnaround time, and, as always, excellent quality. :)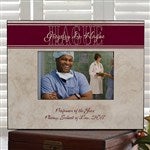 exceptional
By
Shopper

(Edgecomb, ME) - June 12, 2011
I was extremely satisfied with the product, and the price. It is beautiful.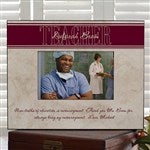 Very Happy
By
DIANE G.

(EATONTOWN, NJ) - May 22, 2011 (
See all reviews by this customer
)
I was looking through gifts for a friend that is retiring. I came across this frame and it was absolutly the perfect gift with a picture I had taken of several of the employees. The price was reasonable also.

Wonderful Item
By
Shopper

(Cabot, PA) - March 18, 2011
I purchased 3 of these pictures frames as gifts for my son's teachers at the end of the school year. Very impressed with the quality as well as the price!
Wonderfully done.

Inspiring Teacher Frame
By
Dee S.

(Canton, GA) - February 7, 2011 (
See all reviews by this customer
)
I really liked the quality of the frame and the professional way it was presented. I would recommend this product to anyone looking to give a personal and unique gift.

great gift for a school counselor.
By
Shopper

(Houston, TX) - May 30, 2011
My son is very close to his elementary school counselor, so we got this as a personalized year-end gift.
I would have rated it 5 stars, except that the character count didn't allow us to put "Counselor" as the title (so I reversed her name and title, but it would have looked better the other way).