Xcellent!!!
By
Shopper

(Stafford, VA) - July 26, 2011
I ordered this banner for my grandsons 1st birthday and was very pleasantly surprised at the excellent quality of this banner. It was shipped very quickly upon ordering...a day or two. The vinyl was heavy duty and well made. Impressive.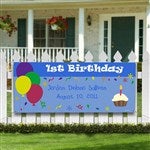 Cupcake Personalized Birthday Banner
By
Carolyn K.

(Cary, NC) - March 22, 2011 (
See all reviews by this customer
)
Banner is made of high quality vinyl. Hangs beautifully. Printing is exactly as the website showed it to be. A suggestion for making this product better is for the lettering inside the banner, below the first line of Happy Birthday that is in white, also be in white or black. The blue lettering is light and those words do not show up as well as the Happy Birthday does. However, I love the banner and will be able to use it for all my husband's birthdays for years to come. Great product.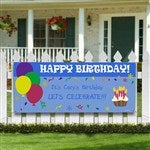 This was high quality, durable and as displayed
By
Paula B.

(Columbia, MD) - June 11, 2012 (
See all reviews by this customer
)
I was extremely pleased and impressed with the quality & durability of this product and the accuracy of the final product against the review of what I created prior to confirming the order. The delivery was just as promised and on time. I will be spreading the word about you guys to anyone that will listen!

The only issue I had with this banner is that the lettering was only a shade darker than the background making it hard to see unless you were fairly close.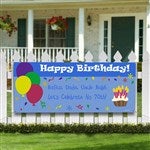 great
By
Gloria B.

(Aldan, PA) - April 21, 2012 (
See all reviews by this customer
)
Love it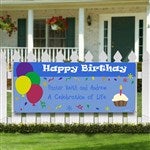 Great Banner!
By
Ambria S.

(Salem, IL) - March 16, 2012 (
See all reviews by this customer
)
I have purchased many many things from Personalizationmall.com. This is the 2nd banner I have purchased, but the first time I've written a review. Just want to say the quality of the banner is excellent. It's very strong and durable and it looks awesome. I bought the most recent banner for my twins 7th birthday and I'm very pleased with it. The delivery time was very fast too (and always is). I love this store...it's much better than its competitors! Would recommend this product and many many more to anyone!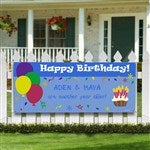 Wonderful Company
By
Carmela A. K.

(Staten Island, NY) - August 31, 2010 (
See all reviews by this customer
)
I am always so pleased with the quality and workimanship of the personalized items that I receive from you. I anxiously await for my packages to arrive and once,it does there's a great big smile on my face. It's a pleasure doing business with you. See you again. Job well done to all.Have a great day.Thank you. Carmela

Birthday Banner
By
Rita H.

(Tulsa, OK) - September 2, 2010 (
See all reviews by this customer
)
Banner exceeded my expectations. Good quality, beautiful, very well made. Loved it!


Sturdy and Beautiful
By
Yaira G.

(Culver City, CA) - July 27, 2010 (
See all reviews by this customer
)
Ordered the banner for my sons birthday. Opened it and it was so beautiful and sturdy. they also had holes on the ends to hold the banner. Looked extremely professional

Wow!
By
Brooke .

(Statesville, NC) - July 22, 2010 (
See all reviews by this customer
)
This is a heavy, nice made material. It will look great! I am very impressed!

Color is more periwinkle than blue
By
Shopper

(California, MO) - September 7, 2011
Ordered this for my Son's birthday and the blue is more of a periwinkle than a light blue. Otherwise the quality seems great and we are excited to use it this weekend at our celebration and for years to come. Shipping was fast. Also, personalization mall adds their logo to the lower right corner, not sure how I feel about this wish it had been shown on the example.

Happy Birthday Banner
By
Shopper

(Saint Augustine, FL) - October 8, 2011
The banner was a great asset to the party. Unfortunately, I misspelled my granddaughters middle name...but my daughter was able to fix it without any problem. The banner is great and very workable.

Super Duper Banner!
By
Doralinda F.

(Odessa, TX) - July 12, 2013 (
See all reviews by this customer
)
We are extremely satisfied with this birthday banner! It was bigger than we thought, which is awesome! It's also very high quality, not cheap material. I highly recommend this to everyone.

Banners are well made
By
Shopper

(Hampton Bays, NY) - August 18, 2013
I recently purchased a "personalized" birthday banner for my Mom's upcoming 80th Birthday. It was well made and turned out exactly as I ordered it. Keep up the good job Personalization Mall.com

Love the Banner
By
Shopper

(Greeley, CO) - August 14, 2011
We will use this for several years, changing the #, and candles.

we LOVE our Birthday banner
By
Annette S.

(San Jose, CA) - September 17, 2010 (
See all reviews by this customer
)
My Grandbabies Birthday banner arrived yesterday via UPS and we absolutley love it!!, It is made of quality material. I order form this site often and will continue to do so for our every need:)

Birthday Banner
By
Laurie C.

(Atlanta, GA) - February 26, 2011 (
See all reviews by this customer
)
The birthday banner arrived quickly. Its colors are vibrant and we plan to use it over and over. I did not put my daughter's age so that it's not specific to any age. She was thrilled to see her name! The price was fantastic for the quality. A sign company would cost upwards of $60 and would not have printed as fast!

JB
By
Jennifer B.

(Higganum, CT) - March 5, 2011 (
See all reviews by this customer
)
Great quality product for the price. I wasn't expecting too much, I just wanted a sign for my son's first birthday and was very happy with the quality of the vinyl and print