Awesome gift, bit pricey
By
Shopper

(Ashland, OH) - July 31, 2012
My friend loves cigars & is a woman.... So just throwing this out there... This could be for anyone! Anyway, it's definitely nice and very classy, however, a bit pricey. Otherwise, awesome product!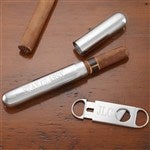 cigar case
By
michelle P.

(chino, CA) - June 29, 2012 (
See all reviews by this customer
)
great guy gift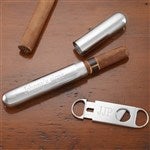 "Made in China"
By
Atanas M.

(Gainesville, FL) - March 17, 2012 (
See all reviews by this customer
)
Good quality. I only wish "Made in China" was not engraved on both the cutter and the cigar case.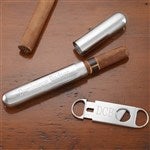 Great gift
By
Lakia B.

(Philadelphia, PA) - February 21, 2012 (
See all reviews by this customer
)
The reason why I gave this product 4 stars instead of 5 is because the tube was hard to open and close. Other than that the gift was perfect for my hubby. He loves it.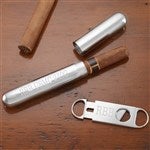 great groomsman gift
By
Shopper

(Arlington, TX) - February 13, 2012
great gift for the groomsmen. good quality and nice look. Your customer service was wonderful, helpful and corrected an issue with 3 of the cutters without any hassle. I had the new ones within several days. thanks!!

nicely made product
By
James D.

(Peabody, MA) - December 23, 2011 (
See all reviews by this customer
)
Unbelieveable turn around time for a personalized product especially so close to Christmas. Engraving was perfect.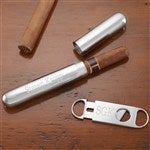 Great gift set
By
Shopper

(El paso, TX) - December 18, 2011
I ordered this set for my husband and he loved it!

Cigar Case/Cutter Set
By
Nicole L.

(west mifflin, PA) - November 21, 2011 (
See all reviews by this customer
)
Received promptly... engraving and quality of product very nice. Would order again for others.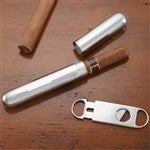 Very nice
By
Shopper

(Springfield, IL) - September 8, 2011
I purchased this set as a birthday gift and it is lovely. The recepient had never seen a set so nice and was quite pleased.

The engraving, as always, was elegant in it's simplicity.

When ordering, I would suggest others note the size as some fatter cigars will not fit.

Thank you.

Colonel RSG-USMC (Ret.)
By
Colonel Richard S. G.

(Alpharetta, GA) - June 19, 2011 (
See all reviews by this customer
)
As a Cigar smoker for over 60 years I have collected many different cutters and carrying tubes/cases. I was very impressed with the very fast turn-around time in my two items. I truly like the feel of my new cigar tube with my personalized name and rank, as well as the personalized cutter. My only regret is that the tube only holds one (1) cigar. Too bad you couldn't produce a three (3) tube case. All in All, a real good deal.

Nice Case
By
Shopper

(Lake Worth, FL) - March 8, 2011
I ordered these for two people in our wedding party. I hope they like them. They are nice, but the names are very hard to read.

nice case
By
Shopper

(South Padre Island, TX) - February 15, 2011
The cigar case is very nice. The engraving is professional. Very pleased with this. Made a great gift to my hubby for Valentine's Day!

sabretx
By
Shopper

(McKinney, TX) - February 5, 2011
You say to rate the product only, but when a I buy an item I buy for the over all look. I would of given 5 stars, but engraving was not impressive enough.

great gift,my dad loved it.
By
Erin S.

(winter park, FL) - September 1, 2013 (
See all reviews by this customer
)
nice and simple gift.

Not to thrilled ....
By
Shopper

(Miami, FL) - June 2, 2013
The case and engraving are really nice, BUT is really hard to open,...Had to put lots of oil and let it seat in order for it to open...Now I will have to clean it really well because is for a gift and it will be very disappointing to the receiver to have oil smell in a tobacco case...:/

Beautiful engraving
By
Rachel J.

(Parma, OH) - December 25, 2012 (
See all reviews by this customer
)
Both pieces in this set look great. My boyfriend was really impressed to see his name & initials on the irtems when he opened the set. Font size is great, easy to make out whats written. The only questionable part is how difficult it is to open the tube & slide the cutter closed.... You have to twist & pull & twist & pull & pull some more to get the tube to come open. & the cutter, we haven't used it on a cigar yet, but its definitely not smooth opening & closing it while empty. I think we're going to oil both pieces & hopefully that will be all that's needed to get them broken in! Overall a great product for the cost.

Extremely great customer support
By
Shopper

(Hoopeston, IL) - December 11, 2012
The product itself is just ok. It's very pretty and the personalization is a great touch but it doesn't appear to be exceptionally functional. I imagine after a couple dozen cigars this cutter is going to get dull and stop working but it will still look nice. The thing that impresses me is their customer service. I had a problem with the original cutter I ordered and the person I talked to fixed it right away, was so nice and professional, and never questioned me. It was wonderful to have such a great customer service experience.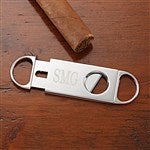 Great looking, less feeling
By
Shopper

(Baltimore, MD) - October 24, 2011
I ordered this as a anniversary gift, both items engraved. They look absolutely amazing, and are lightweight. The cutter isn't as high in quality as I thought it would be, and seems cheaply maunfatured. However, my guy was extremely happy with his gift, which made me happy. Just hoping it holds up well enough to not just be a keepsake...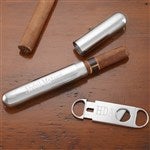 cigar bop
By
Sara B.

(Canada) - July 23, 2011 (
See all reviews by this customer
)
This item is neat! the Cigar holder is biger then i expected but the personalization was not as eay to see as i would have liked. I would have also liked to have a font choise.

Nice, but Engraved Poorly
By
Shopper

(Red Hook, NY) - May 9, 2011
My fiance wanted a case that could hold a big cigar. Unfortunately it can only hold a medium sized cigar. Thats not horrible, but the engraving was done so lightly that I could hardly see his name. The gift was a nice idea, he loved it, but I think that the engraving could have been done better.

engraving
By
Shopper

(LOS ANGELES, CA) - April 28, 2011
I like them but, the engraving is not apparent. It is hard to see it.

Engraving
By
Shopper

(Rapid City, SD) - June 16, 2013
I was disappointed on the engraving on the Cigar case. It does show clearly. You have to really look for it.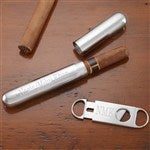 Engraving is Poor on item
By
ShaVonne J.

(Pittsburgh, PA) - February 14, 2012 (
See all reviews by this customer
)
It was a great thought but the engraving is so POOR that you can barely see it. you have to hold it perfectly under light to see the name on both pieces. it wouldn't even hold metal paint to bring out the engraving because the engraving isn't deep enough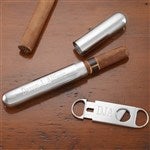 Less than Average
By
Mark B.

(Hermosa Beach, CA) - June 15, 2011 (
See all reviews by this customer
)
The cigar tube is not that great, two of the ones I ordered were so tight that they hardly could be opened and closed. The cutter is REALLY cheaply made rough edges and difficult operation. The engraving was nice and sharp. The bottom line for the price of the product I would have expected better craftsmanship. You would be better off ordering these from many cheaper online retailers and taking them to your local mall for engraving.

Can hardly see engraving...
By
Tara S.

(orangevale, CA) - February 23, 2011 (
See all reviews by this customer
)
Engraving is barely visible.

disappointed
By
Shopper

(Jersey City , NJ) - August 14, 2012
This item was a gift for my husband. First time he tries to use it it breaks in 4 different pieces . Kind of disappointing.

Overpriced.
By
Shopper

(Fort Lee, NJ) - January 30, 2012
Very cheap looking piece.

terrible website
By
Patricia V.

(San Juan Capistrano, CA) - November 17, 2011 (
See all reviews by this customer
)
I ordered this on 11-2-11. It's 11-17-11 and I've yet to receive the gift. 1-2 days shipping promised is a joke. The Customer Service rep was snippy and rude when I called to complain. Won't ever use this website again. Period.