Used as wall decor!
By
Shopper

(Slaton, TX) - April 7, 2013
The mat is really good quality. Very colorful. Nonslip backing. Though it is an excellent floor mat, I purchased it for wall decor in my granddaughters room and it looks awesome on the wall too!

Just what I expected
By
Sarah M.

(Lewiston, ME) - December 13, 2011 (
See all reviews by this customer
)
Very quality. I was impressed with this purchase. =) I would recommend using them! =)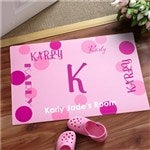 Very Cute
By
amy B.

(fort mohave, AZ) - November 14, 2011 (
See all reviews by this customer
)
This is a perfect gift my granddaughter.she is getting a playhouse for xmas and we were looking for things to put in it. This turned out really cute.

Good quality for the price!
By
Shopper

(Mobile, AL) - October 29, 2011
The young lady who received this gift seemed very pleased to have a personalized mat for her room.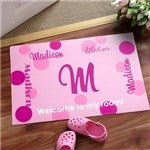 Love this product!
By
Stephanie M.

(Moundsville, WV) - June 12, 2011 (
See all reviews by this customer
)
This is a very nice quality floor mat. The colors are vibrant, and the printing is great! My 5 year old LOVED it for her new playhouse. Well worth the price.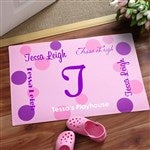 Sooooo Cute!
By
Naaman W.

(Green Forest, AR) - December 26, 2010 (
See all reviews by this customer
)
I am very pleased with this, it looks great in my daughters bedroom. good quality, wish there was a better to wash though but other that i would buy again!!

great quality!
By
Michelle H.

(Fortville, IN) - December 23, 2010 (
See all reviews by this customer
)
I was very impressed with how the mat is made. It has a non-slip backing on it as well. It is a wonderful gift!

Too cute!!!
By
Brian M.

(Oak Park, MI) - December 6, 2010 (
See all reviews by this customer
)
I bought this doormat for my daughter for Christmas. She is going to absolutely LOVE IT! I'm a fan of it as well. Even my husband looked at it and said, "Swe-e-e-e-t!!! It's perfect for my Princess!!!"

Very cute
By
Shopper

(Alexandria , VA) - January 13, 2013
The product is very well made, colors are vibrant size is perfect. I'm very happy with the purchase

Different
By
Shopper

(Paterson, NJ) - January 22, 2012
This rug wasn't the kind of rug material I was really looking for but it's different. What makes it really cute is the colors and the whole name personalization.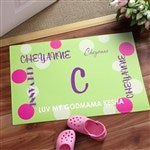 cute gift
By
Shopper

(Holbrook, NY) - October 17, 2011
Bought this as a gift for a pre-teen girl who had just updated her little girl room to a "teen" room. Made a cute gift. The room mat is a little thin, but the colors and design are nice and because it has their name on it, it's something most girls would like for their room. It's really more for looks in their room than functional anyway.

Personalized Room Mat
By
Shopper

(Southampton, NJ) - June 12, 2011
I purchased this as an add-on gift for our 7 year old granddaughter's birthday. It turned out to be her favorite gift. The fushia was more of a pink color and her name showed up well on the mat. The mat is thin but has stayed flat without curling up or slipping outside of her bedroom door. I would recommend it :)

Total Disappointment!
By
Shopper

(Knoxville, TN) - June 15, 2011
As a regular customer of PMall, I have to say this is the only item I have ever truly been completely disappointed in. The size is fine. The backing is a bit thin but the biggest problem is the colors. When the mat is rolled/folded the colors "break up". The colors look like they are going to come off very easily (time will tell). And the names that are listed in white are so light that they can barely be read. In price vs quality - not a $25+ item. This could be fine at possibly $15 but no higher. Not worth the price!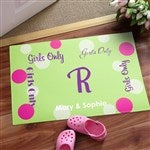 hideous
By
Victoria M.

(Woburn, MA) - December 26, 2010 (
See all reviews by this customer
)
This mat looks cute on-line but is much more vibrantly colored and smells like cheap rubber.