Beautiful!
By
Isabel C.

(Houston, TX) - December 18, 2011 (
See all reviews by this customer
)
They are very very very pretty!!!!... I hope the quality is a good as it looks!!!... I'm very happy with this... and with the price!!!

Excellent
By
Shopper

(Oak Lawn, IL) - November 5, 2011
So cute....their monogramming is great! I love ordering from Personalization Mall. I have never been disappointed!

First Big kid back pack...big hit!
By
kelli R.

(claremore, OK) - August 29, 2011 (
See all reviews by this customer
)
My granson loved this back pack...of course he's a "big kid now". Great quality so far and looks great.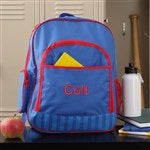 Online photo exact representation of lunch bag
By
Shopper

(Park City, UT) - August 29, 2011
Perfect for my preschooler! The lunch bag looks just like it did online, and arrived within 3 or 4 days of my ordering it online.

Very Cute and very nice size for kindergarten
By
Shopper

(Taylors, SC) - August 13, 2011
I bought this for my grandson starting kiindergarten. It is very cture and of good quality. The name turned out so nice and my grandson loves it.

Happy preschooler wants to cary his new bag everywhere!
By
Allyson R.

(Philadelphia, PA) - August 2, 2011 (
See all reviews by this customer
)
This "packpack" as my son refers to it, is rather large for my 2 y/0 son. I want my son to recognize his name, so this pack was perfect for us! It was great to find a backpack where I could personalized with his whole name, not just 3 letter initials!

Nice Backpack
By
Shopper

(Washington, PA) - June 20, 2011
This bag is great!! It is a little bigger than I thought it would be though. Not that that is a bad thing. My preschooler just looks a bit odd with it on his back...LOL It is great quality and I love that it is personalized so that it doesn't get mixed up with anyone else's at school.

Nice pencil case
By
Eva C.

(Frederick, MD) - September 14, 2010 (
See all reviews by this customer
)
I have loved pencil cases and pouches ever since I was in elementary school myself. Now that I am a school child's mom, I am always looking for nice school items for him. This is a very nice pencil case, the colors are perfect, and I love having his name boldly embroidered on the front. The striped sides are a nice addition to a very nice style.

Great Pencil Case
This is a cute and sturdy pencil case appropriate for any age. It's a bonus that it is boldly embroidered with my son's name and matches the backpack and lunch bag. I purchased it because his school requires that their names be on anything coming into the classroom. My son loves it and will likely carry it throughout grade school.

Great Lunch Bag
My son loves that his lunch bag matches his backpack and pencil case and that they all have his name boldly embroidered on them. The bag is made of good quality material and feels like it will outlast my son's not-so-careful yanking on the zipper. It was a great buy and we are very pleased with the whole set.

Great Backpack
My son's school asked that his name be on all items going to the classroom. I had planned to just put stickers on all of his things but then I saw this great backpack. When it arrived, my son was so excited that it had his name boldly embroidered on it "so it would stay on forever". It was a great choice and the construction is of such good quality that I'm sure he will carry it all through grade school. Thanks Personalization Mall!

nice back to school item
By
Stanley C.

(Portsmouth, NH) - September 6, 2010 (
See all reviews by this customer
)
I've ordered from Personalization Mall.com before and I have never been disappointed. Their product was true to color and size as shown and their monogramming was as shown. The pencil cases looked sturdy and didn't appear too flimsy so I would think it would hold up throughout the entire school year. The recipients were school kids and they seemed happy to receive their pencil cases with their names embroidered on it. The company's production time and mailing service was faster than I had expected and I received their items on the date promised. I would order from this company again because of their impeccable products, their reasonable pricing, their superlative service, and their speedy delivery service.

very nice but too childish
By
Ernestina R.

(Crestwood, IL) - August 20, 2010 (
See all reviews by this customer
)
I really loved this item and also my son, but the thing is that my son is going into 8th grade and i think you should have stuff that are not too kiddy looking even though he still wanted one just because he wanted it engraved.

Lunch bag
By
Cynthia C.

(Canada) - October 3, 2012 (
See all reviews by this customer
)
It would be good to have some adult-style lunch bags especially for Daddys. This was the best one we could pick for Daddy and put his name on it.

It is roomy and has a separate compartment for an ice pack to keep things cool.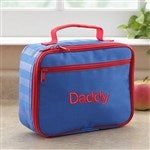 Great Backpack
By
Shopper

(Bremen, GA) - July 23, 2012
This seems to be a well-made backpack. I would reccommend to others!!!

Nice lunchbox, but a little small
By
Shopper

(Taylors, SC) - August 13, 2011
I purchased this for my grandson starting kindergarten, and the backpack as well. It is nice, but I think it us a little small. However, it does hold a regular size canteen and food jar. the personalization, as always, is perfect. Overall I am glad I got the matching set.

okay...poor quality.
By
Tracy S.

(Bristol, RI) - August 19, 2010 (
See all reviews by this customer
)
I purchase quite a bit from personalizationmall.com The service is always fabulous and the products are usually top-notch. My latest purchase included several back to school items. Everything was awesome except for the personalized lunch bag. The bag is of poor quality. The inside is white (which will certainly stain very easy) and is cheap material. I expected much more out of this item.