Sangria
By
Leigh H.

(Fishers, IN) - August 1, 2012 (
See all reviews by this customer
)
Used for White Sangria - excellent!

Excellent Customer Service!
By
Jean-Marie S.

(Baldwin, NY) - July 24, 2012 (
See all reviews by this customer
)
I never write reviews but I felt I had to commend PM on their great service!
I purchased this gift for friends, it's a nice product & the couple was excited about it. Unfortunately, months later when we decided to use it for a party the spout was leaking. After taking a closer look we realized that the rubber insert was ripped. I told them I would call & try to get a new one but figured I would be told nothing can be done & I would have given a gift that didn't work.
Well boy was I wrong - I called customer service this morning & spoke to the most helpful, pleasant women; Judy. She apologized for the inconvenience & assured me they would send out a new order, all I had to do was send her pictures of the broken piece. After sending the pictures to Judy she responded quickly, again apologizing for the issue & informed me that they would be sending a new product directly to the couple.
I am so glad everything was taken care of, I will be sure to recommend PM to everyone!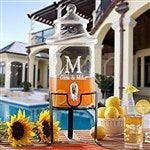 Perfect Gift
By
Shopper

(Naples, FL) - May 21, 2012
After searching for three weeks for the perfect Mother's Day gift, I found this. My mother loved it. They love to entertain and this will be perfect for summer. I placed my order on a Sunday afternoon and it arrived Thursday evening. Some other reviews mentioned that the spout seemed a little cheap. My mom commented almost immediately that the spout looked very sturdy so perhaps they have made some changes. I couldn't be more pleased with the quality of the item and prompt service I received.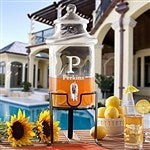 Awesome Beverage Server!
By
Maria Pia G.

(West Harrison, NY) - March 12, 2012 (
See all reviews by this customer
)
Truly beautiful and such a novel gift. Something different and useful for those backyard bbq's or parties. A great price for this item.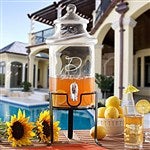 Great gift!
By
Candyce T.

(Melbourne, FL) - March 9, 2012 (
See all reviews by this customer
)
I was very pleased with the quality and uniqueness of this item. The etching was extremely professional and quite impressive. It makes a great gift!

Great Gift for outside loving Mom!
By
Jamie W.

(Denison, TX) - March 5, 2012 (
See all reviews by this customer
)
My mother fell in love with this as soon as she opened it! She is a very outdoorsy person and said she can't wait to have a get-together just to use it!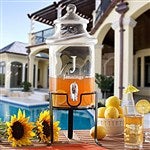 Loved it!
By
Virginia D H.

(Sykesville, MD) - June 20, 2011 (
See all reviews by this customer
)
This turned out really nice!! The personalization was clear and concise. The only drawback was the personalization doesn't show up through light colored drinks (lemonade, etc.) but it is a nice item, doesn't leak, and I used it for Father's Day!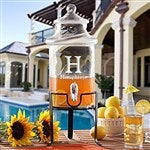 This was a show stopper
By
Jayne M.

(Schenectady, NY) - June 13, 2011 (
See all reviews by this customer
)
I bought this for a 25th anniversary gift for a couple that loves to entertain. At the end of the evening I had them open the beverage server so I could see their reaction. The whole room broke out into spontaneous Ohhhs and Ahhhs, what a show stopper. Everyone wanted to know where I got such a unique gift. I received this a week after I purchased it with a holiday weekend in between, thanks for such incredible service.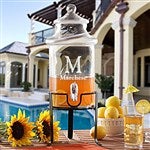 beverage server
By
Deborah P.

(Rochester, IN) - April 12, 2011 (
See all reviews by this customer
)
This is a sturdy and attractive unit -- especially for the price! It was even nicer than the picture, and I am proud to give it as an anniversary present.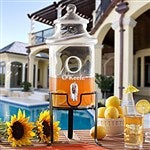 Huge hit!
By
Michael j M.

(louisville, KY) - March 28, 2011 (
See all reviews by this customer
)
I ordered this expecting it in a week or so. I had regular shipping and literally received it TWO days after I ordered it. It is gorgeous and EVERYONE wanted to know where I got it. I put lemonade in it with some lemon slices or even water with fruit slices and everyone loved it. The stand is nice and tall so taller glasses fit under it. It's perfect!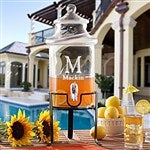 Gift for Boss
By
Barbara B.

(Orangevale, CA) - August 16, 2013 (
See all reviews by this customer
)
Loved the item. Engraving well done. Bought for my boss for his birthday. The only concern I have is the spout, it is plastic.

Very
By
Shopper

(Fullerton, CA) - December 15, 2012
Shipped very fast, and everything was they way they described it.

Looks great but was leaking
By
Shopper

(Allen, TX) - August 6, 2012
The product looked just like in the picture but was leaking water when we were serving it at a party.

Loved it
By
Ashley P.

(Jeffersonville, IN) - May 9, 2011 (
See all reviews by this customer
)
I purchased this server for my mother for Mother's Day. She absolutely LOVED it! It is made of very high quality materials; however, the part where the drink flows out is plastic. I am leary of that part breaking. Mom noted it also and said they would just need to be extra cautious when dispensing drinks. Other than this small issue, the beverage server was perfect! I will continue ordering from PersonalizationMall!!

Beautiful Server
By
HEATHER M.

(AVON, IN) - November 29, 2010 (
See all reviews by this customer
)
This a Great Beverage Dispenser. It is tall enough to actually put a glass under it. Unfortunately when they engraved mine it had a scratch on it, but I called and they took care of the problem right away and sent out a replacement. The monogramming is very nice. I bought this as a gift for someone, but now I want one for my own. Great buy!

Nice but not great...
By
Marge Y.

(Midlothian, VA) - May 15, 2012 (
See all reviews by this customer
)
Bought this for close friends anniversary gift. I had it sent to them so I didn't see it immediately. When I did see it, it was nice enough but when filled with water and lemons, you couldn't see the etching on it. Kinda took out the excitement of having it personalized. When filled, it looked like any other beverage server. I was disappointed.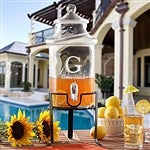 Good and Bad
By
Shopper

(West Bloomfiled, MI) - July 25, 2011
This item is very attractive but, I agree with other reviews regarding the nozzle. I am afraid that it will break or become less operational. I also wish it were just a little larger.

Would be better if...
By
Cynthia R.

(Spring, TX) - February 27, 2011 (
See all reviews by this customer
)
I recently ordered 2 of these beverage servers. I was expecting them to be larger but that was my fault for not looking at dimensions before I ordered them. The biggest disappointment though is that the spicket is plastic. This product is not cheap and for the price I would expect a better dispenser than plastic. I have ordered tons of products from personalization mall.com and this is the first real disappointment I have encountered.

Looks great but performs poorly.
By
Shopper

(Myrtle beach, SC) - September 26, 2011
This server is darling but the liquid comes out way too slowly! YOu could never use this for your child's birthday party and get the drinks distributed fast enough! I was disappointed!