Nice...
By
Debbie K.

(indianapolis, IN) - May 1, 2011 (
See all reviews by this customer
)
I gave this 4 stars because i think the engraving on the front cover could of been better. It is engraved in sliver and i think over the years it will eventually wear off. Otherwise it was larger than i thought it would be, which is nice. The groom and bride to be was very happy with it.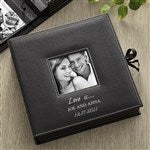 Shopper - Australia
By
Shopper

(Australia) - March 29, 2011
I was looking for something special to give to my uncle who was having a suprise 80th. After searching the net I came across your site and thought fantastic just what was called for, a personalised item. Thrilled with the album the personalisation and the price seemed too good to be true until I got to the final step and thought Oh my gosh that is a lot of money to pay for shipping and handling(would have preferred to know this cost before i actually paid for the item). However the item arrived in record time and it could be picked up anytime day or night. Really a great result.

Wedding Album
By
Shopper

(Pittsburgh, PA) - March 29, 2011
Overall- very pleased with the album. The engraving looked nice. It was a gift for my sister-in-law and she loved it. My only complaint is that the line with for the names is not enough space to include two longer names. So, I reversed the order and placed the names on the top line. I put "United as One" on the second line where the names would have gone. The company should increase the spaces allowed for names. Album makes a really great gift!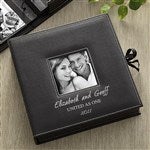 Fast Shipping
By
Shopper

(Canada) - March 12, 2011
Ordered on Sunday and received in Canada on Friday!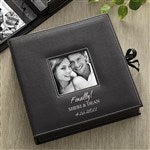 Me gusta el material
By
patricia H.

(riedgefield park, NJ) - February 23, 2011 (
See all reviews by this customer
)
Compre este album para mi Boda el sabado y llego hoy miercoles, esta bien para mi, hold fotos 4x6 y 5x7, es lo que necesitaba, Me encanta la personalizacion, y me gusta que sea en forma de caja porque asi queda bien cerradito y no le entra polvo o sucio. Se ve muy bien y elegante , Yo lo recomiendo.

me gustaria que tuvieran mas opciones para elegir los colores. Primero se ponen las fotos 4x6 y luego las 5x7. Busque mucho por el internet y de todos para mi este fue el mejor.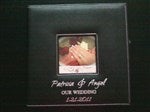 Very nice album but wish the personalized print was better
By
Bradley F.

(Tucson, AZ) - December 18, 2012 (
See all reviews by this customer
)
Love the album but we had the name of my daughter/ son in law and date of marriage printed on the front. The font is too cluttered and they need to pick a better font or kern the font better so it doesn't run together.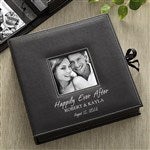 Wedding
By
Shopper

(Breinigsville, PA) - December 10, 2012
I sent this to my girlfriend for her wedding. When it arrived she called me to thank me for my gift. I could tell she wasn't 100% thrilled with it. When I saw it in person, the album itself was fine, but I was disappointed in the engraving. The typeset was much larger than I anticipated and the gold wasn't as rich looking as I was hoping for. All-in-all a nice present, but I hoped for something better.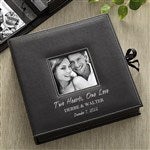 Beautifully Made!
By
Shopper

(Quakertown, PA) - December 4, 2012
I absolutely love this! It's so tasteful and just what we needed for our endless amount of wedding photos. Being able to customize the front of the album is a HUGE plus. The artwork and printing quality is excellent. I just know that my mother is going to LOVE this gift. Thank you so much for the excellent service!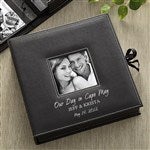 Very Happy!
By
Brittany S.

(Philadelphia, PA) - November 6, 2012 (
See all reviews by this customer
)
I am very happy with this product! The personalization was a very nice touch to this photo album!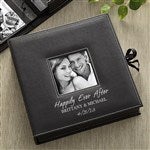 Wedding album
By
Brenda F.

(New Lenox, IL) - November 3, 2012 (
See all reviews by this customer
)
I got this for my cousin's wedding. It is a nice leather outside and inside you can put 4x6 and 5x7 photos. There is even a place to put a CD in the back. I also love that it stands up by itself. I just wish the personalized spot could be longer. I would have loved to put the groom's full name on it.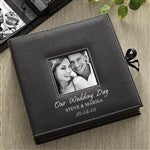 Great quality - great gift
By
Shopper

(Atlanta, GA) - August 8, 2012
Ordered two of these for a 90th and a 100th birthday. Thought the recipients would enjoy viewing hard copy pictures instead of viewing them on line...I was right and they both thoroughly enjoyed the gifts and have shown them off to their friends. Finally realized this was exactly what I needed to organize the many pictures I have of the my Mom's 90th from back in 2007. (they were all tucked in a drawer somewhere) - My mom has passed but I truly enjoy having this beautiful book on my coffee table to remember one of her last but most memorable events.
Great quality - have already picked out a few other gifts I will be ordering for Xmas gifts.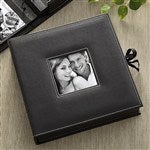 ALBUM -LOVE AND MEMORIES
By
Shopper

(belfast, ME) - August 5, 2012
The album is beautiful it is larger then it looks online. The script writing was great.I really like that you can have this made for any occasion.I know the couple will love the album made special for their day.I have purchased many items from this site never a problem and VERY fast shipping.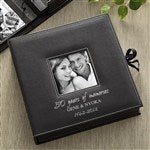 Very nice photo album.
By
Shopper

(La Quinta, CA) - August 2, 2012
The leather is good quality and very handsome looking. Purchased as a wedding gift. The only negative is that with only 14 characters available for the name we had to abbreviate. Needed minimum two more characters to have been able to spell both the bride & groom's names. Like this product very much. Purchased one earlier this year and would definitely order it again.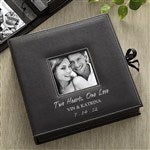 Great Photo Album
By
Shopper

(Brooklyn, NY) - August 1, 2012
Really nice personalized photo album. Letters were embroidered. Would definitely order again.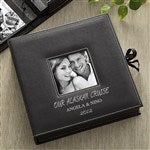 Wedding present
By
Shopper

(burkesville, KY) - August 1, 2012
The album is fine overall but very disapointed in the font and size of names that were added to front of album. There was not a choice and I should have never approved the all caps and big letters that I did. Too late to return after I approved the personailization. I like all the products from this company but this one which needed a choice of font and size. Not real happy to give as a gift but must now anyway.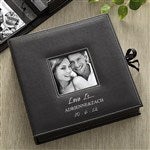 Engagement gift
By
Shopper

(Camp Point, IL) - July 6, 2012
I was looking for a photo album for an engagement gift. This album worked perfectly for their new engagement photos they had taken. The personalization options made this photo album work perfectly. Very nice quality and fast delivery!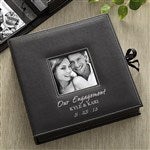 wedding album
By
Norma G.

(Mesa, AZ) - April 20, 2012 (
See all reviews by this customer
)
I loved the wedding album. I bought it for a gift for 2 friends of mine...I am sure they are going to love it.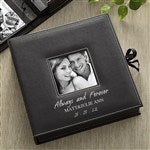 Gorgeous Album
By
cheryl S.

(elk horn, IA) - April 14, 2012 (
See all reviews by this customer
)
I am so pleased with this album as a wedding gift!! Its well crafted & the penalization is very nice!! Very satisfied with the service & the quality of the product ordered!! Thank you will recommend your site & use again in the future!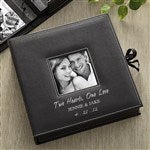 Very Nice album
By
Nicole C.

(Newark DE, DE) - April 10, 2012 (
See all reviews by this customer
)
I really was impressed with this album. It is of very good quality and is added to my collection of albums for my business.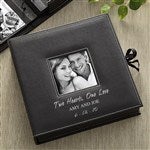 Annie
By
Shopper

(Neenah, WI) - April 6, 2012
I bought this photo album to give to my daughter at her bridal shower. I am very pleased with this product. It is well made, and I like the personalized touch. I also ordered the gift box. The album fits perfectly in the box, and made it easy to wrap.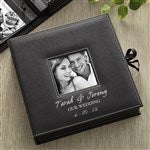 Much Better Than Expected
By
Carol A.

(Tewksbury, MA) - February 21, 2012 (
See all reviews by this customer
)
I'm the Maid of Honor to my friends who are getting married in August on the island of Bermuda. This will be a very nice personal touch to the monetary gift. This photo album is much larger than I thought it would be and is really beautiful and well made. I'm thrilled that there is an area in the back of the album that holds a CD to keep their wedding video in a safe place.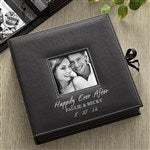 Awesome Photo Album!
By
Marissa M.

(N Bellmore, NY) - January 30, 2012 (
See all reviews by this customer
)
Great gift!!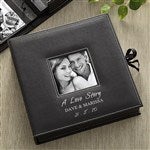 AWESOME!
By
Ronda D.

(Baltimore, MD) - September 7, 2010 (
See all reviews by this customer
)
I ordered this for my brother and his wife. They were married in May and their photographer took over 700 pictures, so I printed out their photos off the disk on my Kodak printer at home. I presented them with the album on Sunday at a family party and it brough them to tears. This album is awesome. I could not have purchased anything better and that goes for quality, presentation, and the amount of pictures it holds. I am now trying to find refills of the 4x6 pages, because they have so many good pictures. Thanks so much for all of your products. I have never been disatisfied.

Loved it!
By
Shopper

(New York, NY) - September 2, 2011
Nice!

High Quality
By
Shopper

(Charlotte, NC) - March 18, 2012
I purchased the albums for my Bridesmaids and love them. They were worth the money. When they arrived, my fiance liked them so much he wanted to get them for all the guests attending our destination wedding. They are of a nice quality and not flimsy. The stiching gave them an elegant look. They are also larger than I expected, which made them even better.

Photo album
By
Shopper

(Concordia, MO) - July 23, 2012
bought this as a wedding gift, it came quickly and just as advertised

Holds memories
By
Shopper

(Cincinnati, OH) - February 15, 2012
The varying sizes of openings on the included pages allowed me to include mementos from our vacation along with the photographs. I was even able to remove the extra pages I didn't need.

Great item for special occassions
By
Tania M.

(Staten Island, NY) - October 24, 2011 (
See all reviews by this customer
)
I purchased this item for my best friend's wedding shower for her to put her advice cards in once they have been filled out by guests. She loved it and is a nice surprise for the bride to be and a great way to store those advice cards from family and friends.

Exactly As Pictured
By
Shopper

(Sacramento, CA) - February 14, 2012
Nice album, the personalization looked nice. Great quality for a great price.

great idea
By
Shopper

(dighton, MA) - July 31, 2011
i really love this album, we bought it to hold our engagement party photos

my only disapointment was the limited number of characters that can be used. I couldn't fit our full names, i ran out of space :(

just ok
By
Evelyn W.

(Corona, CA) - December 20, 2010 (
See all reviews by this customer
)
Purchased as a gift and was disappointed. The closure is a cheap tiny ribbon which is not only hard to tie down but is sure to shred within a short period of time. The cover does not close if not tied down. Leather and stiching are nice. Personalization was correct and stamped on.

be prepared
By
Shopper

(Worth, IL) - July 30, 2011
Leather nice, but very low quality print. Almost embarrassed to give present

SMUDGED!!
By
Shopper

(Sunland, CA) - July 5, 2011
I LOVED this album when I saw it online but was very disappointed that the personalization looked cheap when it arrived in the mail and was totally smudged. They were very apologetic on the phone and resent a new one - hoping it's ok this time.... It's still very cute and I really hope it's better the next time around....

Could have looked better
By
Wendy P.

(Rosedale, MD) - January 2, 2013 (
See all reviews by this customer
)
I was disappointed with how the printing looked. I have ordered from this site many times before and this is the first time I was disappointed. We ordered 2, one for me and one for my fiance's daughter. Both of us are getting married next year so we ordered two. I just wish the print would have turned out better.

Great product; not so great personalization
By
Joanna W.

(Isanti, MN) - February 13, 2012 (
See all reviews by this customer
)
I was super excited to get this product, as it is a gift for my mother-in-laws 50th birthday. Maybe I didn't read up enough on the product, but I assumed that the personalization would be embroidered. It looks at though, one just took a silver sharpie and wrote on it. Not the best quality of personalization, but the product itself is nice.

nice but...
By
Shopper

(rockville, MD) - August 24, 2012
I ordered two of this photo books. They were very nice but they had not enough pages to put photos. I wish they could have more pages or at least they have a refill pages to buy. I have hard time to find a refill pages right now. What can i do?

great personal gift.
By
Shopper

(Myerstown, PA) - September 4, 2012
This is a great idea for a personalized touch. It is a good quality album, my thoughts though it is pricey. And disapointed in the styles of lettering, not many to choose from and the date can only be month/day/year instead of written out. But the bride and groom loved it!

Photo Album
By
Rebecca W.

(Mill Spring, NC) - February 27, 2011 (
See all reviews by this customer
)
Nice album, great size and very nice metallic personalization. Wish it was available in white and other colors.

photo album
By
Shopper

(Holt, MO) - March 9, 2011
I really like this album. it has a tie ribbon to keep it closed. I really liked having 3 lines to personalize.

It was nice!
By
Shopper

(Houston, TX) - May 20, 2011
I ordered this photo book to hold my wedding photos. The only thing i could suggest that would make this book better is to have more pages in it or refills that you could order. Other than that the book was really nice.