Nice!
By
Shopper

(Gastonia, NC) - April 1, 2013
My boss loved receiving this after the birth of his first grandchild.

Great gift
By
Shopper

(Jacksonville, AL) - December 7, 2012
This frame is beautiful. It is a gray/purple hue, but will go well with a black and white picture.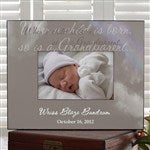 Great gift
By
Shopper

(Oak Ridge, NJ) - December 5, 2012
I purchased this as a gift for a dear friend and I know she is going to love it. I also received one as a gift and I love it. My only problem with this item is the easel back does not hold up long term. I have mine on a book stand and it looks great.

Grandparents frame
By
Mary Therese H.

(Belleville, IL) - October 8, 2012 (
See all reviews by this customer
)
I had received the frame myself from a friend and truly liked it as it was original - not like all the other frames you see at other stores and websites

Great Grandparent Gift
By
Bonnie B.

(Waunakee, WI) - August 31, 2012 (
See all reviews by this customer
)
I bought this Grandparent Frame for my friend who is a brand new grandma. I forgot I had given the exact one to her before her grandaughter was born. This one has baby name and date on it, so am going to trade her for the personalized one and give the unpersonalized to another expecting grandparent friend. This frame is a great frame. I'll order again. The only negative I have is the color on one I have for myself is a little brighter and not so blured. Other than that, I like it a lot.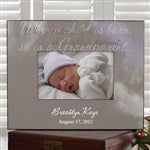 Love this birth announcement frame.
By
Shopper

(La Quinta, CA) - August 2, 2012
This lovely frame is a very good value for the price. While the color is nice I would like to have other color choices;i.e., pale pink, lavender, pale blue, etc. This is a wonderful way to celebrate the birth of a grandchild. We bought one when our grandson was born. We like it so much we bought this one for friends who just became grandparents.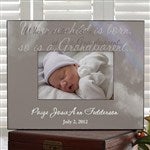 Very Impressed!
By
Shopper

(Bridgman, MI) - May 16, 2012
I couldn't believe how fast I received the item! It looked great and I would certainly purchase from here again!

Very nice
By
Jennifer H.

(St. Louis, MO) - May 15, 2012 (
See all reviews by this customer
)
I got this for my mom for Mother's Day and she loved it. Personally, I liked the NewGrandbaby frame a little better though.

satisfied with purchase
By
Shopper

(Canada) - March 4, 2012
The frame looks just like the picture, it appears to be of good quality, and the processing and delivery were super fast. I just wish that more characters were permitted for the baby's name (my son has 4 names, and there weren't enough characters permitted to type the names in full). But I am satisfied with the purchase.

Not 100% what I expected, but pleased
By
Shopper

(San Clemente, CA) - February 26, 2012
This made a very nice girft for a new grandma. However, online it was hard to tell the colors and also that the image on the frame was a photograph....it was a bit rasterized but it still made a nice gift.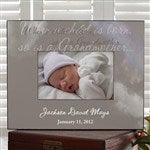 strange color
By
Shopper

(Cumberland, RI) - December 18, 2011
This came out exactly how it looks online with one exception. It states it has a rainbow background which is true but i didn't realize the "sky" was going to be a shade of purple. It looked gray to me in the picture and that would have been perfect. The "oyster" as its described is too purple to match the picture I picked out to go in it for my parents and inlaws as gifts. The quality of the product seems great but I was disappointed that it wasn't as neutral as I expected.

Great idea for lst time grandparents
By
Shopper

(Inver Grove Heights, MN) - September 5, 2011
I purchased this as a gift for someone else and then for myself. The gift was greatly appreciated. I really like that you can personalize the baby's entire name on it.

Love It!
By
Shopper

(Butler, PA) - August 30, 2011
I purchased this for my boss and his wife, they just had their first grandchild. Everyone at the office really liked it.

Love it!
By
Debbie G.

(Charlotte, NC) - August 16, 2011 (
See all reviews by this customer
)
Love the frame. It was so nice to get to personalize our frame.

Love this frame!
By
Shopper

(Waupaca, WI) - August 11, 2011
What grandparent wouldn't love the sentiment expressed on this frame? This is our second one for our second grandchild. It is well-made and is the color is neutral, so we have matching frames for our granddaughter and grandson. I love that it can be personalized with each child's name and birth date. I only wish it was available for 6x4(vertical) as well as 4x6 (horizontal) photos.

Personalized Frame
By
Aimee H.

(Macomb, MI) - December 17, 2010 (
See all reviews by this customer
)
I was skeptical ordering online a personalized item especially a frame. However I was trying to find something that could be given to my mom, and in laws as this year our first child was born and wanted to give them something to get excited about. I was VERY pleasantly surprised with the look of the frame and the price was perfect!

gift
By
Ahliya G.

(Doral, FL) - December 9, 2010 (
See all reviews by this customer
)
this item was a lovely gift for a 1st time grandparent...

Changed the design on this item
By
Margaret D.

(Colonial Beach, VA) - September 30, 2010 (
See all reviews by this customer
)
I purchased 3 of these frames two years ago for my 3 grandchildren's Pictures. In January 2010, a fourth grandchild was born so I purchase a frame to match the others. The first 3 frames had a pinkish tint to them. The 4th arrived with a gray tint but other than that matched perfectly. Since a 5th grandchild was due later in the year, I figured, that a new frame would match #4. When the 5th frame arrived last week, it had the pinkish tint of the first 3 and a completely different font for both the name and the birthdate. Although the frames themselves are very, very nice, it is a shame that the color and fonts are not consistant from order to order.
I am keeping all the frames with the thought that each of my grandchildren are unique, and so are their frames!
I am quite satisfied with the quality of my purchases!


grand parent frame
By
Donna S.

(Orlando, FL) - August 16, 2010 (
See all reviews by this customer
)
Very nice gift. It is nice to have something to give to those critical to the birth as a special keepsake of the event. Lighter weight than I thought - but will buy again for another....