A very well and satisfied shopper!!
By
Shopper

(Rancho Cordova, CA) - August 8, 2011
I a so very please with my order, and it came in a fashionable time frame. It is absolutely beautiful!! I didn't think that it would be as beautiful as it looked on the website, I mean it is so off the hook!! I believe that when I give this gift to my friend, she will actually be amazed! And, I can't blame her one bit. It is so beautiful and it was what I have been looking for, and all I had to do was go to Personalizedmall, and there it was. I want to thank you so very much for a speedy delivery and an awesome product that you sell on your websit, because to me, there is no other like this one. I thank you ever so much for offering such good services and products. You guys are so awesome and once she sees her gift, she will be so very happy, because I am so very happy. Thank you again for providing good services and products that will make everyone happy. Thank you again. So very satisfied and happy!!!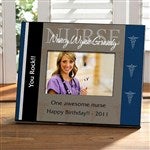 WONDERFUL GIFT
By
Amy G.

(Channahon, IL) - July 30, 2011 (
See all reviews by this customer
)
Beautiful gift for a recent graduate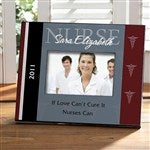 Beautiful frame!
By
Mimi J.

(Suwanee, GA) - June 21, 2011 (
See all reviews by this customer
)
I placed my order on a Friday and received my frame on Monday. The shipping was very quick. I was so pleased with the picture frame. It was a gift for my best friend as she was graduating from nursing school. I LOVE the fact that you can type in your personalization when ordering and actually see it on the product. This was my first time ordering from this company, and I will definitely be back! Thank you for a beautiful, quality product.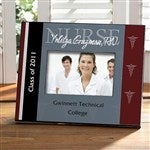 great gift for a school nurse
By
Shopper

(Houston, TX) - May 30, 2011
Our school nurse saw a lot of our child, and we thanked her with this gift. We took a picture of her and our son, and included it in the frame. She loved it!

vERY NICE GIFT!
By
Linda M.

(Annapolis, MO) - May 25, 2011 (
See all reviews by this customer
)
I ordered this frame for a friend graduating from nursing school. She loved it and said the quaility was very good. I have ordered several items for gifts from your site and have never been dissapointed. The shipping is very quick sometimes on the same day as the order. Thank You!!!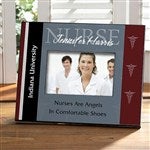 For my Niece
By
Shopper

(porterville, CA) - May 24, 2011
She loved it!!! I am so glad i purchase this personalized frame. The quality of the frame is fantastic!!!

One of a Kind!
By
Jacqueline R.

(Old Forge, PA) - May 20, 2011 (
See all reviews by this customer
)
I recently purchased this frame for a friend who was graduating from nursing school. She LOVED it! The frame itself was great quality as are all of the items I've purchased through Personalization Mall. The ability to personalize with her school and the date of pinning made it a one of a kind gift!

What I liked about the product
By
Shopper

(Evergreen, CO) - May 13, 2011
The personalized photo frame arrived exactly as pictured online. The color was as shown and the quality was nice. I especially liked how many ways I could personalize it with our daughter's occupation, name, hospital and a special quote that expressed her qualities.

WONDERFUL
By
Shopper

(Monmouth, IL) - May 9, 2011
I DIDDN'T KNOW WHAT TO EXPECT, BUT WAS MORE THAN PLEASED WITH MY PURCHASE. I HAVE SHOWN IT TO MANY PEOPLE BECAUSE IT IS SO BEAUTIFUL. THE QUALITY IS EXCELLENT AND IT LOOKS REALLY EXPENSIVE. I'LL ORDER FROM THIS SITE AGAIN. I'M SURE MY FRIEND WILL LOVE HER FRAME. THANK YOU FOR MAKING THIS SO EASY.

Beautiful!
By
Melody B.

(Kingsville, TX) - April 17, 2011 (
See all reviews by this customer
)
Bought this for a going away present for one of our nurses. Everyone in the clinic thought it was beautiful, and that she was truely going to love it. Turned out to be a very good purchase. All the products I have ever bought from Personalization mall have always exceeded my expectations!

FOR MY SISTER!!
By
Patricia R.

(victoria, TX) - March 26, 2011 (
See all reviews by this customer
)
I totally loved this when it arrived at my house, it was much bigger than i thought, which was awesome!! my sisters birthday is coming up soon, i cant wait to give it to her, i know she will love it, This site is awesome!I will be back! Thanks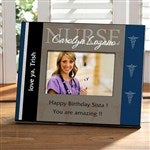 Great frame!
By
Chris K.

(Butternut, WI) - December 26, 2010 (
See all reviews by this customer
)
I loved that I was able to design the frame with the wording I wanted and to preview it before I ordered! It arrived in a timely manner and exceeded my expectations! I would order from you again!

LOVE IT
By
CALLIE S.

(SULPHUR, LA) - December 10, 2010 (
See all reviews by this customer
)
WE LOVE THE FRAME! IT CAME OUT EXACTLY HOW I WANTED AND LOOKS GREAT! I CAN'T WAIT TO GIVE IT AS A GIFT. THANKS FOR DOING ANOTHER AMAZING JOB ON SHIPPING MY ORDER TO ME IN A TIMELY MANNER AND FOR EXCEEDING MY EXPECTATIONS. I WILL FOREVER SHOP WITH YOU ALL. MERRY CHRISTMAS!

Personalized Nursing Frame
By
Tracy G.

(Spring Hill, FL) - November 19, 2010 (
See all reviews by this customer
)
I absolutely LOVE this Personalized Nursing Frame!!! The actual frame looks even better than the picture! My best friend (male) is graduating from nursing school and I wanted a gift that would show off his accomplishment. I couldn't have found a better gift. I would definitely recommend this personalized frame as a gift for any nursing school graduate. The delivery was fast, the service is excellent, and the product is absolutely amazing! I am such a happy customer. I highly recommend this company and product. I'm definitely a customer for life! Thank you so much.

perosonalized picture frame
By
Charlotte L.

(Manchester, MO) - October 5, 2010 (
See all reviews by this customer
)
I loved the way I could view the product already customized to the way I wanted it. I gave this as a gift to a friend for graduation from a masters program. She was "wowed" by it! I was thrilled that I received it so quickly. I will be back for more gifts!

Love this product
By
Shopper

(Clemmons, NC) - May 14, 2012
I bought this for my sister who graduated from nursing school. She appreciated it. I love it too. I would recommend it to anyone. The downside is that the characters limit to write her name was not long enough so I could not add RN and BSN. I could only add BSN so they should add few more characters.