Very good gift that you can choose own color
By
Shopper

(Alameda, CA) - November 11, 2011
This is a very good personalized item which you can pick font and color combination. Especially when the person's name is not common, that makes it a unique gift.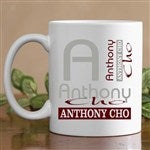 really nice
By
Amanda T.

(Virgin Islands (U.S.)) - November 1, 2011 (
See all reviews by this customer
)
i liked this mug especially for one of my bridesmaids, because she drinks coffee every morning. I really think this is a nice mug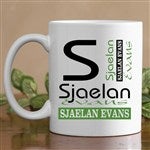 PERFECT SIZE CUP
By
Martha L.

(Marietta, GA) - October 31, 2011 (
See all reviews by this customer
)
I HAVE ORDERED 12 OF THESE CUPS FOR CHRISTMAS. I PICKED THE SQUARE DESIGN. THEY ARE EXCELLENT, JUST THE RIGHT SIZE FOR COFFEE OR HOT CHOCOLATE, NOT TOO BIG NOT TOO SMALL, JUST RIGHT.
I ORDER FROM THIS COMPANY NEARLY EVERYDAY, THERE IS SO MUCH TO CHOOSE FROM AND PERSONALIZING IT MAKES IT SO SPECIAL. I HAVE NEVER GOTTEN ANYTHING THAT WAS WRONG, OR ANYTHING I DIDN'T JUST LOVE. PRICES ARE RIGHT, I HIGHLY RECCOMEND THIS WEBSITE.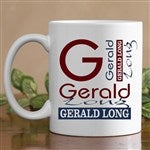 Great Family Gift
By
Shopper

(Aurora, CO) - October 22, 2011
Great family gift for future family!!! They Loved it and dont forget to send the the tea or coffee!!! Too!!!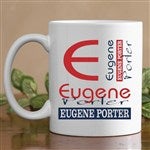 Popular hostess gift idea!
By
Shopper

(Kennett, MO) - October 14, 2011
I bought 14 of these in different colors for hostess gifts for my daughter's bridal shower!! It was a fun and personalized way to show our appreciation to 14 special ladies!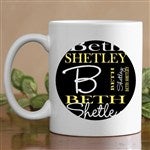 THE GREATEST GIFT AT OUTSTANDING PRICE
By
Robin A.

(Pelham, AL) - October 5, 2011 (
See all reviews by this customer
)
This item was PERFECT. It is just perfect. Arrived just like promised and actually looks better than the preview of it.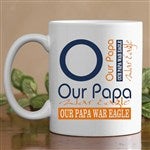 Good Gift
By
Shopper

(Chicago, IL) - September 27, 2011
I purchased this mug as a gift to announce a pregnancy. We had it personalized with "Grandma" and then the name, very cute.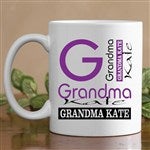 Cute Mug
By
Naomi B.

(Stafford, TX) - September 23, 2011 (
See all reviews by this customer
)
This was purchased for a birthday gift for my sister, and she adored it. I just wish the entire outter of the mug was decorated with the nice design, but overall NICE.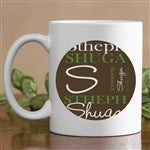 great birthday gift for a dad that has everything!
By
Rochelle R.

(Beaumont, TX) - September 19, 2011 (
See all reviews by this customer
)
One thing about personalized gifts is that it is always special no matter how simple the item that's being personalized. I purchased this mug for my dad for his birthday, he's the kind of guy that has everything and is really hard to shop for so I figured something personalized was the way to go. This mug turned out perfect I chose black and tan for the colors and I even got to put sr(senior) on it cause my brother has the same name.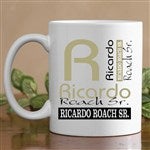 What a Great Gift
By
Martha L.

(Marietta, GA) - August 30, 2011 (
See all reviews by this customer
)
I have bought ten of these cups in the square design for Christmas. They are the perfect size. I've always wanted "Christmas Morning Coffee Cups" for my family of five. They are all in red and green combination. The others are for all my brothers-in-law in various colors. Come in perfect box for wrapping. I couldn't be more pleased. In fact I see something nearly every day that is a perfect gift. I'm an all year round shopper for Christmas, spreads my payments out. Love the Personalized Mall.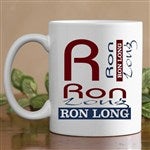 Great product...very fast delivery
By
Nancy C.

(Davison, MI) - July 26, 2011 (
See all reviews by this customer
)
I ordered 5 of these coffee mugs on a Sunday evening. I received them on the following Wednesday! FAST!!! They more than met my expectations. Just a nice little gift that shows a bit of forethought! I will probably be ordering more!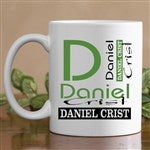 A small mug !
By
Shopper

(Reno, NV) - July 19, 2011
Nice quality . . .disappointing that the mug is small . . .

Not the size for a morning cup of coffee .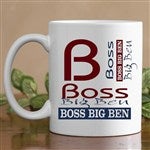 Mugs
By
Shopper

(Brooklyn, NY) - July 17, 2011
Mugs are beautiful. very happy with quality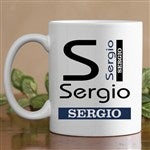 Very different
By
Sara G.

(West Milford, NJ) - July 13, 2011 (
See all reviews by this customer
)
I purchased this mug for a friend as a gag gift and it was well received. However, I would have loved it if the "circle" had been on both sides and if there had been a greater choice of colors. I would have wanted the mug to match her colors, but had to choose a color that was 'close' to what she has.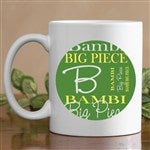 Linda Loved It!
By
ELIZABETH C.

(BROOKLYN, NY) - July 4, 2011 (
See all reviews by this customer
)
This was purchased as a replacement for the very same mug we bought for our friend Linda. Someone at her job loved it so much that they stole it from her desk! She was broken-hearted and when we heard that, we just had to get her another one. Linda was thrilled when the replacement arrived at her home! We love your website and will be returning to purchase gifts when necessary!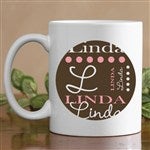 Personalized Mug
By
Faith N.

(Sauk Village, IL) - June 20, 2011 (
See all reviews by this customer
)
Personalized coffee mug turned out great!

It was from a Nephew to his Uncle so we made the first name Uncle and the last name Matt and it turned out real cute!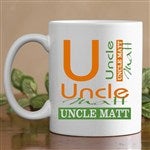 Great gift for anyone special
By
Donna E.

(Breckenridge, TX) - June 6, 2011 (
See all reviews by this customer
)
As always, top quality product and super fast delivery. Coffee Mug is
a great gift for anyone special and for any occasion.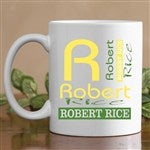 Usher Mugs
By
Shopper

(Stevens Point, WI) - May 9, 2011
I got my usher and usherette mugs for my wedding and absolutly love them. Instead of doing there first and last name i did there first with my wedding date and they turned out very good for the right price too!!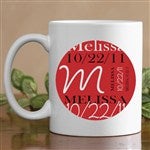 Perfect for Mother's Day!!!
By
Whitney W.

(Leitchfield, KY) - May 7, 2011 (
See all reviews by this customer
)
I ordered 2 mugs and had them personalized for my mother. She absolutely loved them. I will order again!!!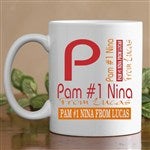 I was truly pleased with my purchase
By
Donna R.

(Chelmsford, MA) - April 29, 2011 (
See all reviews by this customer
)
Thank you for the great service. I ordered 18 personalized mugs and they came out perfect. They were Easter gifts for my 11 grandchildren and my brother's 7 grandchildren. It was part of an Easter egg hunt and the children ages 4 to 18 just loved them. The little ones enjoyed seeing their name on their mug!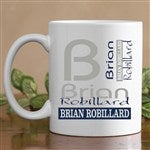 IMPRESSED THE BOSS
By
MARLENE M.

(INDIAN TRAIL, NC) - April 15, 2011 (
See all reviews by this customer
)
I got this cup for my boss because he broke his other presonalized cup, but this one was way better. His other cup only had his first name, this has his first and last name. You can't get any more personalized than that. He was really impressed. It never hurts to impress the boss! This was just my way of showing him how much I appreciate him and all the things he has done for me over the last 22 years.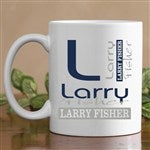 Chintzy cup
By
Alisa A.

(Valrico, FL) - March 28, 2011 (
See all reviews by this customer
)
The cups are too small and not worth the price. The design was cute, but not enough to compensate for the overpriced and small cup. Probably won't order from here again.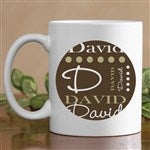 Great Product!
By
KIMBERLY S.

(SUMMERVILLE, SC) - March 26, 2011 (
See all reviews by this customer
)
I always get this as a gift because everyone loves them so much! very useful and can be used everyday!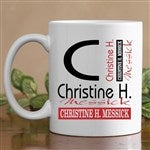 Great Thank You gift!`
By
Melissa B.

(League City, TX) - March 14, 2011 (
See all reviews by this customer
)
I gave these to my sister as a thank you for my baby shower. I put her "aunt" name on them. Great, quick and creative idea. Easy to order and came in fast!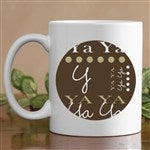 Coffee Mug
By
Shopper

(Purdy, MO) - March 14, 2011
I continue to be so impressed with the quality of merchandise and the quickness in getting what is ordered. I have never had such good service and am very pleased. It is one of the first places I go to look for gifts. Thank you very much.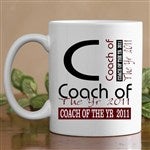 fun mugs
By
Melinda T.

(Alba, TX) - March 12, 2011 (
See all reviews by this customer
)
I ordered the mugs for a girls' family get-together. I was amazed at how quickly they arrived...placed the order on Monday and had the mugs by Thursday! They are really cute and look exactly like the preview picture. I know my relatives will love them! Even though it asked for a last name, I was able to use a first name and a date, so the mugs are even more personalized! I will look to this company for other personalization ideas!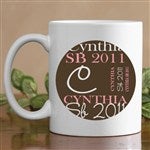 I LOVE them!
By
Jennifer K.

(Saint Clairsville, OH) - March 11, 2011 (
See all reviews by this customer
)
I ordered these mugs to go with a coffee maker I had purchased for a shower gift. I got one each for the bride and groom. They're sophisticated looking and great quality. I love them! Now I plan to get more for members of my family.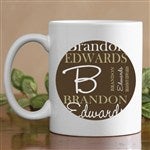 Loved these mugs
By
Shopper

(Tewksbury, MA) - July 19, 2014
Purchased these as a gift, and loved the way they look.
Great size and good quality.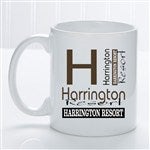 Great gift
By
Jessica C.

(Addison, IL) - June 17, 2014 (
See all reviews by this customer
)
I was impressed upon opening the package. It looked great!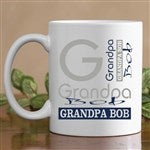 How you use the product
By
Shopper

(Stoddard, WI) - June 16, 2014
The first set of mugs were a gift to father for fathers days & his wife's bday is just a few days after. Dad called the day that he received them while drinking from his mug. I'm waiting to use a 2nd set of mugs for our upcoming anniversary. They are actually replacements because our 1st set handles broke off. I didn't recall the date but they are included on the list for review. They were purchased on January 22, 2011. The use preview photos from all mugs option only works for one mug. I"m not going copy, paste and save these on my compture, thanks.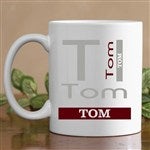 Work name mug
By
S. A.

(Denver, CO) - May 15, 2014 (
See all reviews by this customer
)
The individual receiving this will wonder why she never thought of this before... and better yet will love it even more!
Beautiful colors, print, the whole package is perfect !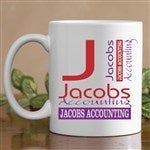 Nice gifts
By
Shopper

(Brighton, CO) - March 17, 2014
Tired of listening to my kids bicker over the "best" mug in the house, I ordered personalized mugs for their Easter baskets this year. The mugs appear to be of good quality, and the printing looks great.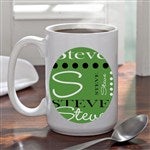 Coffee Mug
By
Gursher S.

(United Kingdom) - February 12, 2014 (
See all reviews by this customer
)
I ordered this item for my mum and the mug was just as i had wished. Its a good quality one and ships really quickly as well. 5 stars all the way!!!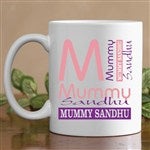 Nice plus Expensive
By
Shopper

(Saint Paul, MN) - February 7, 2014
Always excellent products and always high-end prices. I guess I end up paying ... given the reliable high quality.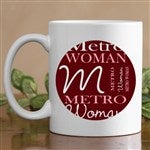 girlfriend loved it
By
Shopper

(Perth Amboy, NJ) - December 31, 2013
My bff loved her mug. Best gift idea. She says every time she drinks coffee she takes it out.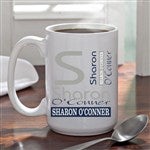 Beautiful work
By
Shopper

(Sebring, FL) - December 10, 2013
All 8 coffee cups I bought were beautifully done!!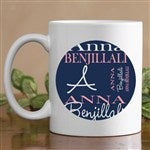 Company Christmas Gifts
By
Jennifer A.

(Paonia, CO) - November 27, 2013 (
See all reviews by this customer
)
The coffee mugs turned out great! The colors are just as bold and bright as they were online. The processing time was quick, very pleased with the purchase and delivery time.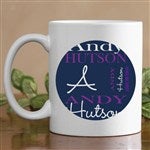 Volleyball Booster Mom
By
Shopper

(Columbia, SC) - October 18, 2013
This was a great gift for our year end Volleyball banquet and when I introduced it to the group they loved the concept of being able to personalize the gift to fit what we wanted. I have had no problems with the item and I love shopping with Personalization mall.com

I only wish that they could accommodate discount bulk orders, now that would be great!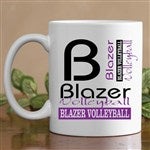 Love that you can personalize both color and text!
By
Chelle Annette I.

(San Diego, CA) - October 10, 2013 (
See all reviews by this customer
)
But dislike the persistent and intrusive (and not removable!) Personalization Mall branding/marketing on nearly every item they sell.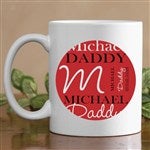 item quickly processed and sent
By
William H.

(Broken Arrow, OK) - August 2, 2013 (
See all reviews by this customer
)
I sent a personalized coffee mug to my sister. I was impressed at how quickly the item was created and sent. My sister received the cup in perfect condition. I believe I will use this service again for personalized items. She posted a picture on Facebook and it appears just as what was ordered. This was a bit of a joke within the family...so hope nobody is offened by a bug fart :)