Nice, but I wish the words were on both sides
By
Shopper

(Bowie, MD) - December 31, 2012
The idea of the cup is nice but would be better if the opposite side wasn't blank

mugs
By
Dan B.

(San Antonio, TX) - December 17, 2012 (
See all reviews by this customer
)
I ordered nine mugs; they arrived very quickly and look very nice. The only improvement I would suggest is to put the personalization on both sides of the mug. It couldn't be that much more expensive to do, and would make a nicer product.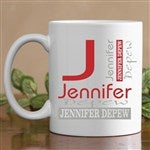 business mug
By
Shopper

(East Brunswick, NJ) - November 10, 2012
love it!! purchased as a surprise for a new business, & its terrific, but i would like larger sizes to choose from

Great Product!
By
Mercy J.

(Redmond , OR) - July 26, 2012 (
See all reviews by this customer
)
I got this for my dad as a birthday present! It arrived even better than pictured online, and he LOVED IT!!!!!!!!!!! I totally recommend this! :)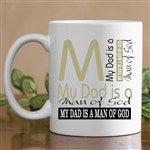 Coffee Mug
By
Shannon N.

(Bellevue, WA) - June 7, 2012 (
See all reviews by this customer
)
Looks Great! Easy process to order, received several days later in time for the B-Day gift. I thought the mug was a bit bigger.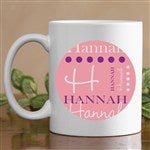 Nice cups
By
Sidney Z.

(Reno, NV) - April 8, 2012 (
See all reviews by this customer
)
Nice quality. Purchased some for my extended family so everyone has their own cup during parties and not confused with who's is whose.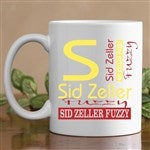 Personalized Coffee Mug
By
Shopper

(South Fulton, TN) - March 16, 2012
I ordered the square design. I hate that it is not in the description that this product is a one sided design. Had I known, I would not have ordered it. Lefties get to see their names, Righties do not. Everyone likes to see their name in print! This is NOT a Good Thing! Other than that I am very happy with the quality of the product. This is gift for a Secret Pal. I plan on taking this mug to the Florist and have an arrangement done. We both would love it more had it been double sided. Please add more colors. A "Blue" would be nice, as in Sky blue, Royal blue, something other than Navy. My school colors are Blue and Orange. I just saw your "New" wrap around mug today. Like it, but like this with the Large initial better. You know you could change this design to a wrap around. It would not be hard to do. Do you take consumer suggestions? Hint Hint! Something to think about. Should you decide to change the design and add more colors. I will buy many more. It makes a wonderful gift!

BEAUTIFUL!
By
Amanda S.

(Springfield, MO) - February 6, 2012 (
See all reviews by this customer
)
I ordered this for a co-worker's birthday present and her favorite color is red. When I received the mug, the red was more of an orange/red. Other than the slight discoloration, this was EXACTLY what I was expecting and absolutely LOVE the detail on the mug! I have been recommending your products since I received it!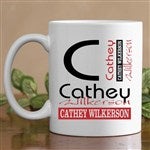 Good cup
By
Sidney Z.

(Reno, NV) - January 8, 2012 (
See all reviews by this customer
)
I like these. Plain, simple, basic coffee cups, but the personalization was very nice.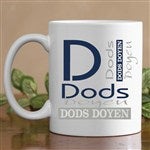 Satisfied
By
Joyce T.

(Dorchester, MA) - January 3, 2012 (
See all reviews by this customer
)
Although these mugs came after Christmas because I've ordered late Dec 22 ( it came 28th), I was satisfied with the way the names appear on the mugs. My husband loves it because it has his full name on it. I do wish the mugs were a little bit larger but the price of each is less than what you pay for a regular (not personalized)mug. All the products at Personalization.com Mall are well produced & guaranteed. I have no complaints but compliments. Thanks you

Coaches Gift
By
Barbara E.

(Philadelphia, PA) - December 28, 2011 (
See all reviews by this customer
)
I ordered four of these mugs for my daughter's basketball coaches, and they were a hit! I was able to order the design in the team colors, then personalize them for each coach. Perfect gift for coaches, teachers, etc.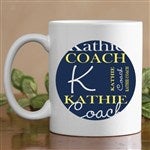 Personilized Mugs
By
Shopper

(Westwego, LA) - December 14, 2011
I love the way they look, I purchased several for office staff, supervisoers and friends. They look wonderful. I wish the mug was a little larger or they had different sizes to choose from, and a few more colors.

Personally Yours Mug
By
Shopper

(Joliet, IL) - December 13, 2011
I bought this mug for my eleven year old daughter, who wanted her name on hot chocolate mug. I loved the brightness of the colors and it looked like the image I previewed before ordering. My only complaint is that the design was not on both sides of the mug. The back side is plain white, which is very unappealing to a child.

Love these
By
Shopper

(St Petersburg, FL) - December 11, 2011
I Would suggest not using yellow, though. It doesn't show up very well.

Coffee mugs
By
Shopper

(Miami, FL) - December 1, 2011
This mug came out even better than it looked on the screen. I was very pleased with the print and quality of the mug. And it was received all in one piece.

co workers
By
Joyce D.

(Akron, OH) - November 25, 2011 (
See all reviews by this customer
)
I am very well pleased. A nice selection of colors however the navy blue is too dark. I will order again.

Company gift
By
Shopper

(Teaneck, NJ) - November 22, 2011
We ordered these because they were affordable and nice looking. They came in so fast and in time for our holiday party. Each one comes in its own little box which is good for wrapping. Really good quality mug. It was tedious to order 45 of them, but at least we got to choose individual colors. And if it was less, it's not so bad. Everyone got a different color combination. Definitely would order again.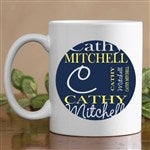 Personally Pleased with Mug.
By
Shopper

(Hamburg, NY) - November 21, 2011
Nice mug; the preview image is accurate. Very excited to give as a gift.

Very good gift that you can choose own color
By
Shopper

(Alameda, CA) - November 11, 2011
This is a very good personalized item which you can pick font and color combination. Especially when the person's name is not common, that makes it a unique gift.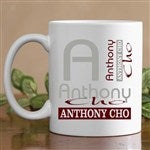 Great Christmas Gift!!
By
Shopper

(WAUKEGAN, IL) - October 29, 2011
Love the way these turned out! Now nobody can say, "Where's MY coffee cup?!?"

Popular hostess gift idea!
By
Shopper

(Kennett, MO) - October 14, 2011
I bought 14 of these in different colors for hostess gifts for my daughter's bridal shower!! It was a fun and personalized way to show our appreciation to 14 special ladies!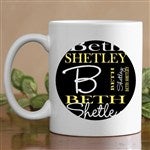 Good Gift
By
Shopper

(Chicago, IL) - September 27, 2011
I purchased this mug as a gift to announce a pregnancy. We had it personalized with "Grandma" and then the name, very cute.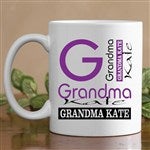 Cute Mug
By
Naomi B.

(Stafford, TX) - September 23, 2011 (
See all reviews by this customer
)
This was purchased for a birthday gift for my sister, and she adored it. I just wish the entire outter of the mug was decorated with the nice design, but overall NICE.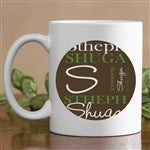 colors darker than viewed on line
By
SANDRA R.

(HILTON, NY) - August 21, 2011 (
See all reviews by this customer
)
I think these mugs are really a nice way to give as a gift and show you have put some thought into the receiver. I was a little disappointed in the coloring though. The navy is very dark (almost black looking) the orange is dark as well. I am giving two of them for Christmas gifts and chose the red & navy to go with a team color but as I said the navy is very dark yet I hope will be fine. I would reccommend them to others for sure!!

A small mug !
By
Shopper

(Reno, NV) - July 19, 2011
Nice quality . . .disappointing that the mug is small . . .

Not the size for a morning cup of coffee .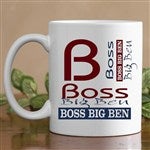 Beautiful
By
Shopper

(FLORAL PARK, NY) - July 3, 2011
Everything about the mug I ordered was as expected, excellent. There was only one slight problem, a very small bump on the top of the handle that might be annoying to the user.

mkm
By
Shopper

(south easton, MA) - June 23, 2011
I bought these for end of the year teachers gifts, the mugs were true to their description. Exactly as I thought they would look. Great gift, I wish they came in 12 or 16oz size.

Very Nice
By
Shopper

(Glen Burnie, MD) - May 21, 2011
I would suggest to have the darker colors on your cup. Viewing the lighter colors example: Yellow and Blue. The yellow was more of a pale yellow. The viewing shows you can see and read your words. I received my cup and I just
could not make out the words on the cup. The blue came out nice. And it actually overwhelmed the yellow. Make sure you stick with the darker colors. Blue on Blue even looked better.

Fun mug for graduate
By
Shopper

(Crofton, MD) - May 20, 2011
This is a fun gift for the college graduate about to start a new job. I bought the brown background with maroon lettering. The brown is a little darker than I'd like, but my daughter loved it.

Usher Mugs
By
Shopper

(Stevens Point, WI) - May 9, 2011
I got my usher and usherette mugs for my wedding and absolutly love them. Instead of doing there first and last name i did there first with my wedding date and they turned out very good for the right price too!!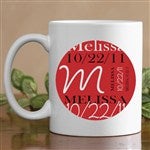 Nice Mug!
By
Kathy T.

(Pleasant Valley, NY) - May 5, 2011 (
See all reviews by this customer
)
Bought matching mouse pad for my brother along with mug. Makes a nice gift set for hard to buy person. Like the fact you can pick color combination. Mug is a bit smaller than I like but nice.

fun mugs
By
Melinda T.

(Alba, TX) - March 12, 2011 (
See all reviews by this customer
)
I ordered the mugs for a girls' family get-together. I was amazed at how quickly they arrived...placed the order on Monday and had the mugs by Thursday! They are really cute and look exactly like the preview picture. I know my relatives will love them! Even though it asked for a last name, I was able to use a first name and a date, so the mugs are even more personalized! I will look to this company for other personalization ideas!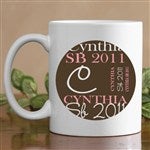 good
By
Shopper

(Knox City, TX) - February 28, 2011
I ordered 4 of these mugs and they all came out just like the previews. I do wish that they had something on the other side of the cup though. The cups arrived very quickly as has everything I have ordered from this company.

Fun coffee mug
By
Shopper

(Long Beach, CA) - February 5, 2011
I know the mug will be popular with the person I'm giving it to. I was disappointed that the name printing was only on one side of the mug, with the other side just blank (white) It's bold font of the name looks really cool though.

Personalized coffee mugs
By
Susan T.

(Westford, MA) - December 31, 2010 (
See all reviews by this customer
)
I ordered a number of coffee mugs as Christmas gifts; they are beautiful and arrived promptly. My only reservation is that the beige background on several of the mugs is a little too greenish-yellow.

Awesome service, product so so but folks loved them.
By
Laura M.

(Kenmore, WA) - December 28, 2010 (
See all reviews by this customer
)
The customer service and ease of ordering cannot be matched, I am so pleased. The quality of the mugs is okay (wish the ink was more opaque instead of translucent and that we had a choice of bigger mugs, like 12oz), but my staff LOVED receiving something with their very own name on it.

Personalized Coffee Mug
By
Megan S.

(O Fallon, IL) - December 28, 2010 (
See all reviews by this customer
)
The quality of the mug was fantastic and the graphics were vivid and easy to read. My only complaint would be that the graphics do not appear on both sides of the coffee mug. It would be nice to read the personalization from every side. Other than that, the gift was well received.

Three to please.
By
Donna S.

(Victoria, TX) - December 26, 2010 (
See all reviews by this customer
)
I purchased three of these mugs and wished now to have ordered more, they were a hit this Christmas! The guys are pleased.

Very Pleased
By
Fay M.

(Norfolk, VA) - December 19, 2010 (
See all reviews by this customer
)
Purchased this for my granddaughter. I was quite pleased with the product. The colors were great and it was exactly what I expected. I was also impressed with the timeliness of shipping.

Nice mug
By
Mary Beth C.

(Kenmore, NY) - December 14, 2010 (
See all reviews by this customer
)
These mug are nice - my only wish is that the personalization be on both sides of the mug. I am a left-hander, so the writing is on the 'wrong side' - and if it were on both sides, it wouldn't matter either way.