Every year...
I started buying these 3 years ago for my co-workers at Christmas, and now it's become a tradition and they look forward to the new quote and different colors each year.

Very nice mouse pad
By
Christine T.

(Corona, CA) - October 1, 2010 (
See all reviews by this customer
)
The mouse pads I received for teacher gifts were perfect. With the yearly calendar at hand and a nice quote, I thought it was a great idea. Thank you.

Love new color choices
I have bought these as gifts for coworkers for the past six years. They are great >> personalized and cost-effective as well as functional. The recipients love having a calendar under their fingertips!
Now the self-choice colored mousepad lets me choose college team colors rather than having to limit myself to limited designs.
Color makes this a much more personalized gift!

It is worth the price.
By
Shopper

(Austin, TX) - April 30, 2014
My colleague loved it. For everyone, his/her name is the sweetest word in any language. If you put that name prominently displayed, he/she will love it....

The mouse pad for Anglea and Mitch
By
Shopper

(Edgewood, MD) - December 22, 2013
I hope that my daughter and son-in-law will like this as much as I do. It will be their's alone to put next to their computer. It's attractive as well as functional.

Color
By
Shopper

(Athens, TX) - January 15, 2013
Need more color selection

Handy
By
Shopper

(Fuquay Varina, NC) - January 6, 2013
Upon opening this mouse pad it had an odor; from what I gather was from the dye used. I let it air out for a couple days and it is perfect now. This mouse pad is a nice weight and size, I'm sure it will come in handy in the up-coming year. Love the fact that it was personalized.

personalized mouse pad
By
Misty S.

(Murphy, NC) - December 30, 2012 (
See all reviews by this customer
)
big hit!!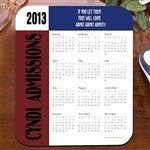 Great gifts
By
Pheon A.

(Union, NJ) - December 26, 2012 (
See all reviews by this customer
)
Working with a tight budget this holiday season, I found the personalized mouse pads a great, inexpensive way to show gratitude to my team. The 30+ personalized messages were priceless...I found something appropriate for each of the approx 12 people that received this gift. I am quite satisfied with my choice.

Classy Office Gift
By
Virginia W.

(Vacaville , CA) - December 21, 2012 (
See all reviews by this customer
)
Very nice and high quality. The price could have been more affordable, but my co-worker was impressed.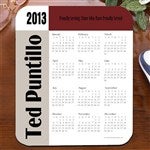 Easy to Design
By
Paula P.

(Charleston, SC) - December 4, 2012 (
See all reviews by this customer
)
This was so easy to design! You pick your colors (2) and it gives you a preview of what it will look like. It is a nice thick mouse pad and samll enough that it doesn't take up so much room on your desktop. Since the colors are printed on rubber, they are not as vibrant as what you see on line.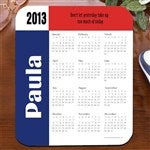 Mouse pad
By
Shopper

(cumming, GA) - May 19, 2012
Great gift for teachers.

Quality product at a reasonable price
By
Ronald M.

(Burlington, NJ) - January 9, 2012 (
See all reviews by this customer
)
Although you need to air out the mouse pad for a full day before use, it is solidly made and of excellent quality. It is convenient having a desktop calendar serving as a mouse pad. I plan to purchase these as a gift for my staff next holiday season.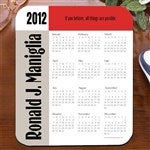 Very Nice
By
Shopper

(Mount Orab, OH) - January 1, 2012
The mouse pad was exactly as pictured and the lettering well done.
Cute stocking stuffer.

Calendar Mouse Pad
By
Beverly S.

(Bethlehem, GA) - December 30, 2011 (
See all reviews by this customer
)
I ordered the personalized calendar mouse pad for my grandson and he loved it. The quality was very good and made a nice gift. I will definitely be ordered items again from your web site.

Neat Product
By
Shopper

(Lafayette, LA) - December 20, 2011
Got this product for my dad from my kids. I put my own quote in it and made it his favorite team's colors. When it came in, the name was bleeding together. I called into customer service and they are sending a new one out. Hopefully it will be perfect. Other than the name bleeding, it was great, and a great idea!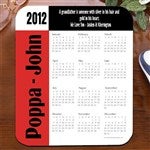 Craetive Mouse Pad
By
Lisa C.

(Cincinnati, OH) - December 20, 2011 (
See all reviews by this customer
)
Good quality thickness. Green color came a bit lighter than pictured. I loved that you were allowed several lines of quotes, Very original!

NIce Work Gift
By
Shopper

(Fairfax, VA) - December 19, 2011
I thought the mouse pad was very nice I wish that I could have switched up the color a little more rather than just having 2 color swatches to choose from, otherwise nice gift!! And I loved the quotes!

A Little Dull
By
Shopper

(Oshkosh, WI) - December 13, 2011
Could be my choice of colors - I went with Burgandy and Gray thinking it would be masculine (for my brother). It looks a little boring, so I would suggest different color combos. The quality of the item is good, however, and the shipping time was great.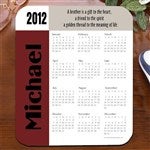 Better than I thought it would be
By
Shopper

(Kitty Hawk, NC) - December 12, 2011
i've seen other personalized mouse pads and they have all been rather thin and some what cheep looking. This is not. It has good body to it and looks professional.
I would have liked more variety in the color choices. This was for my husband and I would have liked to match more closely his business colors, but it still loooks goos.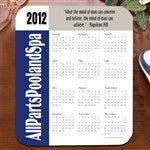 Superb
By
Desmond C.

(Brooklyn, NY) - December 12, 2011 (
See all reviews by this customer
)
I love this product and annually buy it. I even offer one as gift, but this year I ordered a total of 3 and 2 will be gifts.

Superb!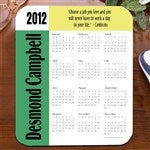 Have ordered these for several yrs.
By
Shopper

(Madison, MS) - December 9, 2011
I buy these for gifts at Christmas for those on my list that are hard to please or have everything. I also buy one for myself. I was not as pleased with one of the three I ordered this yr. due to the spacing issue. But, never the less they are great to have at your computer so you have a calendar at hand.

Font Colors
By
W. H. J.

(Maryville, TN) - November 6, 2011 (
See all reviews by this customer
)
As I stated last year in my review, I shall, once again, state this year: Please allow an option to select either a black color or white color for the font (words) on the mouse pads. Some colors, specifically the reds, would have more eye-appeal if you could have a white font option.

Otherwise your product is perfect!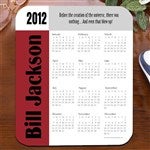 Great Gift For Co-Worker
By
Shopper

(Clinton, MD) - August 26, 2011
What a thoughtful gift to give to my co-workers! A mouse pad, calendar, and personalized message, all in one! Needless to say they absolutely loved it and so did I!

Mouse Pad Personalized
By
Kathryn O.

(Lakeland, FL) - January 3, 2011 (
See all reviews by this customer
)
It is nice for the cost and I get one each year and each year the rubber smells for awhile until it gets aired out. Other than that, I really like the mouse pad with the entire year date on it and use it every day! Thanks. Kay

Super awesome but smell
By
Stephanie H.

(Avondale, AZ) - January 29, 2014 (
See all reviews by this customer
)
I am really pleased at the quality of this product. However, as soon as I took it out of the plastic I had an instant headache (still do). The pad smells so strong and horrible that I cant use it because its making my office smell :(

Smells like a tire store
By
Shopper

(Carol Stream, IL) - December 26, 2011
The idea of this calendar mouse pad is good, but with two issues. It has an overpowering smell that reminds me of the tire aisle at a wholesale club. The back of it feels almost wet, so I took it out of the plastic ziploc it comes in and laid it face down to air dry for 2 weeks. This gets rid of most of the bad scent. The other issue is that if you choose a light color like yellow, the ragged edges are very noticable.

Its a good product BUT
By
Joan R.

(Boca Raton, FL) - December 29, 2010 (
See all reviews by this customer
)
I like the product and the coices of colors and sayings were plentiful BUT when I opened it it, whoa, I had to air out the house! The odor from the rubber was nasty! The good thing is that I ordered two for personal use but would not order any for guests because of the smell. I still love Personalization Mall and will order in the future.

Nice & Stinky!
By
JoAnn H.

(Saint Paul, MN) - February 11, 2013 (
See all reviews by this customer
)
This customized mousepad looks amazing, but it smells terrible! Even a month after receiving it, the smell is just as horrible. I have a huge office - to which I usually leave the door open - and the room smells disgusting. I don't know if I'll be able to use it - which is sad, because it looks so nice. And, of course, when mousing, my hand picks up the smell. It's really vile.

Smells like fish rubber
By
Shopper

(Henderson, NV) - January 6, 2011
I have ordered these for our office 3 yrs in a row. They smell really bad. Somewhere between rubber and bad fish. Still may return them. Timely delivered and great looking, if that helps.

Smells Really Bad!
By
Shopper

(Katy, TX) - January 13, 2013
I got this as a gift for a friend and when I took it out of the plastic wrap, the rubber smell (from the back of the mouse pad) was so strong! I loved the design of the pad with the calendar, her name and a scripture on it and really wanted to give it to her. I tried to air it out and wash it with soap and even sprayed the back with Febreeze. It helped a little. After she began using it in her office, she called me to say it smelled really strong! Grrr. Do not buy this until they make changes!!

First Time Disappointed with Personalization Mall.
By
Shopper

(Moorestown, NJ) - June 27, 2011
I have ordered MANY items from Personalization Mall and LOVE everything I have purchased...until now. The Quote Calendar Mouse Pad is cute but very poorly made.
It is basically a piece of rubber with a synthetic fabric glued to it with "unfinished" edges. Needless to say, the edges of the fabric started fraying and pulling away from the rubber within a very short period of time.
In less than 2 months, I needed to buy a new mouse pad. I don't see how any frequent computer user can continue to use this pad for an entire calendar year.