Very Nice
By
Shopper

(Mount Orab, OH) - January 1, 2012
The mouse pad was exactly as pictured and the lettering well done.
Cute stocking stuffer.

Calendar Mouse Pad
By
Beverly S.

(Bethlehem, GA) - December 30, 2011 (
See all reviews by this customer
)
I ordered the personalized calendar mouse pad for my grandson and he loved it. The quality was very good and made a nice gift. I will definitely be ordered items again from your web site.

Neat Product
By
Shopper

(Lafayette, LA) - December 20, 2011
Got this product for my dad from my kids. I put my own quote in it and made it his favorite team's colors. When it came in, the name was bleeding together. I called into customer service and they are sending a new one out. Hopefully it will be perfect. Other than the name bleeding, it was great, and a great idea!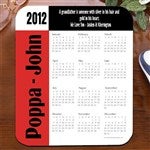 Craetive Mouse Pad
By
Lisa C.

(Cincinnati, OH) - December 20, 2011 (
See all reviews by this customer
)
Good quality thickness. Green color came a bit lighter than pictured. I loved that you were allowed several lines of quotes, Very original!

NIce Work Gift
By
Shopper

(Fairfax, VA) - December 19, 2011
I thought the mouse pad was very nice I wish that I could have switched up the color a little more rather than just having 2 color swatches to choose from, otherwise nice gift!! And I loved the quotes!

A Little Dull
By
Shopper

(Oshkosh, WI) - December 13, 2011
Could be my choice of colors - I went with Burgandy and Gray thinking it would be masculine (for my brother). It looks a little boring, so I would suggest different color combos. The quality of the item is good, however, and the shipping time was great.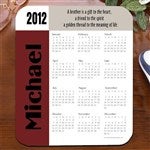 Better than I thought it would be
By
Shopper

(Kitty Hawk, NC) - December 12, 2011
i've seen other personalized mouse pads and they have all been rather thin and some what cheep looking. This is not. It has good body to it and looks professional.
I would have liked more variety in the color choices. This was for my husband and I would have liked to match more closely his business colors, but it still loooks goos.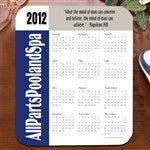 Superb
By
Desmond C.

(Brooklyn, NY) - December 12, 2011 (
See all reviews by this customer
)
I love this product and annually buy it. I even offer one as gift, but this year I ordered a total of 3 and 2 will be gifts.

Superb!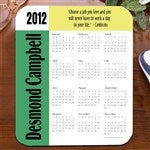 Have ordered these for several yrs.
By
Shopper

(Madison, MS) - December 9, 2011
I buy these for gifts at Christmas for those on my list that are hard to please or have everything. I also buy one for myself. I was not as pleased with one of the three I ordered this yr. due to the spacing issue. But, never the less they are great to have at your computer so you have a calendar at hand.

Font Colors
By
W. H. J.

(Maryville, TN) - November 6, 2011 (
See all reviews by this customer
)
As I stated last year in my review, I shall, once again, state this year: Please allow an option to select either a black color or white color for the font (words) on the mouse pads. Some colors, specifically the reds, would have more eye-appeal if you could have a white font option.

Otherwise your product is perfect!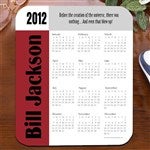 Great Gift For Co-Worker
By
Shopper

(Clinton, MD) - August 26, 2011
What a thoughtful gift to give to my co-workers! A mouse pad, calendar, and personalized message, all in one! Needless to say they absolutely loved it and so did I!

Mouse Pad Personalized
By
Kathryn O.

(Lakeland, FL) - January 3, 2011 (
See all reviews by this customer
)
It is nice for the cost and I get one each year and each year the rubber smells for awhile until it gets aired out. Other than that, I really like the mouse pad with the entire year date on it and use it every day! Thanks. Kay