STUNNING FRAME
By
Caitlin F.

(Watertown, WI) - April 6, 2011 (
See all reviews by this customer
)
This is the 2nd FF frame I've purchased and when I opened the box I'm still amazed at just how great it is. The frame is thick and the finish is glossy. It holds a 4x6 photo and makes a great gift!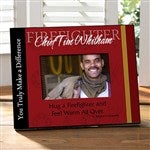 Wonderful Gift!
By
Stacy S.

(Cape Girardeau, MO) - March 22, 2011 (
See all reviews by this customer
)
This item's picture does not do it justice. I recieved it within just a few days of ordering and it was beautiful! I got this as a gift for my husband after he got hired onto the fire department. He loves it!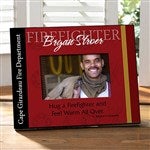 Excellent purchase
By
Jennifer L.

(Enoree, SC) - December 24, 2012 (
See all reviews by this customer
)
I purchased this frame as a gift for my husband. The colors are vivid (I ordered in red) and the personalization is awesome! He loves it and has it proudly displayed with all of his other firefighter awards and figurines. I would highly recomend this product to anyone looking for a special treat for their firefighter! It exceeded my expectations!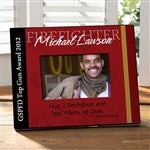 Great frame! Fast delivery!
By
Jeffery F.

(McKinney, TX) - October 23, 2012 (
See all reviews by this customer
)
We gave out these personalized, firefighter frames as gifts at our firefighter appreciation dinner. They were a big hit, especially with the spouses. The department name was listed on the side with the firefighter's name at the top. I would definitely recommend these frames and PersonalizationMall.com!

Continues to be INCREDIBLE
By
Caitlin F.

(Watertown, WI) - February 15, 2012 (
See all reviews by this customer
)
This is my 3rd or 4th purchase of this frame because it is so beautiful! The color (I always order red) is vibrant, the gloss finish is stunning, the personalization is always appreciated by whomever receives it! This year it was my boyfriend. We met while working as EMT's and are both FF. The saying "hug a firefighter and feel warm all over" is cheesy, but appropriate for Valentine's Day, thus the reason I bought it. I only wish we could put our own personalized lines on it, but I won't complain about that when the rest is amazing! Again I put in this review as I have the previous (as have others), this frame is stunning and the photos don't do it justice! If you have a firefighter in your life, THIS is the frame to buy them!

Only other suggestion to PersonalizationMall.com: make a similar thing for EMT's, Paramedics and First Responders and you'll have even MORE orders!!!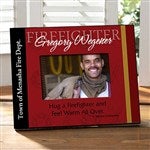 Photo doesn't do it justice
By
Caitlin F.

(Watertown, WI) - December 27, 2010 (
See all reviews by this customer
)
I bought this for a fellow firefighter as a thank you for helping me get through fire training. The on-line photos don't show the gloss finish! It is beautiful. To try and keep it generic (incase she changes departments) I put "Always There... Ready to Care" on the black side-bar. This is really an eye-catching piece! I would suggest it to all!

FIREFIGHTER FRAME
By
BEVERLY L.

(METHUEN, MA) - September 9, 2010 (
See all reviews by this customer
)
The frame was even better than the picture. I can't wait to give it to my brother-in-law. It is making a perfect retirement gift. I would recommend this item to everyone. Top quality.

Amazing !!
By
Gogi H.

(Brockton Ma, MA) - September 30, 2010 (
See all reviews by this customer
)
Having 3 Boston FireFighters in our immediate Family,this frame was a must , for Christmas ! I was really pleasantly surprized ! very well made,and worth the cost,the front was laminated,which gave it a very nice look,and the quality was fantastic ! and when I saw it personalized,I loved it even more !! thank you so much ,the Best website I have found in a long time,I keep coming back !!

Great Gift
By
Shopper

(Amissville, VA) - April 28, 2012
This personalized frame was a great gift for our daughter-in-law following her graduation from the Fire and Rescue Academy. The frame was made and delivered in less than a week. The color and quality was top notch.

Firefighter picture frame
By
Lynn J.

(Metairie, LA) - July 29, 2013 (
See all reviews by this customer
)
I order the frame for my son who is graduating from the Fire Dept. Academy. I am very happy with it. The quality is great, the red is vivid, and the personalization makes it so personal.

Gorgeous!
By
Shopper

(Rowlett, TX) - December 2, 2011
I read reviews on this frame before purchasing which help sell it even more so I have to do my own. I can't wait to give this to my husband for Christmas but I just got it in and it is just beautiful! The picture here does not do it justice of how well it is made! Very nice product and would definitely order here again.

My recent frame order
By
Christopher B.

(Duncan, SC) - June 4, 2011 (
See all reviews by this customer
)
I was thrilled with the personalized frame when it arrived. The picture on the website is good but doesn't do justice to the real thing. I was so pleased!! I'll be back for future orders.

Love it!
By
Shopper

(Hohenwald , TN) - November 23, 2011
Ordered this for my cousin who is a firefighter and I love it! It turned out very nice and will make an excellent gift for him!!