Military frames...
By
Shopper

(Woodville, WI) - June 21, 2011
I Looked and Looked for the perfect frames...EVERYWHERE... We have several that are in the military Past and present. I wanted frames that were not the basic colors or had the same old sayings that everyone has on their frames. I love that I could individualize each frame...I am sooo happy I chose the frames from Personalizations mall.com. the only thing is it is a little hard to see the white lettering on the glass. I will have to put something black behind the frames like felt or something. OverAll I am VERY Happy...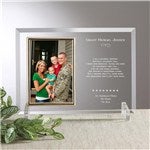 Love It
By
Cynthia S.

(Cocoa, FL) - December 27, 2013 (
See all reviews by this customer
)
Great quality gift to give. I was very satified with this product.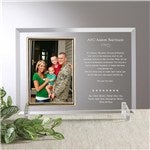 American Hero Reflections Frame
By
Shopper

(Kenner, LA) - April 9, 2013
I am very pleased with my order. I am placing it on a memorial table and giving an honor plaque to the family of a fallen soldier at a Memorial Day observence event.

Thanks for the good work and the speedy delivery.
Please note, the picture shown in my frame is not that of the soldier, it is the stock picture from Personalization. Mine will have a photo of the soldier the plaque is about when it is displayed as mentioned above.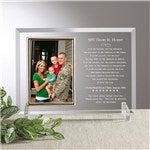 Very Pleased
By
Jenai O.

(Detroit, MI) - September 29, 2013 (
See all reviews by this customer
)
I was very pleased with the results of my order and the fact that it came earlier than expected was a major plus. The only negative was the words were kind of small but other than that it was absolutely beautiful.

Nice, but small writing
By
Shopper

(Warner Robins, GA) - June 11, 2012
Classy frame. I love that I was able to personalize it, but thought the type set was too small. With all of the available space, they could easily have used a bigger letter size. That would have made it easier to read the writing on clear glass. I recommend this item, but you may need to apply a dark mat to read the message. The service was outstanding...very quick turnaround on the order!

perfect gift for the hero in your life...
By
Amber U.

(Freeland, PA) - November 17, 2010 (
See all reviews by this customer
)
I bought this for my boyfriend for the Marine Corps Birthday and Veterans Day. He served 5 years and did 3 tours overseas so his service was and still is very important to him. I made sure that the picture was of him and his closest friends in the service. He absolutely loved it. I used the default Soldier's Poem, and it made him cry! The craftsmanship was beautiful, and now he'll always have something on the shelf to remind him of the good times he had in the service.

Awesome gift
By
shanika R.

(fort riley, KS) - January 9, 2011 (
See all reviews by this customer
)
I bought this for a friend who sent me care packages while i was deployed, i added some words to the end of the poem and put a picture of my platoon in it and she loved it! Definately an awesome idea and gift!

EXCELLENT
By
TTT-Tammy W.

(Hays, KS) - December 31, 2010 (
See all reviews by this customer
)
This is an excellent website for your personalized gifts. The shipping time is super fast. very pleased will be ordering again

little dissappointed
By
Shopper

(Sahuarita, AZ) - March 15, 2011
I got this as a gift for my husband. When I opened it I was a little dissappointed- for some reason I thought it would be thicker and more sturdy. It does look nicley finished, just would have liked it to be more weighty

Writing was Difficult to Read
By
Shopper

(Forest Hill, MD) - September 17, 2012
I selected the picture frame with a poem written/engraved on the side. Because it was engraved on glass, the wording was almost illegible. I had to take the piece to a professional framer who put a black matting behind the glass and then set everthing in a new frame. It wound up costing three times what I initially spent. It will take two weeks to complete so the gift was not ready for the retirment event. I'm hoping when it comes in, the wording will be easier to read with the black backing.

Wording very small
By
Shopper

(White Plains, NY) - February 10, 2012
It is a nice frame but the wording is extremely small. You should be able to change the font to a bigger size especially if you have very little to write

Not COMPLETELY what I thought
By
Shopper

(Villa Rica, GA) - June 8, 2011
The glass part is very impressive but the gold around the frame looks very worn and not in the great shape it does look like in the picture. I'm overall satisfied but I just wish the gold frame looked better.

Like and Dislike
By
Shopper

(Lakewood, WA) - May 29, 2011
I was very happy with my recent purchase that I presented to my husband who recently retired from the military. I love the frame that I ordered , however it is difficult to read the white lettering. I will have to figure out a way to put a black backing on it so the letters show up. I was very happy with the speedy delivery. Thankyou.

Wonderful
By
Shopper

(Collinsville, OK) - April 8, 2013
I bought this for my son-in-law when I found out that he had been promoted to SGT. My husband and I wanted to do something special to show him how proud we are. When he received it he just loved it and so did our daughter. The quality was wonderful, and it was just perfect for the occasion. This was not the first item I have bought and it won't be the last.

Son...Welcome Home from Afghanistan
By
Bonnie Lynn F.

(Reading, PA) - October 11, 2012 (
See all reviews by this customer
)
With the amount of time given to let the family know when he was returning home, I was worried whether I could find a gift and then have it in time for his arrival home. Well this was done and greatly appreciated we received it within 4 days and the gift was beautiful...thank you!


Great quality, price, and turnaround!
By
James H.

(Bonney Lake, WA) - June 20, 2014 (
See all reviews by this customer
)
Was limited on time in purchasing a farewell gift for an employee and personalizationmall.com came through with not only overnight shipping (received two days after the order was placed), but also this high quality personalized frame. Will definitely keep this company in mind for all future personalized purchases.

Loved Loved Loved this
By
Tina E.

(Pinckneyville, IL) - September 13, 2014 (
See all reviews by this customer
)
It came very quick with just standard us mail shipping. Very impressed with the arrival time. Bought this for my office and it is gorgeous. It looks very classy. Proudly put my Marine's picture in it. Like I said very classy. Loved this. Will order from this site again probably for Christmas. Order, received and displayed in a matter of days. Very very pleased!!!!

Better than expected.
By
Shopper

(Pikeville, KY) - July 22, 2014
This product is much better than I expected. It's very nice and affordable. Especially for what all you're allowed to inscribed. The shipping was very fast. Again another product from a satisfied customer. Will definitely buy from again.

Perfect
By
Shopper

(Port Orange, FL) - December 5, 2011
I ordered this for my Dad, as a memorial for his Dad who served in WWII. Just came today and it is beautiful. Very good quality. This is the second time I have used this website and am very pleased.

beautiful
By
Christina G.

(La Puente, CA) - August 23, 2011 (
See all reviews by this customer
)
this frame is a beautiful way to honor our son's bravery. I am completely satisfied with this purchase. just beautiful

PERFECT!!! SO BEAUTIFUL!!!
By
Angelina J D.

(Severn, MD) - March 1, 2011 (
See all reviews by this customer
)
It came very quickly and looked just amazing! It was packaged smartly and efficiently.The recipient was blown away and how nice it is!! This Naval Officer's Wife will be back many, many times to buy again! Thank you!!!!! Thank you also for having something for Military, we appreciate it!!

BEAUTIFUL
By
Shopper

(kansas city, KS) - August 29, 2011
This frame is beautiful. I received my order very fast. Loved it!

Awesome
By
Shopper

(Woodland Park, CO) - December 4, 2011
I received this to give to my boyfriend he deploys here in the next month and I just really love how it came out and how the picture looks in it!!

Extremely Satisfied
By
Nancy F.

(Laredo, TX) - September 8, 2011 (
See all reviews by this customer
)
I am extremely satisfied with the product I purchased. It was a gift for my husband letting him know how proud we are of him. He loved it!!!! The fact that you can personalize the product was just fantastic!!!