Font on the back misleading....
By
Shopper

(North Tonawanda, NY) - November 28, 2012
I LOVE the whole idea of this and the picture on the pick turned out nice, but the wording on the back is tiny and light compared to the sample it showed when proofing the order. So go large and bold!!!

Neat Idea
By
Shannon G.

(Wakefield, MA) - June 25, 2012 (
See all reviews by this customer
)
My boyfriend loved his gift, however the picture came out a little fuzzy. I also wish that I could've made a whole photo album on guitar picks without buying several different packages. Overall it's a good gift.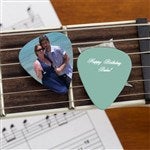 His guitar picks
By
Shopper

(Midland, TX) - May 11, 2012
He loved them alot.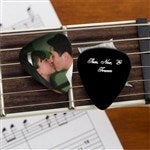 size options
By
Heather T.

(orange park, FL) - March 18, 2012 (
See all reviews by this customer
)
well the picks are great but i would have liked to see them come in different kinds of sizes... like the ones you gave me and thick and i have thinner ones i can use but i think it would be helpful if we (as the shoppers) could choose the size of the guitar poicks we recieve. or even better get a variety box :P thanks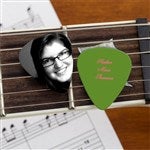 Great Idea-- bad execution
By
Shopper

(New York, NY) - February 7, 2012
I love the personalized guitar picks but only half of my order came aligned properly.
A little disappointing.

SMelly
By
Shopper

(Horseheads, NY) - January 3, 2012
These picks smell like alcohol or something.. and the color comes off when you play guitar with it.. cute but they could be a lot better quality!!

Guitar picks
By
Shopper

(Highlands Ranch, CO) - December 31, 2011
I was pretty unhappy with the way the photo i chose was centered on the pick. I wish there was a way to preview finished product before it was created and shipped. The font on the reverse side was also very small.

becareful of the color combo you pick
By
Shopper

(Dallas, TX) - December 29, 2011
I loved the picture side of the pick but I picked black and red for the personalization and you couldn't read the name or the inscription. So dissapointed, they were a Christmas gift and my nephew couldn't read his name!

OK
By
Shopper

(Cordova , SC) - December 4, 2011
The gutair picks were ok. The writting on the back was a problem you could only see it well on half of the picks but the other half looked good. Also the picture was a little blurry & they were smaller than expected..

average
By
anna L.

(Canada) - November 28, 2011 (
See all reviews by this customer
)
Easy to create your personalized picks. Pictures are very small, picks very hard but still a good item as gift


Smaller picture than shown
By
Shopper

(Corinth, TX) - November 25, 2011
I love this gift, but the picture is not as close up as it appears in the sample. Zoom in just a little more than you think you need to.

Picture not exact
By
Heather T.

(College Station, TX) - November 16, 2011 (
See all reviews by this customer
)
Bought this as a Christmas gift for my son - know nothing about picks in general, but seems to be of good quality. Picture on the front didn't crop exactly as my proof online showed, which was a little disappointing bc of the type of picture it was. I'm sure my 16 year old will never notice, but just wanted to give fair warning to future purchasers if the outer edges of the cropping are important. I spent a lot of time getting the image to look just as I wanted since the "warning" statement says there will be no changes once submitted. I was aiming for a wrap around effect with the "WIT" sign on the front. Unfortunately, in the final product....to the left of the "W" there a sharp black square edge so the wrap around effect is a bit lost. Probably not important for other types of pictures, just for this one.....was hoping for an "exactly as the picture appears" version.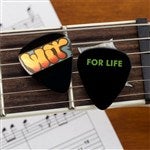 Nice picks, but. . .
By
J M M.

(Charleston, WV) - April 29, 2011 (
See all reviews by this customer
)
I ordered customized guitar picks. They're nice picks, but I'd liked to have had a choice in thickness. Also, the logo I provided was printed a little off center. I ended up paying $0.65 each for them, which is a little much for a guitar pick, even if it is personalized. The quoted price was $0.50 each, but the shipping came to $0.15 each. Too much. If I order again, I'll have to get a much better deal and better service.