Guitar Picks
By
Shopper

(Jerome, ID) - February 16, 2012
The Picture was so clear and looked excellent on the guitar pick. However, the words I had printed on the back were extremely small. I was never able to figure out how to adjust the font size and I figured they would adjust it to fit best and be readable. I would suggest this product to someone because it's unique, fun and functional. Just use the least amount of words possible.

Great gift idea!
By
Shopper

(Brookline, MA) - February 15, 2012
The guitar picks turned out great, and the picture was very clear! I know my boyfriend will love them! My only suggestion would be that they let you choose more than one photo for the picks to add some variety since they send you a lot of them.

Good Quality
By
Shopper

(Allendale, MI) - February 15, 2012
I ordered these picks for my boyfriend for Valentines Day because he plays guitar and he loved them! They are good quality but the picks are heavy so make sure that's what you want. Putting a photo on the pick is pretty difficult and I had to work on it for a while because the tool zooms up on any faces in the photo. Overall they turned out really well and they shipped in less than a week! I would recommend these picks!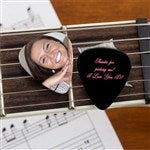 Awesome idea
By
Steven F.

(Rocklin, CA) - February 12, 2012 (
See all reviews by this customer
)
Love the idea and as a gift it was a hit. Message was very small and hard to read even though there was room for a larger font. Handling and communication were excellent.

guitar pix sweet gift for music lover
By
ja B.

(DENVER, CO) - February 10, 2012 (
See all reviews by this customer
)
graphics with words don't apply well to this application but pictures do. these are a sweet gift item and worth the money.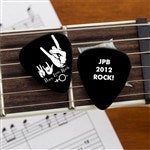 What I got for my boyfriend
By Shopper (Fort Worth, TX) - February 4, 2012
I haven't recieve it yet, but it will come soon, I just order it right about now. I hope my boyfriend will like it I'm excited to see it :)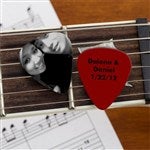 Pretty Good!
By
Ryan S.

(Brooklyn, MI) - January 31, 2012 (
See all reviews by this customer
)
Loved my picks when they came! was not aware they would start to fade after playing but still pretty good. I spelled my own name wrong when i made them but thats my fault.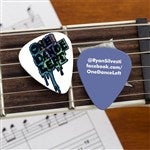 ...
By
Kelsey C.

(Guys Mills, PA) - January 31, 2012 (
See all reviews by this customer
)
The picture looks very nice. The pick is a lot smaller than I thought and the words on the back are much smaller than I thought they would. I would definitely pick a different font next time. I also wish I didn't have to buy 20 of them and that maybe they could have more than one picture

GREAT PRODUCT- AVOID USING TEXT
By
Shopper

(DENVER, CO) - January 28, 2012
I love that these picks and think they are the perfect thing.
Use the Personalize side for any text you want unless you do not mind text too small to read. The image quality is great, and these are a wonderful gift item.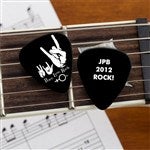 Expectations Met
By
Shopper

(Jamestown, NY) - January 27, 2012
I thought this was a great product! What you order is pretty much exactly what you get. If I had to be picky I would've liked the picture to be a little clearer, but it also could have been the quality of my picture. The product packaging was very impressive in a velvet bag and packed tightly in bubble wrap. I was very pleased with my purchase, and it came in a good amount of time!

Very few complaints
By
Ujena H.

(Canada) - January 27, 2012 (
See all reviews by this customer
)
I got these for my boyfriend for his birthday, he absolutely love them!! The only thing I could complain about would be the font size, it is much smaller than I expected and he had to somewhat "squint" to read what I had written on them. Also, I found the wording wasn't quite in the center of the pick which was a small disappointment. However, I am only nit picking, this is an amazingly creative idea for a gift or even for yourself! I am going to have a very hard time topping this gift next year, I will defiantly consider coming back to this site!!

Customers Relations is very prompt and helpful
By
Shopper

(Kalamazoo, MI) - January 21, 2012
I recently ordered this for my boyfriend as a present. They shipped promptly and came out very nice. 6 of them had some smeared black ink, and I called customers relations and the lady I spoke to was very helpful, and decided to send me another order of 20 to replace the 6 with no charge. Thank you customers relations! I am very satisfied with my order now! :)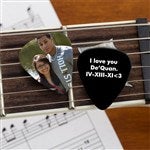 Neat Gift
By
Shopper

(Bel Air, MD) - January 17, 2012
Very neat and cute, only wish that I could have positioned the picture myself (it automatically does it for you)

Great idea!
By
Jarrod M.

(Seattle, WA) - December 27, 2011 (
See all reviews by this customer
)
I got these as a Christmas gift for my girlfriend who plays bass. She loves them! However, I was a little disappointed with image quality. I used a high resolution picture and the image of what the picks were too look like were great. But when I received them the image was not nearly as clear and the details blurred. Overall, I'm happy with the product, I just wish the preview image was a truer representation of the final product.

Great Picks
By
Shopper

(Wellsboro, PA) - December 25, 2011
Quality was great, the text and picture were a bit off centered...but other than that they were great!

Decent
By
Shopper

(Jacksonville, FL) - December 17, 2011
The picture turned out great and the picks are durable. The thing that I was disappointed about, however was the text. I picked the script font with a black background with white text because I like black and figured it'd show up well. The font was a little smaller than I expected and hard to read (and all I put on the picks was R.L.M. & B.A.M, xo xo xo, 10/02/08). Its pretty difficult to read not only because of size but also it isn't vividly white, but instead, rather dim. The pictures they have posted on here all seemed to feature the block text, which looked clear and legible so maybe I should have gotten that. Only other complaint I have is that I wish you could individually select how many picks you want instead of having to choose 20 or 30 or whatever. Otherwise, I am pleased with my purchase ad I believe my girlfriend will love them.

So fun!
By
Riley D.

(Flagstaff, AZ) - December 12, 2011 (
See all reviews by this customer
)
I absolutely love the quality of these guitar picks! They are an amazing gift that I got for my father's birthday. The only problem is the minimum order I had to buy was 20 picks, and I really only needed a few, but other than that I am very pleased.

Cute Idea for the price
By
JILL S.

(MARS, PA) - December 12, 2011 (
See all reviews by this customer
)
The guitar pick turned out good, however the space you have to work with gets cropped drastically, after trying several different pic, you pretty much still get half of the pic cropped out.


Original idea
By
Micaela B.

(Cumming, GA) - December 11, 2011 (
See all reviews by this customer
)
Love that this is even something you can personalize. Great product.

A little smelly
By
Shopper

(Canada) - December 8, 2011
They turned out better than expected. They are pretty solid, good enough to play with. The only thing is that when they arrived, they smelled pretty bad. Must have something to do with the process. Also it says to keep them away from heat, so no ULTRA-SHREDDING!

Very Satisfied
By
Shopper

(Canada) - November 28, 2011
I was very satisfied with the time it took for my guitar picks to get to me! Being from BC, Canada they came within a week! Thought I was going to have to worry for Christmas :S
the only thing that I'm not happy about with the product is the front is too small and I didn't have a choice to change that. That was the ONLY thing but again, thank you so much and I'm recommending your site to others!

good quality
By
Shopper

(Canada) - November 22, 2011
the picture turned up very clear and the writing looked really good.

Personalized guitar picks
By
Shopper

(Canada) - November 22, 2011
The picture was excellent! Great quality! Speedy delivery! My only complaint would be not being able to choose the strength of the pick; I would prefer a softer pick

So awesome!!
By
Shopper

(Cicero, IN) - November 20, 2011
I personalized these for my friends 17th birthday! They are so cute and turned out perfect!! The only complaint is they took longer than I expected to get here but I would still order from here again!

Loved This But.....
By
Fallon D.

(Quincy, MA) - November 15, 2011 (
See all reviews by this customer
)
I purchased this item for my boyfriend who is a guitarist for his birthday....I am hapy to report that it is well made and came out awesome...My only complaint is that you can't have more than picture/saying on the picks- i think it would have been better if we were able to create atleast two options that way you do not have 20 picks that are all the same.

Custom Guitar Picks
By
Shopper

(Greeley, CO) - November 2, 2011
The picks came out AMAZING!!! The picture was exactly like what it showed in the preview of my order before I paid for it!!! The only thing I can suggest is the writing on the back of my picks were really small so it is kind of hard to read, but overall I am very very happy with my order of picks. I will be more than happy to purchase from here again!!!

Guitar pick
By
Mary B.

(Etna Green, IN) - October 28, 2011 (
See all reviews by this customer
)
Picks were ok. The color on the front did not match the color on the back.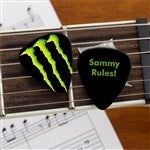 Loved this! Perfect thoughtful gift idea.
By
Shopper

(Leesburg , AL) - October 10, 2011
Turned out great. I only wish that the picture could have been more centered. Overall very pleased. I love it!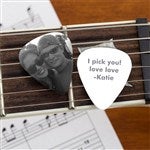 Happy Bass Player's Son
By
Shopper

(Burnsville, MN) - September 25, 2011
I purchased these as a gift for my father at my wedding. I haven't given them to him yet but I am expecting him to be very happy. The picture on them looks great and the weight of the pick is great too.
Strongly Reccomend

Pretty great
By
Shopper

(Trussville, AL) - September 23, 2011
love the picks! Picture looks great but text is not centered on the back side!! :( I didn't like how complicated it was to get the picture on there. I had to add 7 layers of borders just to crop out.

very nice
By
Shopper

(Edinburg, TX) - September 21, 2011
I ordered this item for my boyfried, I loved it, cant wait for him to see it. What i didnt like, was that I had to try a bunch of pictures until I found the right one that fit in.

cute idea
By
Shopper

(Garnerville, NY) - August 28, 2011
cute idea... a little thinner than i thought.. more of a cute favor than as something to put in use.. but i have 20 of them so even if they break, i have many backups!

Great Job with the picture but HORRIBLE writing
By
Shopper

(Kentwood, MI) - August 27, 2011
They did a great job with printing the picture exactly as I wanted but the writing on the back was really small and the letters almost ran into eachother. It would have looked a lot better if they would have made the font bigger especially because there was room. It was mailed quickly and packaged well. Only negative thing would be the writing.

Fun Item
By
Buck McCoy M.

(Franklin, TN) - July 25, 2011 (
See all reviews by this customer
)
These picks are a solid product. People love it when I pass them out at shows. I get the best price from this company. They deliver on time. Go for it. Get some picks today!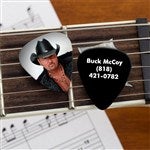 looks good
By
Judy F.

(PEMBROKE, VA) - July 22, 2011 (
See all reviews by this customer
)
Picks came quickly. Picture quality is very good. Very satisfied.

Personalized Guitar Picks
By
Kristi Y.

(Gilbert, AZ) - June 22, 2011 (
See all reviews by this customer
)
Good quality product, but I imagined the picks would be a bit larger. Picture of my family of 4 was quite small. However, overall happy w/ purchase.

Great
By
Shopper

(Arlington, TX) - June 19, 2011
Y'all always have the best gifts. These were so unique and special. Cheaper than other sites that customize guitar picks. It was kind of hard to crop a photo to fit perfect on here, but I guess that's understandable. Anyways, my man loved them! Thanks!

Nice Pick!
By
Lori W.

(Aurora, IL) - June 5, 2011 (
See all reviews by this customer
)
Small in size but says loads about the thought behind the gift. Nice job done. The smaller your image is the more inclusive the image on the pick will be. My oldest brother just started playing his guitar again after several years. He will really get a kick out of these.

Great Customer Service
By
Shopper

(Shorewood, WI) - May 28, 2011
The original item arrived with the inscription way off center. After review, they replaced the item at no additional cost to me, with quick turn around.

Muted color :(
By
Shopper

(West Jordan, UT) - May 20, 2011
The quality was great; my only complaint was the color spectrum of the image I uploaded wasn't printed as vibrantly much more muted tones but overall happy with the purchase.