very nice
By
Shopper

(Edinburg, TX) - September 21, 2011
I ordered this item for my boyfried, I loved it, cant wait for him to see it. What i didnt like, was that I had to try a bunch of pictures until I found the right one that fit in.

cute idea
By
Shopper

(Garnerville, NY) - August 28, 2011
cute idea... a little thinner than i thought.. more of a cute favor than as something to put in use.. but i have 20 of them so even if they break, i have many backups!

Great Job with the picture but HORRIBLE writing
By
Shopper

(Kentwood, MI) - August 27, 2011
They did a great job with printing the picture exactly as I wanted but the writing on the back was really small and the letters almost ran into eachother. It would have looked a lot better if they would have made the font bigger especially because there was room. It was mailed quickly and packaged well. Only negative thing would be the writing.

Fun Item
By
Buck McCoy M.

(Franklin, TN) - July 25, 2011 (
See all reviews by this customer
)
These picks are a solid product. People love it when I pass them out at shows. I get the best price from this company. They deliver on time. Go for it. Get some picks today!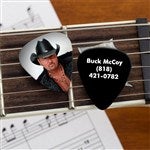 looks good
By
Judy F.

(PEMBROKE, VA) - July 22, 2011 (
See all reviews by this customer
)
Picks came quickly. Picture quality is very good. Very satisfied.

Personalized Guitar Picks
By
Kristi Y.

(Gilbert, AZ) - June 22, 2011 (
See all reviews by this customer
)
Good quality product, but I imagined the picks would be a bit larger. Picture of my family of 4 was quite small. However, overall happy w/ purchase.

Great
By
Shopper

(Arlington, TX) - June 19, 2011
Y'all always have the best gifts. These were so unique and special. Cheaper than other sites that customize guitar picks. It was kind of hard to crop a photo to fit perfect on here, but I guess that's understandable. Anyways, my man loved them! Thanks!

Nice Pick!
By
Lori W.

(Aurora, IL) - June 5, 2011 (
See all reviews by this customer
)
Small in size but says loads about the thought behind the gift. Nice job done. The smaller your image is the more inclusive the image on the pick will be. My oldest brother just started playing his guitar again after several years. He will really get a kick out of these.

Great Customer Service
By
Shopper

(Shorewood, WI) - May 28, 2011
The original item arrived with the inscription way off center. After review, they replaced the item at no additional cost to me, with quick turn around.

Muted color :(
By
Shopper

(West Jordan, UT) - May 20, 2011
The quality was great; my only complaint was the color spectrum of the image I uploaded wasn't printed as vibrantly much more muted tones but overall happy with the purchase.

A big hit with my fellow musicians!
By
Loraine M.

(Reading , PA) - May 9, 2011 (
See all reviews by this customer
)
I thought the pic turned out exactly as shown in preview. However, some of the photo did not cover the entire pic. Thought that the part of the pic without the photo should have been the same color as the back side of the pic, rather than showing white. Formating options to fit photo could be a little more user friendly. Possibly by allowing room to skew the photo to fit on desired item. Will probably purchase different pics in the future for other venues. Turn around time was very quick. All in all, very satisfied with the end result.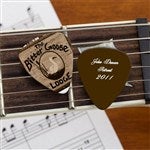 1st anniversary present
By
Erica M.

(Nesquehoning, PA) - April 20, 2011 (
See all reviews by this customer
)
I bought these for my husband for our first anniversary. The picture came out great! However, the wording came out super tiny. I could be partly to blame due the number of letters. I shouldn't have gone with the script font, which made a little squished too. Overall, they are really nice. I'm sure he will love them!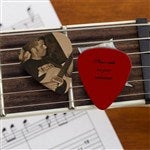 Better
By
Shopper

(Hampton, MN) - April 19, 2011
Well after the first run was poor and not at all as we expected, or even paid for, Personalization Mall came to the rescue. They did a rerun and the product looked much better. We would say that customer service was decent and kind and took care of our issues in a effective & caring way, that is how businesses should be run. We would recommend them to other businesses if they try as hard as they did for our business to make things correct and without hassles. They will make it right and stress free. We will be purchasing more from them shortly.

Very Cool Guitar Picks
By
Michelle S.

(Temperance, MI) - April 18, 2011 (
See all reviews by this customer
)
I purchased these guitar picks for my fiance who plays guitar in a local band. I had a picture of him playing on one side and his name and the band name on the other. The picture turned out great. Although he would not use these to play, they are a great souvenir for him to share with the crowd. Plan to order more for for my fiance as well as the bass player in his band.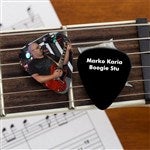 nice gift but could be better if....
By
Brittani M.

(Lacey, WA) - April 17, 2011 (
See all reviews by this customer
)
My dad plays the guitar, this was an awesome gift idea but I was a little dissapointed that you could only use 1 picture for 20 picks. it would be better if you could use 20 different pictures and phrases for the picks or something close to that, since 1 order comes with 20 picks.