Clever Gift!
By
Michael G.

(Hermosa Beach, CA) - August 24, 2011 (
See all reviews by this customer
)
I bought this gift for my Best Man, and I am impressed as to how my personalized set of picks turned out. Quality in material and printing seems great, and the picture and text is perfectly visible and clear. The felt bag for the set of picks was a nice touch as well. My Best Man really liked this gift. I do not have any feedback about how effectively they can actually be used for playing the guitar, though I did not see how there would be any problems.

Thanks! Loved Them
By
Shopper

(bardstown, KY) - August 23, 2011
I got these picks for a gift to all my brothers friends. He recently passed away, and was the best guitar player I know. All his friends will be so excited they have their own pick to remember him by.
Thanks Personalizionmall.com

NOTHING ELSE LIKE IT!
By
Judith C.

(Union, NJ) - August 23, 2011 (
See all reviews by this customer
)
I'm always looking for something unique to give as a surprise gift. These guitar picks were perfect for "my son the musician ". No one else will have anything like them.

Camp Director
By
Shopper

(Brookston, IN) - August 22, 2011
The picks were a perfect gift as an end of the summer gift for our camp guitarists/counselors. I wish they could have been mediums instead of hard. I also wish that I could have ordered a larger quantity at a reduced price per pick instead of opting to purchase only one order of 80. Everyone loved them and they were delivered in just a few days.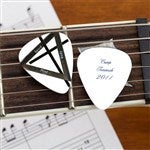 Love. Love. Love.
By
Megan S.

(Morley , MI) - August 22, 2011 (
See all reviews by this customer
)
The guitar picks I ordered were so cute and the picture was a lot clearer than I expected! I got them for my boyfriend for our anniversary, and I think he's going to love them! I will definitely be ordering more soon!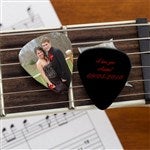 Great unique gift
By
Shopper

(Chicago, IL) - August 21, 2011
I think this is a great gift idea! love that we can use a pic\graphic & have words on the back. So flexible!

Nice
By
Vanessa N.

(Heavener, OK) - August 19, 2011 (
See all reviews by this customer
)
I Loved it a lot!!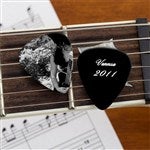 Nice Idea!
By
Mark B.

(Toms River, NJ) - August 19, 2011 (
See all reviews by this customer
)
This turned out better than I or my family expected.Nice weight pick, not flimsy. Liked it so much, I ordered 3 new designs..

So Cute!
By
Teri G.

(New Springfield, OH) - August 15, 2011 (
See all reviews by this customer
)
Love these...they are SO cute! Can't wait to give them to our grandson for his birthday!!!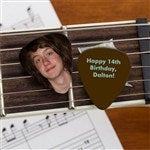 great gift
By
Shopper

(Cincinnati, OH) - August 13, 2011
this was perfect. they turned out exactly how the preview was. my boyfriend loved them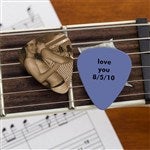 Guitar picks
By
John N.

(Bellevue, NE) - August 13, 2011 (
See all reviews by this customer
)
They are great - Love em and so do the people I give them to.. I have reordered 3 times and will order more when these are gone... A little pricy at .60 cents per pick..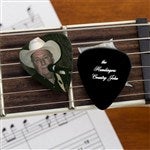 WOW
By
Laurie E.

(Calabasas, CA) - August 13, 2011 (
See all reviews by this customer
)
They are great!! I get a little worried about buying on line sometimes but these are well priced and will add so much sprinkled on the tables!!! VERY CUTE!!!!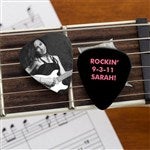 These ROCK!
By
Kristen K.

(Lawrenceville, GA) - August 12, 2011 (
See all reviews by this customer
)
These turned out even better than I expected! They ROCK!! I'll be ordering more really soon!

JimmYSixStrinGtm Photo guitar pick-web URL on back
By
James L S.

(Meridian, MS) - August 6, 2011 (
See all reviews by this customer
)
These photo/web URL guitar picks are fantastic the picture looks great & the URL info on back is very easy to read, these will be the best way to leave a lasting impression after a show. Thanks personalizationmall. Indie Artist-singer/songwriter-JimmYSixStrinGtm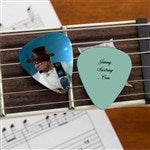 Keepsake guitar picks
By
Lance B.

(Kerrville, TX) - August 6, 2011 (
See all reviews by this customer
)
What a wonderful service! My wife and I were in "Buddy - The Buddy Holly Story" play at a local theater and wanted to give the cast and crew a keepsake from such a wonderful play (especially since we were held over. due to its popularity). So we luckily happened upon personalizationmall.com and found we could use one of our promo pictures for one side of a guitar pick and had "Buddy" and "2011" on the otherside. They came out beautifully. Everyone loved them and were impressed with how inexpensive they were. Thank you, from the cast and crew (and director) of "Buddy-The Buddy Holly Story" which appeared in the Texas Hill Country.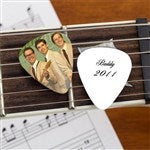 Personalized photo guitar pick
By
Shopper

(Campbell, CA) - August 2, 2011
Very impressed with the quality of the product and the photo on the guitar pick is very clear and looks great. I ordered for normal shipping and I got it before the estimated delivery date. Will definitely order again.

Great product
By
james M.

(mesa, AZ) - August 2, 2011 (
See all reviews by this customer
)
it was great I don't really know what else to say about it it was easy fast service I will deffently shop here again

Almost perfect
By
yannick A.

(hollywood, CA) - August 1, 2011 (
See all reviews by this customer
)
THe only issue: the interface to resize the picture onto the pick... But once the right size made on photoshop (took me 5 different versions of cropping to get it right) it went smooth... And before i even knew it, i received them in the mailbox... THey look awsome, we are going to use them for our bands on our label, and order more specialized for each single released/tour/event..THnx great work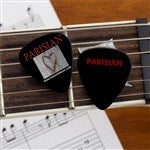 As Always - Great Job
By
Shopper

(Grand Prairie, TX) - July 31, 2011
I've ordered 2 different sets of picks. One for my uncle's birthday gift because he is the strummer in the family. The other set is for my sons 70's Rock & Roll Reheasal dinner for early 2012. This site is always my first stop when looking for fun pieces. The guitar picks will make great favors for this party. The quality is a clear photo and legible printing. They will be great fun. My son was thrilled and took one to show off to his friends. Several of them asked where to get them. I'm sure you will receive many additional orders soon. Keep up the good work!

Guitar Pick
By
Shopper

(Surprise, AZ) - July 30, 2011
This item personally was amazing. The idea of it had came to me early February as a Valentines day present for my boyfriend but I never found a website that did the concept justice. When I stumbled upon personalitationl mall, this gift truly looked amazing. Of course I read the reviews to make sure I was getting what I was paying for and surely when it arrived on the mail I fell in love. And my boyfriend loved it even more then I did. (He plays the guitar and charishes sentimental items more then material, so this was the perfect gift.)

One side comment, the picture portion indeed crops the picture extremely, so use caution when deciding what photo works best (:

awesome reunion favor
By
Shopper

(Farina, IL) - July 27, 2011
These will impress. Look great. Love love love them. Will order more for sure.

People Raved!
By
Shopper

(PHILADELPHIA, PA) - July 26, 2011
These guitar pics, to which I added a picture of my father in High School, c.1968, were a huge hit at his 60th birthday party recently. Many people asked me how I found them, and I told them all about this great site. Thanks!

Guitar Picks Awesome
By
Shopper

(Owensboro, KY) - July 25, 2011
A friend who played guitar in a band passed away unexpectedly. I wanted something different to send to his family. I decided to look at Personalization Mall. As I was looking through the sight, the guitar pick caught my eye. I decided to order a package of the picks to distribute to his family. Needless to say, I was thrilled with them. I ordered on Monday night and they were in my mailbox Friday morning. My friend called to tell me they received them and they LOVED them. Over the last 2 months I have ordered 5 frames and now the picks. This is my FAVORITE place to shop!

Guitar Picks for Wedding Favors
By
Shopper

(Augusta, GA) - July 25, 2011
My fiance and I are both musicians. We ordered the guitar picks to be used as wedding favors for our upcoming wedding. They are Amazing! The photo & writing turned out really clear. The picks look great and they arrived really fast! Everyone I've shown them to, thinks that they are the coolest wedding favor that they have ever seen. Great Job! I will definitely be ordering from Personalization Mall, again.

kam

Amazing
By
jessy S.

(tulsa , OK) - July 24, 2011 (
See all reviews by this customer
)
These guitar pics were everything i wanted. The picture on the front is very clear and turned out great. The lettering on the back turned out awesome. a little smaller then i expected but still great! the quality of the pick is great. just for those who want to know, they are pretty hard. i know some guitar players like them more bendy, these are pretty stiff..but an amazing gift! cannot wait to give them to my dad for his bday :)

Music to my ears
By
Christina E.

(West Islip, NY) - July 23, 2011 (
See all reviews by this customer
)
We got these for my brother-in-law (a bass guitarist in a band) for father's day and he absolutely loved them! He couldn't believe it had the kids pics on them so when he was working he could have a piece of his family there.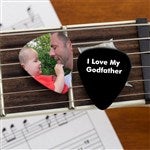 Turned out great!
By
Justin W.

(Canada) - July 20, 2011 (
See all reviews by this customer
)
Worked out great! Came out as it showed on screen. Picks are a bit firm for those of you looking to use them.

Awesome gift!
By
Jenny B.

(Belmont, NC) - July 20, 2011 (
See all reviews by this customer
)
Got the picks for my hubby's birthday...they turned out amazing! Will def be getting more made in the future! Anyone who plays guitar would love them.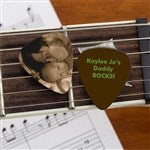 Great picture quality
By
Shopper

(Martinez, GA) - July 19, 2011
These pick were phenomenal. The photograph turned out exactly how it was on the computer. The overall quality of the pick was great! I will definitely be using Personalization Mall again and again.

amazing guitar picks
By
Shopper

(Sun City, AZ) - July 18, 2011
I ordered guitar picks for my daughter's birthday. The turned out exactly as shown in the preview, with amazing quality. They were delivered fast, in a nice pouch to hold them all, and my only regret is that I didn't order more! Luckily I have time to get more before her big day!

exactly as shown
By
Katelyn P.

(franklin, MA) - July 18, 2011 (
See all reviews by this customer
)
I loved this. i bought 20 guitar picks for my boyfriend and my anniversary and he loved it. The only complaint that i may have is that even if you submit a high resolution picture it will come out a tad blury (but thats only if you look close) but otherwise he didn't notice. AND they are actually usable as well they come out on a medium pick. But other than that he and i were both satisfied with how they came out.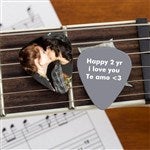 Turned out awesome!!!
By
Linda W.

(Corinth, MS) - July 17, 2011 (
See all reviews by this customer
)
Ordered these guitar picks for a private show that ALEX Lambert from American Idol season 9 and web series If I Can Dream was doing in New York City, they came out perfect and where given out and some also made into necklaces for a VIP luncheon...Thank You so Much Personalization Mall! I will definitely be ordering again !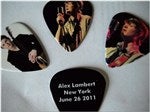 Great!!!!!!
By
Sandra D.

(Staten Island, NY) - July 17, 2011 (
See all reviews by this customer
)
I bought these for my son's 21st birthday for him to give to his friends as party favors. My son loved it!!! The picture quality is great and being that he is a guitar player he loved the fact that he has he's own personalized pick. Product quality is great and I am very pleased.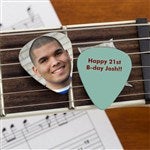 Great gift
By
Victoria K.

(Delta, MO) - July 17, 2011 (
See all reviews by this customer
)
Turned out as expected and I received them very fast!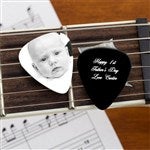 perfect gift!
My fiance plays guitar, and I love sitting next to him to listen; this was the perfect gift, especially since I used one of our engagment pics of him playing and my head on his knee; they turned out awesome, I had it say "Never stop playing! Love, Meghan" This website is perfect because it has good gift ideas for all ages, especially guys!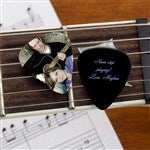 Really Cool!!!!
By
Melissa C.

(Middletown, OH) - July 11, 2011 (
See all reviews by this customer
)
What a great idea!! My dad has been playing for YEARS and he is the type that has EVERYTHING. But thanks to this I finally got him somthing he NEVER thought of!! The pic was so clear and the text was too!! Looks like it cost A LOT of money but it didn't!!! =)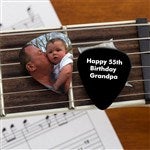 Loved them.
By
Shopper

(Los Angeles, CA) - July 9, 2011
The picks turned out really great. The photo quality was great. My husband, a guitar player, loved them. Very unique, fun gift. And it shipped quickly.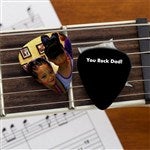 Awesome Gift!
By
Shopper

(Carmel, IN) - July 8, 2011
I gave these to my boyfriend while we were away for a few months. They're great because every time he or she plays their guitar, they'll think of you!

Personalized Guitary Picks
By
Victoria H.

(Green Cove Springs, FL) - July 8, 2011 (
See all reviews by this customer
)
I have a granddaughter that loves playing the guitar and asked for guitar picks for her birthday. These were the coolest ever! It was really nice to be able to customize special for her. She loves guitars so I was able to find a picture to upload, as well as the color blue, so these were the perfect gift. She carries them everywhere and tells everyone, "look that's my name." The quality is very nice as well! Would highly recommend!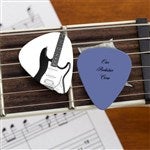 Perfect!
By
Shopper

(Plattsburgh, NY) - July 5, 2011
The order came right on time and exactly the way I designed it online! It is a great birthday gift! My sister really enjoys it, great quality. It also arrives in a great little black felt drawstring bag. You can personalize any photo and name, I did a picture of her pet cockatiel. :P