A great idea
By
Geri-Lynn O.

(Canada) - May 7, 2011 (
See all reviews by this customer
)
Oh the picks! Amazing idea if your husband is a guitaarist! We absolutly loved our picks when we recieved them. The picture and the text look just like the preview. We have been together 13 years and for us to be able to use a picture from when we were teens was so unique! Personalization mall is so quick with shipment. I was so happy with my purchase!

So Happy
By
Kristine M.

(Canada) - May 2, 2011 (
See all reviews by this customer
)
Picks arrived quickly and they look amazing. I couldn't be happier!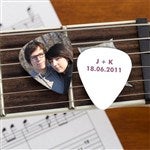 Awesome Idea!
By
Laura B.

(Loysville, PA) - May 2, 2011 (
See all reviews by this customer
)
I have a brother who is a music major in college right now. I got these picks with a picture of me and my husband on the front, and an inspirational message on the back to encourage him while he's away. I LOVED them. When they came, they were just what I was hoping they would be.

Shipping was very speedy.
Uploading pictures, as easy as could be!

Gift for brother
By
Tefta C.

(Wellesley, MA) - May 2, 2011 (
See all reviews by this customer
)
The photo quality was great, thank you!

Just awesome
By
tiffany W.

(avon park, FL) - May 1, 2011 (
See all reviews by this customer
)
These are great I just got them in and I love them I ordered tehm for my sons 3rd Birthday and they are great thank you so much..

use a smaller pic would be all I'd change
By
Brenda R.

(North Jackson, OH) - April 26, 2011 (
See all reviews by this customer
)
I was pleased with everything I've ordered so far Thank you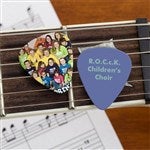 Picture Picks
By
Shopper

(Hartwell, GA) - April 24, 2011
I loved the picks!!! My daughter was so excited to get them!! I wish the writing was a little bigger, but overall they make a great gift!!

Perfect TWO!
By
Pa L.

(Sacramento, CA) - April 24, 2011 (
See all reviews by this customer
)
I made two different designs of these and they are gorgeous!
Absolutely amazing! I adore them so much. And my in-laws will totally love theirs. Thanks a lot.

WONDERFUL!
By
Shopper

(Tuscumbia, AL) - April 23, 2011
Cannot say enough good things about these!!! I love them!!

Happy Birthday Guitar Boy
By
Debra D.

(Franklin, MA) - April 17, 2011 (
See all reviews by this customer
)
I was trying to figure out how to make a cake for 100 people for my son's 21st birthday party, when looking on line I saw these amazing photo guitar picks and I said bingo, cupcakes. He's been playing the guitar since he was 8 so these were so fitting. I found the perfect photo and now everyone gets to take home a little souvernier from the party.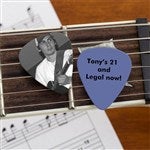 Awsome
By
Shopper

(APO, AP) - April 16, 2011
I bought these as a gift and it was a big hit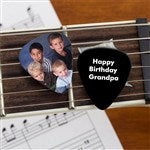 Really nice guitar pics
By
Michelle E.

(San Dimas, CA) - April 11, 2011 (
See all reviews by this customer
)
These came out really nice. They are not flimsy and cheap, but a nice quality pick. The picture came out perfect after messing with the cropping...MAKE SURE YOU REVIEW your personaization...the first few times I put the picture on, it was cut in an odd way and not good. I had to crop the photo different ways and experiment until I found the look that I was happy with. The green font against the black background came out nice and easy to read as well. I am happy that they added this new product.

Fantastic!!!!
By
Teresa R.

(East Troy, WI) - April 10, 2011 (
See all reviews by this customer
)
I was so happy with the guitar pics I had personalized for my son but most of all he thought they were awesome! I couldn't believe how clear the photo was on the pick , the price the service (I received mine 4 working days after they were ordered :) and the product far exceeded my expectations Thank you so much It's not often you receive such excellent service especially with personalized products. Thanks again :).......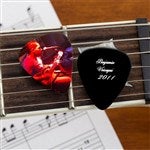 Great Guitar Picks
By
Bob C.

(Huntington Beach, CA) - April 9, 2011 (
See all reviews by this customer
)
Really Cool Idea, For a concert show I'm doing. Going to give a few out! really nice quality and fast service. Shipping was excellent. All at a great price. I will order more for sure. Thanks!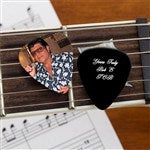 Great gift!
By
Shopper

(Chapel HIll, NC) - April 9, 2011
This was an awesome gift - great quality and fast shipping! A must buy for any guitar player!

So Cute!
By
Rebecca B.

(Enfield, NH) - April 8, 2011 (
See all reviews by this customer
)
They are great - the pictures came out so cute, the guitar pick itself is perfect, not too bendable, not too stiff.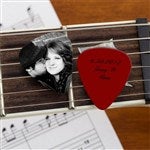 Fantatic Picks
By
Shopper

(Montgomery, AL) - March 30, 2011
The product was better than I expected and arrived when they told me it would. I loved the pick

Creative and Fun for the music lover.
By
Shopper

(Swedesboro, NJ) - March 30, 2011
This was a huge hit as a birthday gift. My girlfriend adored them and everyone at the party loved them as well.

Very cool!
By
Angela W.

(Tigard, OR) - March 29, 2011 (
See all reviews by this customer
)
These are very neat although I think they need to be packed better because some came all scratched up. Regardless they will make awesome wedding favors!!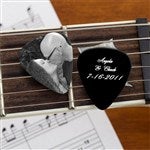 BETTER THAN I EXPECTED
By
rachel R.

(Antioch, TN) - March 26, 2011 (
See all reviews by this customer
)
I was a little sceptical at first because I wasn't sure if they would be sturdy or what the photo quality would be, but I am super impressed. It's exactly as it is shown in the preview photos!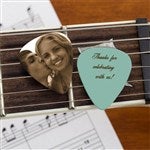 IT WAS A HIT!!
By
Patricia R.

(victoria, TX) - March 26, 2011 (
See all reviews by this customer
)
I got these for my grandson, who loves to play his music,( he is a big guitar player), for his birthday , with his picture on one side and happy birthday wishes on the other from his gma, and he absolutely loves them. thought that was the neatest thing!! I like them too cause it something different and its personal. Thanks!!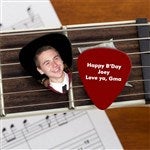 The Guitar Picks was Perfect
By
lois E.

(mcleansville, NC) - March 22, 2011 (
See all reviews by this customer
)
We were giving my husband a surprise 50th birthday party and I had the band he plays in to play the night of his party,because thats his favorite thing to do he thought the party was for someone else,since it was not his actual birthday he didnt think much about it.I always look at Personalize.com for presents and came across the guitar picks and knew they would be a hit,I put my girls picture on them and everyone just loved them,the drummer said he wanted sticks like that.Needless to say he loved them,great quailty!!!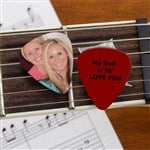 Love it!!!
By
Elisa A.

(Millville, CA) - March 19, 2011 (
See all reviews by this customer
)
My grandson recently started taking guitar lessons. I thought it would be appropriate to have his picture made on the guitar pick in his gi garb since he loves wearing it. This is very special to me because this picture was taken of him before he moved to Kansas City which was the last time we saw him. I had them shipped to me and I kept some for my scrapbook, then I sent some to him. He called to thank us for the guitar pick and he was very pleased. I too am very pleased; and I am pleased with your promptness, not just with this product but also with another purchase I made previously for a wedding gift. I also like the ability to track the order. Thank you very much!!!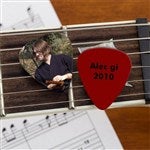 personalized guitar picks
By
Lillian .

(Altamonte Springs, FL) - March 6, 2011 (
See all reviews by this customer
)
I ordered these for my grandson's 16th birthday, and they are awesome. He has not yet received them, but I have shown them to others who all agree it is a unique and personal gift he will enjoy. Thank you Personalization Mall for coming up with such unusual ideas.

Great gift idea for the guitarist
By
Diana F.

(Canada) - March 5, 2011 (
See all reviews by this customer
)
I purchased this for my son and he loved it. I used a photo of him playing the guitar and the picture quality was awesome. This is a great gift idea for the 'hard to buy for' guitarist in your family or amongst your friends.

very pleased
By
Shopper

(Eagle River, AK) - March 1, 2011
I was pleasantly surprised with the quality of the picture on the item that we purchased. However, we do not play guitar, so I can't really rate the quality of the pick itself. The recipient has not received them yet, so we haven't heard back on how they play and their durability.

Great gift for the family Rock Star
By
Shopper

(Marietta, GA) - February 24, 2011
We chose two different pictures to use for this gift. You don't have a lot of options, so it's pretty simple. Upload your picture, crop it to the size you need and pick one of two fonts (Block or Script---Wish there were more to choose from). They keep it pretty simple, and these will make a good personalized fan gift after the show.
These were a great stocking stuffer and also a great Valentine for the family singer/songwriter. Nice to have something fun and personalized to give as a gift. They are pretty study. Just be sure to preview before placing final order. We had to make adjustments in the print to make sure it would fit.
Overall, a fun gift to give and get!

Great gift idea
By
Shopper

(Dyess AFB, TX) - February 21, 2011
I ordered these picks for my husband for Valentine's Day. He is deployed and I wanted to give him something special, but with him being deployed it is challenging because whatever I send he has to bring home so it can be anything too crazy or large. He plays the guitar so I personalized them and sent him about 5-6 picks. He has access to guitars where he is at so he can utilize them while he is gone. The great thing about getting 50 is that if he loses one or breaks one he doesn't have to feel bad about it because there are plenty to last him for quite a while. This was absolutey the best idea I've come across for a great gift for him. I completely recommend these to anyone who knows a guitar player. You can use almost any picture and the picks are pretty good quality...according to my husband. Its just not something you see everyday and they are a great price for the personalization and my husband absolutely loves them. I got major brownie points! Can't recommend these enough!