Very unique
By
Shopper

(Wood Dale, IL) - February 18, 2014
I love theses guitar picks , a great price for a personalized product. They were a perfect gift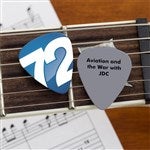 very satisfying
By
Shopper

(Cambridge, MA) - January 6, 2014
I received my order the same day as promised. For my picks I edited two images together, and I was worried that they wouldn't be properly aligned and the picks would look weird -- but no worry was necessary! The placement/cropping was just as I had hoped for. I only wish you could choose to have different images on each pick -- maybe 10 with one image, 10 with a different image. $45 felt a little expensive for 20 identical picks to be delivered in a week. But still, I received what I was promised, and the order was just as expected. The writing on the back was a little small, so I'm glad I chose my writing to be in print, not cursive.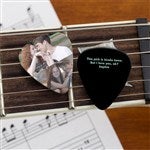 Only the slightest complaint
By
Michelle H.

(Las Vegas, NV) - December 30, 2013 (
See all reviews by this customer
)
The pic was absolutely perfect with the exception of the writing on the back. There were only 2 options for font and the script looked nicer than the other option so that's what I went with. The writing was so tiny it was hardly legible in the script font. Other than that, the pic arrived surprisingly quick and seems to be good quality.

Great Gift
By
Shopper

(Kissimmee, FL) - December 17, 2013
The only negative thing I would have to say to this item is that it is EXTREMELY flammable. They even had to put a warning on the bag.

But other than that the picture was printed beautifully.
Though I had to pay a lot of money to get it shipped by the time I needed it.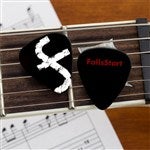 Love them
By
Andrea H.

(Carencro, LA) - December 11, 2013 (
See all reviews by this customer
)
I got some of these for my boyfriend for christmas and I jus love the way they turned out im kinda
hoping he likes them to..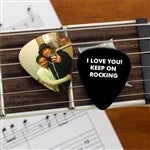 Good Quality :)
By
Corina C.

(Flagstaff, AZ, AZ) - November 12, 2013 (
See all reviews by this customer
)
I was a little hesitant about the guitar picks because it was my first purchase and I wasn't sure how they were going to turn out. But the picture editing options were easy to use and the color choices for the other side were easy-to-use. And when I received them in the mail, I was very impressed! Good quality!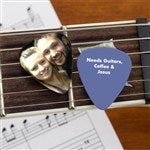 Lov them
By
Shopper

(glenrock, WY) - October 27, 2013
These are stunning! They are flammable and I did not read that in the description but to be fair I don't always read the small print thoroughly. I am beyond impressed. They are Christmas gift so I don't know how well they will work but they are neat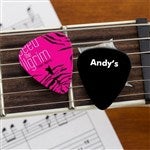 Great quality
By
Deann S.

(Marietta, GA) - September 23, 2013 (
See all reviews by this customer
)
Was very pleased with the quality of the guitar picks. I would definitely order these again. My only request would be to have the ability to add more than one picture! For the price I feel three or four pictures is not a unreasonable request. Other than that they are great!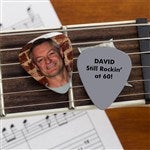 very cool
By
Michele L.

(Willowbrook, IL) - July 21, 2013 (
See all reviews by this customer
)
this was very cool! came out just the way I expected! So very fast in regular shipping too!

Personalized Guitar Picks
By
Shopper

(Port Orchard, WA) - May 10, 2013
I was overall pleased with my transaction. I received my order a week after placing it, which is fast by any means. Most of them look really good and very true to the preview picture. The only qualms I have are:

- They have a weird chemical smell. I'm sincerely hoping they aren't toxic.
- One of them had a distorted image. I'm not really that upset about it since there are 19 others, but it would have been nice for them all to be perfect/good quality.

Overall, I am satisfied with how they turned out. They're going to make a good anniversary gift.

guitar picks
By
Shopper

(New York,, NY) - March 30, 2013
really like these picks and like the ability to personalize them BUT wish you provided an option to order more than 100 at a time...

Very nice
By
Shopper

(Ballwin, MO) - March 23, 2013
I great product made in a timely manner.I wish there were more fonts to choose from though. The picks are mediums and made well. Fine for any style of music.

Personalized Guitar Picks
By
Shamira H.

(Napa, CA) - March 19, 2013 (
See all reviews by this customer
)
These picks are perfect to give out as a marketing tool for our son's rock band. Although it's not a color-match to the logo we uploaded, it is overall an awesome item.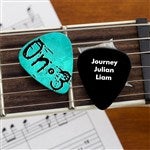 guitar picks
By
Shopper

(New York,, NY) - March 3, 2013
excellent product...
however would like an option to order more than only 100 at a time...
with a discount for larger quantites if possible
thank you

Cool idea
By
Stephanie S.

(manahawkin, NJ) - February 21, 2013 (
See all reviews by this customer
)
The product came out awesome. The only downfall is that the writing could have been sized a little better . Meaning they could have blown up the font a little more to make the writing slightly more readable. Also I feel that while you're choosing the image and the crop box comes up I feel it should be the shape of the guitar pick not the shape of a square.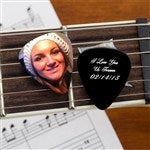 Shreddy Krueger's Wife
By
Shopper

(Sun Valley, CA) - February 10, 2013
Great fun. Novelty toss to friends,.fans, & family. Will DEFINITELY be ordering more ;-)

Awesome!
By
Sapphire B.

(Taylor , MI) - February 4, 2013 (
See all reviews by this customer
)
I love these picks my boyfriend loves them to, he says they are a bit thicker then hes used to so they don't bend as easy but hes getting used to them. The picture looks great too and even after using them for a bit the picture hasn't scratched at all! My only issues are as follows....they smell like vicks... and the bag says flammable! (playing on a guitar with metal strings this has me a bit worried...

guitar pick
By
Shopper

(Sand Springs, OK) - December 23, 2012
This item was a very original idea and very personalized. However, the picture is quite small (in order to fit on an actual pick!).Also, the print on the back of the pick appeared larger on the order than it actually was on the product when received (somewhat hard to read). Overall, still satisfied with the product. Very unique and personal!

Great service
By
Laura K.

(Wapakoneta, OH) - December 21, 2012 (
See all reviews by this customer
)
I purchased these as a gift and at first was not completely satisfied with the quality. About half of the picks were crisp while the other half were quite blurry. I had called to ask if there was anything they could do to compensate for the lack of quality for half of my order. They asked for a picture comparing the best from the worst. After submitting the picture I was then informed that my order was resubmitted and I could expect it shortly. I was very thrilled with how this was all taken care of and the quality of the new order was far beyond my expectations. I am very pleased with their customer service and it is reassuring to know they take great pride in their customer satisfaction and the quality of their products. I am very eager to give these as a Christmas present!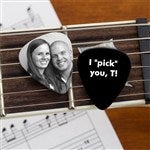 Personalized Photo Guitar Picks
By
Shopper

(New York,, NY) - December 19, 2012
great product BUT
would like to be able to order more than 100 at-a-time...
save some money and some time...
please make that an option, PersonalizationMall.com!

thumbs up
By
Shopper

(Simpsonville, SC) - December 14, 2012
The pics arrived quicker than I expected. The picture and text are perfect, exactly as I ordered. No deviations in the batch from what I can tell.

Only thing I would want in a future purchase is a choice of thickness of the pic.

Music lovers
By
Amy C.

(Kingston, PA) - December 8, 2012 (
See all reviews by this customer
)
The picture side of the pick looks great, but the writing side was a bit smaller than I anticipated. I have ordered items from this site very often and this was the first time I was slightly disappointed. I still like them.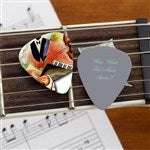 cool idea for musicians
By
Shopper

(Freehold, NJ) - October 26, 2012
This gift was really easy to create however the image should be scaled slightly smaller than the image grid provided. The images to be placed should not touch the image boundary that you are using.

Awesomev Personalized Picks!!
By
Shopper

(Vallejo, CA) - October 21, 2012
My boyfriend loved them! It's just too pricey though.

Quick And Made Right!
By
Shopper

(Hampton, MN) - September 10, 2012
We have ordered these before and the first time around they were not done correctly, but they quickly made it right. So ordering this time was a little leary, but they delivered on time, and they looked just like the preview, so we are very please. We will be ordering again.

A Big Hit!!
By
Shopper

(Cary, NC) - September 9, 2012
My husband received an unexpected gift of an expensive guitar for his birthday. He hadn't played in a few years making it a little intimidating to pickup the instrument. I was sad that he couldn't reconnect with an activity he used to love so much. So I decided to look for something that would encourage him to play again. I found just the right thing on the Personalization Mall website. The personalized photo guitar pick was practical but yet fun! He was blown away when he saw the picks with his photo and a personal message. He has started playing again and I thank you for that!!!

Very Pleased
By
Danielle C.

(Midland, MI) - August 7, 2012 (
See all reviews by this customer
)
Once I saw this online, I knew I had to get it for my boyfriend who's learning to play the guitar! I ended up doing it for our 6 month because I was too impatient to wait any longer. I was so excited for them to come in. They're great quality and the smell from the ink or whatever goes away after the first day or so. I was very pleased with this purchase and was even happier when I went to order them and they were on sale! My only qualm was that a minimum order is 20 picks. I understand the need for a minimum order, but my boyfriend is never going to need 20 identical guitar picks... I ended up keeping a couple for myself just because.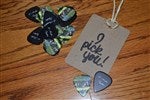 Font Size
By
Shopper

(HAVERHILL, MA) - August 3, 2012
I was very pleased with the guitar picks that I received. The picture looked great and the quality was awesome. My only complaint was the font size of the script...I wish that it could have been just a little bit bigger. Other than that, I will certainly order from you again.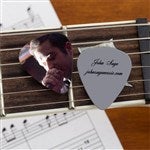 Cool
By
Shopper

(BOWIE, MD) - August 1, 2012
Loved how these turned out. The only issue was finding a picture that I could crop to fit the size.

Looks Great, Smells Bad!
By
Shopper

(Westfield, NC) - July 28, 2012
I ordered the guitar picks to give to Fan Club members & fans at shows. They arrived quickly and looked great, but they had a strong chemical smell when I opened the plastic bag. They have been "airing out" over a week, and still have an odor. Other than the odor, it's a nice product.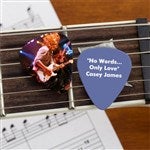 They Looked So Good
By
Shopper

(Havertown, PA) - June 4, 2012
When I opened the picks they looked so amazing the picture and the writing both were perfectly fit. I was very pleased with what I saw. My only small complaint is that when one of the picks was used the side of the picture started chipping off...of course the user said that just happens to all picks he uses because of the way he plays. Needless to say the person who received the gift and I were both very excited about the picks! They're a great gift for anyone who is really into playing guitar!

anniversary gift
By
Shopper

(Brooklyn, NY) - May 15, 2012
The quality of the photo and writing is good. The pick is a little thick for my taste, but overall a great product!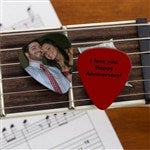 very cool
By
Shopper

(E.Atlantic Beach, NY) - April 16, 2012
It's very cool how you can fit a picture on the pic, but one problem with it was the picture came out too dark so if you are using it I would suggest to use a brighter picture

A fun gift for musicians
By
Shopper

(Fort Collins, CO) - April 7, 2012
I used this as a high school graduation gift for my cousin going into a college guitar program. They turned out absolutely perfect and I know she'll love them and be the only person in the program with a guitar pick like that. What a wonderful way to make a one of a kind gift.

Love how it was personalized
By
Shopper

(Locust Grove, OK) - March 18, 2012
This is a great gift to give to my nephew! I am very excited to give it to him for his birthday!

Great Gift
By
janeen D.

(weatherford, TX) - February 29, 2012 (
See all reviews by this customer
)
I ordered them for my son. One pic of each of his 2 kids. He loved the unique Christmas present. Great job! Pics were very clear & placed symetrically.

Well made
By
Jessica W.

(Bay Shore, NY) - February 22, 2012 (
See all reviews by this customer
)
My boyfirend is a base player and mostly plays with his fingers but he said that he would give the quality of the picks an 8. He thought that this gift was very personalized and fit for him. My picture and words on the picks were very clear. Great product!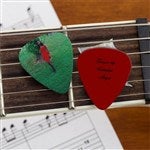 Husband Loved Them!
By
Shopper

(Jacksonville, FL) - February 22, 2012
I gave these to my husband for Valentine's Day - with a picture of him on stage - and he loved them. The photo and text quality were great. The only concern is how heavy the picks are. My husband is used to lighter picks so it is taking some time getting used to how heavy they are. Other than that, we both love them!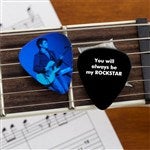 Guitar Picks
By
Shopper

(Jerome, ID) - February 16, 2012
The Picture was so clear and looked excellent on the guitar pick. However, the words I had printed on the back were extremely small. I was never able to figure out how to adjust the font size and I figured they would adjust it to fit best and be readable. I would suggest this product to someone because it's unique, fun and functional. Just use the least amount of words possible.

Great gift idea!
By
Shopper

(Brookline, MA) - February 15, 2012
The guitar picks turned out great, and the picture was very clear! I know my boyfriend will love them! My only suggestion would be that they let you choose more than one photo for the picks to add some variety since they send you a lot of them.