This pick rocks!
By
Shopper

(Warwick, RI) - June 6, 2011
These guitar picks met all of my expectations! The design was great, the order was shipped with lightning speed, and I can't wait to surprise my husband with them for his 50th Birthday Party. I was also so pleased with the quality of these products. I will be back to order more personalized items on your website and will highly recommend your site to friends and family!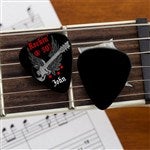 Perfect for any guitarist
By
Rebecca S.

(Bartlett, IL) - April 5, 2011 (
See all reviews by this customer
)
We had a 13 year old usher who we didn't think a Beer Mug would really be appropriate for. He is in a band and always losing or running out of picks... he was blown away by the picks. They are thicker and won't break easily; and he knows they are his, so no disappearing into other's pockets. And what rocker doesn't want his name advertised;) they were perfect for him.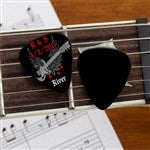 Great Gift for Teenagers
By
Shopper

(Clifton Park, NY) - February 25, 2014
Our daughter wanted something special to give her big brother who plays the
guitar. He loved them and was very touched that she personalized them.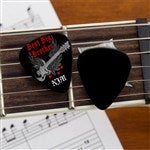 Amazing product
By
Amanda B.

(Clermont, FL) - February 18, 2014 (
See all reviews by this customer
)
I got these to use for my wedding as favors and they looked exactly as they did in the preview and arrived so quickly after I ordered them. Great quality product and they looked fantastic when they arrived. Can't thank you enough for this awesome product!I did half pink and half black and there is no variation from the site preview.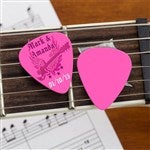 Great Gift
By
Staci F.

(Saint Martinville, LA) - December 26, 2013 (
See all reviews by this customer
)
I bought this for my nephew. He loved the design and said they were good quality picks.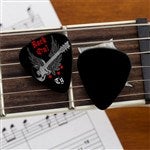 Great original gift!
By
Nancy R.

(Maricopa, AZ) - October 15, 2013 (
See all reviews by this customer
)
Love these guitar picks. Well made, original gift idea for that person who loves their guitar and making music. Super fast delivery and well packed.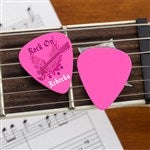 AWESOME!
By
Ellen M.

(Fort Worth, TX) - June 20, 2013 (
See all reviews by this customer
)
Bought this for my hubby who has been playing guitar for 30 years. He loved it! Even though they are for personal use, he was ecstatic! The smile on his face was worth every penny...then add 3 other personalized gifts and I really think these are some of the best gifts and ones he appreciated the most. Good quality, fast delivery, I will be shopping here more often.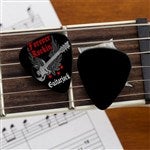 Great quality
By
Deby L.

(Moore, OK) - February 12, 2013 (
See all reviews by this customer
)
These are so professional looking!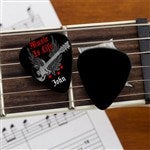 Corrected and Satisfied
By
Jessica F.

(Hoffman Estates, IL) - January 28, 2013 (
See all reviews by this customer
)
I ordered this item for Christmas and received the product with the printing off-center causing the words to be chopped off. I left a comment regarding this issue, and to my pleasant surprise, I recieved a new product in the mail a week later with the printing corrected. Great service to ensure solid quality on products!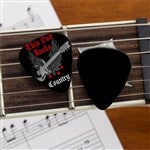 Guitar Picks...great gift
By
Shopper

(Massapequa, NY) - December 17, 2012
Love them! Perfect Gift for your guitar player!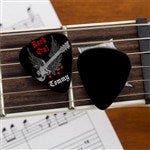 rockin picks!!
By
Mindy V.

(Iowa, LA) - December 9, 2012 (
See all reviews by this customer
)
I ordered picks for my son and they look GREAT!!! He is going to love the personalized picks. Very fast service and fast shipping. I am very happy with my purchase.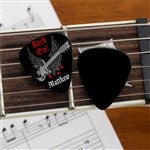 Fast and Easy
By
Sommer G.

(Godley, TX) - November 23, 2012 (
See all reviews by this customer
)
We ordered these guitar picks for a Benefit for a friend who has terminal cancer. So we were looking for quick turnaround and inexpensive but well made product. The price was great. I received the picks in less than a week! And the design looks awesome. If I had to say a negative.. A few of the picks have white showing through the black at the very tip. But for what we needed, this was perfect!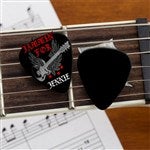 Excellent
By
angel M.

(breinigsville, PA) - May 20, 2012 (
See all reviews by this customer
)
Piks arrive early and in great condition! Thanks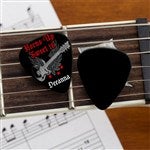 nice pics
By
Shopper

(st. petersburg, FL) - March 20, 2012
great value for price. PM.com is a class act. Had a problem with a product and they were very quick with support and replaced immediately. These pics work great.They are not accurate on thickness. Mediums tend to be too heavy, so purchase a lower thickness than you are use to.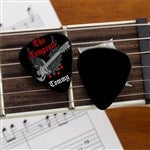 Perfect
By
Shopper

(Hardinsburg, KY) - March 18, 2012
Awesome!!! They looked so good my bf loved them!!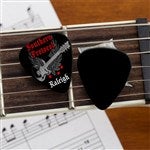 Guitar Picks
By
Shopper

(Winchester, KY) - March 12, 2012
Really, pretty cool.
the lettering could be larger.
and/or use a larger pick.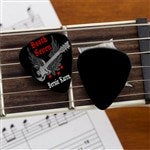 i loved these
By
nicole U.

(el reno, OK) - February 25, 2012 (
See all reviews by this customer
)
I ordered these for my husband, he loved them and couldn't wait to show them off :)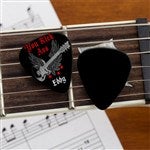 a gift
By
Shopper

(Big Sandy, TX) - February 21, 2012
i bought these as a gift to my son. thank you for making them available. he is a teenager now and it is hard for me to shop for him.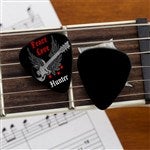 •Product features that you don't like
By
Shopper

(Westminster, CO) - December 18, 2013
The only minus was the personalization on the black picks was difficult to read. Otherwise a big hit with our 15-yr old musician.

Great Gift
By
Miranda S.

(Buhl, ID) - March 4, 2011 (
See all reviews by this customer
)
I highly loved how this worked out. It came in just in time for me to give it to my band leader. Thanks guys! Hope to personalize more items on this site in the future. =)

Incredibly Tiny Print
By
Shopper

(San Diego, CA) - December 23, 2011
The personalization is extremely small, barely legible. It might have been better if my grandson's name was Sam, not Morrison, and I had put "Rock On" on line 1, Name on line 2, since the graphic took up most of the pick. The pick looks great in the ad, not so much in fact.

Good party favor
By
Jessica T.

(Leslie, MI) - July 18, 2012 (
See all reviews by this customer
)
i had a band who is touring with Creed come to my house for an acoustic show. I wanted a fun and unique party favor. Ordering was easy & I literally got them the next day. I couldn't believe it! They turned out nice, though thecpicture was a little smaller & harder to see then was pictured on web site. Already have friends coming to order some:,will be back!!

A Great Bang for the Buck!
By
Elizabeth D.

(Batavia, NY) - March 1, 2012 (
See all reviews by this customer
)
This is a neat gift idea! I ordered these for my husband's birthday, along with the 6359 - My Stubs© Personalized Ticket Album. You are limited in the amount of text, but that is understandable due to the size of the item.

The printing on the item was ever so slightly off center, but the print job was done well and still looks great... I have no reason to complain! My order may have just been the one in a million, as I have ordered other products from PersonalizationMall.com without any issue!

I highly suggest this product for any potential, current or past rockstars!

could be better
By
Shopper

(Avondale, AZ) - July 29, 2013
The image is very faint and the wording I requested is had to see as well. Expected the color to be at least a bit brighter.

poor graphics
By
Shopper

(Bayside, NY) - December 13, 2012
The picks are nice and sturdy, but the quality of the printing on them is very poor and dull. Not as vibrant as the sample shown.

Perfect for Little Rock Stars
By
Susanna S.

(Hermitage, TN) - September 17, 2012 (
See all reviews by this customer
)
My 7 year old started a band and wanted his own personalized picks like the "real rock stars." This was an affordable, cool way to get him to feel like the rock star that he is. The order process was easy, the shipping was reliable and relatively quick (even though we only selected "standard") and the product is pretty good quality (a little thicker than he normally plays with, but it'll last longer).

Thanks!

Great!
By
Shopper

(Lebanon, TN) - July 30, 2012
These were so great! I wish the name stood out more, but we loved them.

EXCELLENT QUALITY
By
ELISHIA L.

(ANTIOCH, TN) - January 30, 2012 (
See all reviews by this customer
)
GRANDSON LOVED THE PICKS

Rob
By
Robert J.

(Duluth, MN) - December 16, 2011 (
See all reviews by this customer
)
These pics are great and my band mates will really get a kick out of them for Christmas! The ordering was very easy and was shipped and received very fast. I would totally recommend this to others wanting that special gift for "the band" or guitar players - great product!

personalized guitar picks
By
Shopper

(Marion, OH) - November 16, 2012
I just received these a week ago and they are for my grandson for Christmas. I believe he will be very pleased with them.

Rock Star Guitar Picks
By
Mary A.

(Texarkana, TX) - December 27, 2013 (
See all reviews by this customer
)
Hello, I want to say that these are nice picks,finish looks good and giving someone a gift with their name on it was something meaningful that they will enjoy for a long time.

Mary A.

Rock On!!!!
By
Shopper

(Joliet, IL) - December 2, 2013
I just love the look and quality of the Rockstar Guitar Picks. I am looking forward toward my nephew's excitement....

Rockstar guitar picks
By
Yvonne B.

(Portland, ME) - October 7, 2013 (
See all reviews by this customer
)
I am very pleased with the product AND how quickly it was delivered. I would recommend your website to anyone. Thank you!

Truly,
Yvonne

Great Gift for Guitar Players
By
Shopper

(Glendale, AZ) - December 14, 2011
We gave this to my son's 4th grade teacher who plays guitar. It's unique and not expensive. They look great, and come in a really nice velvet pouch.

Personalized Guitar Pick set
By
Shopper

(Taylorsville, KY) - August 27, 2011
These are super cool and printing is very nice.

Can't say enough good about this purchase
By
Shopper

(Methuen, MA) - August 19, 2011
I bought the Rockstar Personalized Guitar Picks and not only are they great and of good quality, the shipment was also fast. I would recommend not only the picks to anyone who is thinking of getting them but I think the whole company is great.

Guitar picks
By
Nancy H.

(Salem, OH) - April 24, 2011 (
See all reviews by this customer
)
My husband was surprised when I gave them to him he thought they were cool. The band members loved them so I guess I'll be odering more( two other guitar players). Great idea for a extra gift.

Guitar pick
By
Rhonda T.

(Macon, GA) - September 2, 2011 (
See all reviews by this customer
)
Great gift! Looked great! Very pleased!

AWESOME
By
Shopper

(Saint Peters, MO) - December 7, 2011
THESE GUITAR PICKS ARE WELL MADE AND THE WRITING ON THEM LOOKS GREAT

Very Nice!
By
Shannon R.

(Nashville, TN) - November 15, 2011 (
See all reviews by this customer
)
I got this for my boyfriend who recently joined a new band. He was so excited so I figured I'd surprise him with this gift as a congratulatory gift! I put his band name at the top and his nickname at the bottom. He loves them! They turned out great! Delivery was pretty fast too!