Great Gift Idea
By
Shopper

(oolitic, IN) - December 14, 2011
wanted something special for our son who plays the bass and accoustic guitar. Found this site. was able to view what it would look like before purchasing. Came within 3 days and looks great. not sure how you can do all this at such a great price. will be using personalizationmall.com again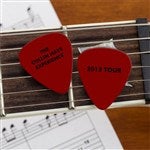 Great Gift!
By
Brittany M.

(Sutton, MA) - November 9, 2011 (
See all reviews by this customer
)
Boyfriend is a guitarist, musician, singer in a band.
For his first gig I ordered these for him (Black with blood red words in a good font- He's a "metal band" lol) with his band's name- Poor Outlooks ('like' them on FB!) and the date of the show on the back.
He said, "Wow! These are great! They're good picks too, good quality!" He tested them out by stumming a riff for me with it.
I bought 20, so he poked a hole through one and made a necklace, telling me it was the most thoughtful and wonderful gift ever. even the other 4 members of the band thought it was awesome! Except of course, the drummer.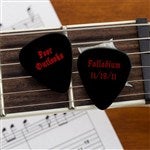 Great Value!
By
Lou B.

(Swartz Creek, MI) - November 7, 2011 (
See all reviews by this customer
)
We were very pleased with the picks and the delivery as well.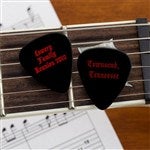 Great Gift!
By
Shopper

(Henderson, KY) - November 6, 2011
I made some and gave them to a friend for my birthday, He is really into guitar and thought this would be a neat gift. He LOVED them! :) Great gift idea for any guitar player.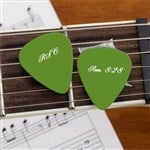 Wedding Favors
By
Sarah G.

(St. Louis, MO) - October 30, 2011 (
See all reviews by this customer
)
The guitar picks are great! They are true to size and the lettering is fantastic! This was a great surprise for my fiance. These will be on the tables at our wedding reception.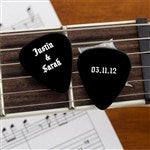 Custom guitar pick
By
Christine B.

(Centennial, CO) - October 14, 2011 (
See all reviews by this customer
)
The quality of the printing is very nice, I was very pleased. These make a fun gift.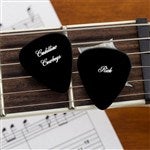 great party favor
By
Shopper

(Canada) - October 3, 2011
Purchased these for a party favor for my guitar playing dads 80th birthday party ;-)So perfect, unique and fun!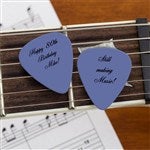 quality iteam
By
Shopper

(West Richland, WA) - October 2, 2011
I got this item as a birthday gift for my boyfriend and he loved it not only because of it being custom, but he says the quality of the pick is great. they're usable picks for playing not just show. Would suggest this gift for anyone!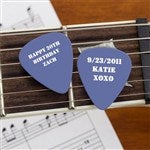 Wonderful
By
Kimberly B.

(Selden, NY) - September 23, 2011 (
See all reviews by this customer
)
We totally loved these Guitar Picks. The Quality was great and they were absolutely beautiful, just what I was expecting. I would order them again in a heartbeat. They were a great anniversary present that I know my husband is going to use over and over and over again!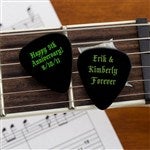 Glad we picked guitar picks
By
Rita R.

(Springfield, VA) - September 19, 2011 (
See all reviews by this customer
)
They were good quality, the printing was very good, and we received them super quickly. Thanks, they were a hit!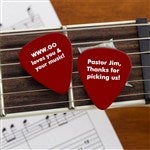 Very satisfied
By
Stanley J.

(Crystal, MN) - September 2, 2011 (
See all reviews by this customer
)
good price, good guitar picks. I will be back!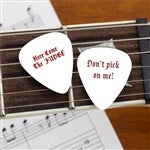 really cute but couple issues
By
Christina S.

(Louisville, KY) - August 16, 2011 (
See all reviews by this customer
)
I do love these picks for my wedding favors. The only thing I would recommend is to stick with smaller number of characters and I would only go with white or black ink. We bought some in blue and some in purple both with the grey text. The blue shows up better. Thinking we should have just used black. Would recommend the product just tweek your thinking on printing : )
Also the text is a bit small so if you have older people you may want to think of mixing these with something else so that you can have something for everybody. That's what we did.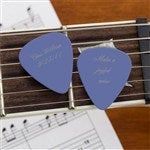 Great!
By
Samantha P.

(Greenup, KY) - August 13, 2011 (
See all reviews by this customer
)
Fast shipping & they look great! Perfect for our Western Themed Wedding! =)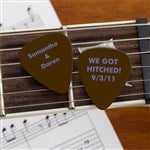 font could have been brighter and larger
By
Heather S.

(New York , NY) - August 13, 2011 (
See all reviews by this customer
)
We ordered purple picks with white font for our wedding, we're both guitar players. We ordered half script and half block font. The block is a lot clearer and easy to read than the script, wish we'd ordered them all that way. The picks themselves are fine and the purple color is pretty although the color is more like a raspberry. They are cute enough that we are still happy to put them on our tables at our reception and I bet people will think they are a neat favor.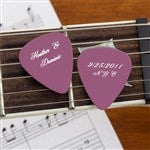 Personalized Guitar Picks
By
Maurice S.

(Scranton, PA) - August 1, 2011 (
See all reviews by this customer
)
Great product! I got exactly what I ordered in an incredibly short time. Thanks!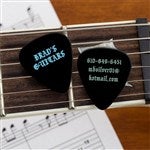 Happy Customer
By
Michelle B.

(Leland, NC) - July 26, 2011 (
See all reviews by this customer
)
We ordered personalized guitar picks for a gift. It is really awesome to be able to choose your pick/font color and have the technology to view what the finished product will look like before you place your order. The shipping was just as stated and we received our order in a quick, timely fashion. Our gift recipient was exceptionally happy with his gift. I will definitely consider Personalizationmall.com for all my future gift giving needs.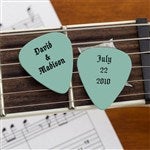 Couldn't be happier!
By
Nathan B.

(Culver City, CA) - July 8, 2011 (
See all reviews by this customer
)
We literally could not have been happier with every aspect of our order.

1. When we initially ordered, someone called to review and it was so nice to actually speak to a person.
2. We loved that we were able to see exactly what we wanted prior to ordering
3. We got our picks RIGHT AWAY!!
4. The picks looked exactly like we had hoped they would.

We ordered these for our wedding in October, so it was really important that they look "perfect." We were not let down. We will be using this company often!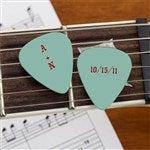 Very Cool
By
Shopper

(West Branch, MI) - July 1, 2011
We had some picks made for a guitar lover in our family. Personalization was perfect. Shipping was quick. Good quality. I only wish the font could of been a little larger to fill up more of the pick. All in all--the item was exactly what we wanted for our friend. Thanks!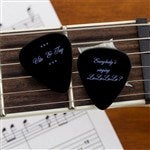 Very nice!
By
William E H.

(Provo, UT) - June 27, 2011 (
See all reviews by this customer
)
These guitar picks are very nice quality, they play nicely and they are a good size. The color is excellent and they look just like they do in the preview. My only problem is the font is super small (I used Script) and the words are hard to make out unless you look at it super close. Bigger fonts please! Other than that, they are beautiful. I'm super excited to give them to my friend. The quality is excellent and they shipped in 2 days. This was so nice as I ordered them last minute. Thank you, thank you! I will buy from this company again :)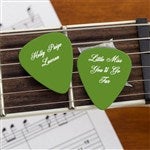 Guitar Picks
By
Shopper

(Newburgh, IN) - June 6, 2011
I ordered guitar picks to celebrate a special occassion. Excellent choice! They turned out absolutely perfect. Great gift to share! Quick turn around. Exactly as I ordered. I will order from here again!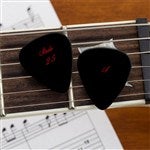 Guitar picks
By
lynn W.

(jesup, GA) - June 2, 2011 (
See all reviews by this customer
)
Great deal. fast shipment. Could not be more pleased.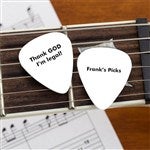 words
By
Kristine W.

(Yuba City, CA) - May 28, 2011 (
See all reviews by this customer
)
I was fairly satisfied with the guitar picks I ordered, except when it came to the print on the back. It was tiny compared to the front & I expected all the wording to be the same size. Besides that, my order was good.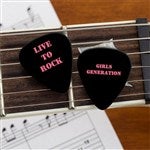 Personalized Guitar Pick
By
Erica P.

(Warner Robins, GA) - May 21, 2011 (
See all reviews by this customer
)
These guitar picks were perfect! The order was processed and shipped very quickly. They are good quality and my husband, who is in a band, loved them. Thanks!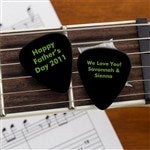 Great gift idea
By
Shopper

(Pittston, PA) - March 29, 2011
A very unique one of a kind gift to remember an important event. I would definitely considering buying this item again.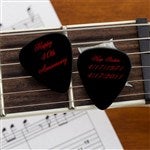 Good stuff!
By
Michael S.

(Modesto, CA) - March 26, 2011 (
See all reviews by this customer
)
I really like the product I received. It was exactly as I expected it and will definitely use this company for future items!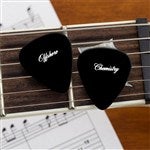 Exemplary Products and Services!
By
Larry G.

(Fort Worth, TX) - March 12, 2011 (
See all reviews by this customer
)
I recently received my Personalized Guitar Picks from you - and I was blown away! They arrived swiftly, and just as gorgeous as your "Design Preview Window" showed.... no, even BETTER!!! I'm extremely pleased and will likely be making subsequent purchases. Thank you very much!! You guys ROCK!!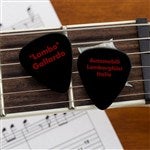 These picks ROCK!!!
By
Harold G.

(Stone Mtn , GA) - July 21, 2014 (
See all reviews by this customer
)
Loved my personalized picks! Can't wait to pass them out to our fans! Exactly as ordered, they look great and came super fast!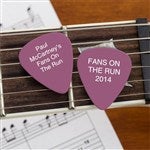 Weber Rocks
By
deborah A.

(Morristown, NJ) - June 28, 2014 (
See all reviews by this customer
)
This product was easy to order, came faster than expected and was great quality as well!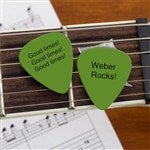 #1 Quality as usual ?
By
Larry B.

(Winston-Salem, NC) - June 3, 2014 (
See all reviews by this customer
)
These family reunion guitar picks are sweet, I got them as a free hand out gift and they're perfect and cheap in price. This is about the 4th time I got personalized picks and they always blow people away making me look like I'm rich! I WILL be back to buy more real soon ?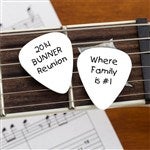 the perfect gift for my son in recovery
By
Shopper

(oakgrove, OR) - May 15, 2014
my son is in his 4th month of sobriety...I spent some time searching for a way to tell him how much I love him and to remind him that to take it one day at a time...looked at tons of personalized jewelry but nothing grabbed me...then I saw the guitar pics and knew that was the perfect gift as he plays his guitar every day....It was printed exactly how I requested it....now he has a daily reminder of his first day of sobriety and to take it one day at a time....I signed it with love and heart..mom I ordered red on black...beautiful (also he is a diehard blazer fan so it was perfect)!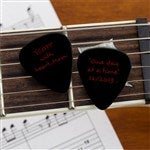 Fast shipping, excellent product
By
Shopper

(Wylie, TX) - April 7, 2014
Ordered guitar picks as favors for our wedding and they turned out great! Arrived super fast! Thanks!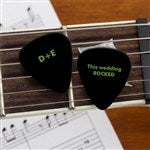 Definitely "picked" a winner!
By
Stephen B.

(Murdock, FL) - April 6, 2014 (
See all reviews by this customer
)
These guitar picks were purchased to be given away as a token of appreciation for coming to a fundraising rock function for cancer.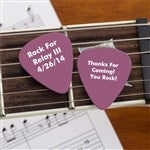 Disappointed
By
Jennifer B.

(Martinez, CA) - February 21, 2014 (
See all reviews by this customer
)
I payed more $$ for shipping for it to be here 'guaranteed' by Valentines day and instead, it got here 4 days after. I liked the way the guitar picks came out and my boyfriend liked the idea, but he says they are too slippery to use. It seemed like a good idea, but for as much as I spent with shipping, and for it not to be here on time, I don't feel it was worth it.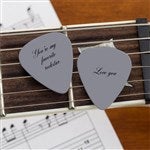 Great Customized Guitar Picks
By
Shopper

(Old Bridge , NJ) - February 11, 2014
This is a great website- they can customize anything! Although I initially received the incorrect product that I ordered, they made it right and resent me my correct item with express 2 day delivery, so I was able to have it before Valentine's Day! I am so excited to surprise my boyfriend with this very unique gift.

Thank you!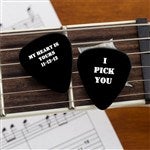 Couldn't be more pleased
By
Shopper

(Green Bay, WI) - December 30, 2013
I had a guitar pick engraved for my husband while we were still dating. He had since lost it and felt bad so I thought, for christmas, I'd have another one made. I found this site, the price was much cheaper than I had paid in the past, so I gave it a whirl. When the picks arrived the work was much better than I had anticipated and I couldn't be happier. Thank you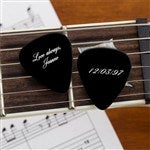 Wonderful
By
Shopper

(New york, NY) - November 27, 2013
I was very very happy with the product. Will order again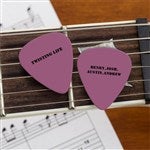 This was a big hit with the band.
By
Shopper

(North Plainfield, NJ) - September 20, 2013
We ordered these picks for hand outs at places where the band plays,they were a big hit.I will be ordering some more soon.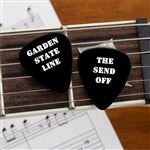 Overall Satisfied, But........
By
David R.

(Cortland, OH) - August 18, 2013 (
See all reviews by this customer
)
The picks I received were as ordered and arrived faster than expected. The feel of the material is good. The only complaint I have is that the color of the picks (in my case blue) comes off rather quickly when they are used, revealing the white base color. Not sure if there is anything that can be done about this other than using a better quality coloring. My advice would be that if you are buying these to throw into the crowd at your gigs, don't use them before you give them away.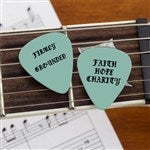 Sharp
By
Carol C.

(Los Osos, CA) - August 5, 2013 (
See all reviews by this customer
)
I ordered white print on the black background and the picks are sharp,clear and snappy. I asked for a phrase to be printed on one side and considering there were several words, they were still clear and legible. My grandson's name went on the reverse side. The printing will wear off with use so he now has 20 to hold him a long time. This 11-year-old will be thrilled. While these are intended more as party favors, I think it's a wonderful idea for a young boy who loves his guitar.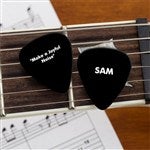 Fun Momento!
By
Pamela P.

(Madera, CA) - July 28, 2013 (
See all reviews by this customer
)
I ordered these to add to the favor boxes I'll be giving out at my son's wedding rehearsal dinner. Both my son and his future bride work in the film/music industry so these are perfect...especially since my son is an avid guitar player. I thought these would be a wonderful depiction of them both. I ordered the grey as that's one of the wedding theme colors. The personalization is as always, outstanding!