great party favor
By
Shopper

(Canada) - October 3, 2011
Purchased these for a party favor for my guitar playing dads 80th birthday party ;-)So perfect, unique and fun!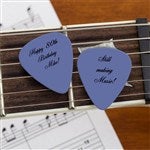 quality iteam
By
Shopper

(West Richland, WA) - October 2, 2011
I got this item as a birthday gift for my boyfriend and he loved it not only because of it being custom, but he says the quality of the pick is great. they're usable picks for playing not just show. Would suggest this gift for anyone!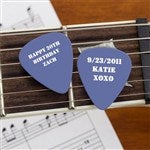 Gift
By
Shopper

(Davenport, IA) - September 27, 2011
I bought these as a gift for someone, they were a hit. We recived them very fast. They look great would recommended them as a gift idea!

Very good! Worth my money.
By
Shopper

(Great Mills, MD) - September 27, 2011
These picks were not flimsy or easily broken. I ordered twenty and was thoroughly satisfied, and I enjoy playing with them. I have an acoustic guitar which I play every other day, and these picks work great.

Just what I wantd!
By
Shopper

(Elkton, KY) - September 26, 2011
These were ordered for our church pastor. He plays acoustical guitar with a small Bluegrass group and is constantly losing his picks. These were originally ordered as a joke but we had his name imprinted on one side and the church name on the other and he thinks they are the greatest thing ever! Great quality good price and timely shipping. We couldn't ask for a better product or service.

Wonderful
By
Kimberly B.

(Selden, NY) - September 23, 2011 (
See all reviews by this customer
)
We totally loved these Guitar Picks. The Quality was great and they were absolutely beautiful, just what I was expecting. I would order them again in a heartbeat. They were a great anniversary present that I know my husband is going to use over and over and over again!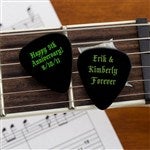 Glad we picked guitar picks
By
Rita R.

(Springfield, VA) - September 19, 2011 (
See all reviews by this customer
)
They were good quality, the printing was very good, and we received them super quickly. Thanks, they were a hit!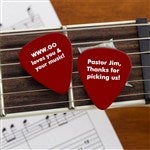 Very satisfied
By
Stanley J.

(Crystal, MN) - September 2, 2011 (
See all reviews by this customer
)
good price, good guitar picks. I will be back!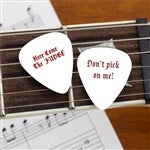 Amazingly Awesome Guitar Picks
By
Shopper

(Grapevine, TX) - August 23, 2011
I ordered these for a very precious friend who plays lead guitar and he was so touched by these and has enjoyed sharing them with friends who play. Having them personalized just added "his" special touch.

Thank you Personalization.com

Great!
By
Samantha P.

(Greenup, KY) - August 13, 2011 (
See all reviews by this customer
)
Fast shipping & they look great! Perfect for our Western Themed Wedding! =)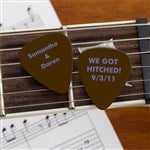 Guitar picks for grandson
By
Shopper

(Layton, UT) - August 9, 2011
The picks are perfect and my grandson loves them. I can't believe how fast you got them done and sent. The decorative bag they came in is a nice touch--for a present it's much cooler than a plastic bag.

Personalized Guitar Picks
By
Maurice S.

(Scranton, PA) - August 1, 2011 (
See all reviews by this customer
)
Great product! I got exactly what I ordered in an incredibly short time. Thanks!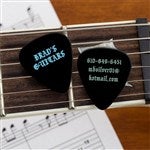 Very Satisfied
By
Shopper

(McCook, NE) - July 29, 2011
Looked exactly as it did in the picture...received very quickly, looked very nice! I will definately order from here again!!

Happy Customer
By
Michelle B.

(Leland, NC) - July 26, 2011 (
See all reviews by this customer
)
We ordered personalized guitar picks for a gift. It is really awesome to be able to choose your pick/font color and have the technology to view what the finished product will look like before you place your order. The shipping was just as stated and we received our order in a quick, timely fashion. Our gift recipient was exceptionally happy with his gift. I will definitely consider Personalizationmall.com for all my future gift giving needs.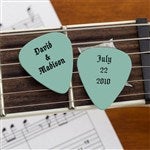 Couldn't be happier!
By
Nathan B.

(Culver City, CA) - July 8, 2011 (
See all reviews by this customer
)
We literally could not have been happier with every aspect of our order.

1. When we initially ordered, someone called to review and it was so nice to actually speak to a person.
2. We loved that we were able to see exactly what we wanted prior to ordering
3. We got our picks RIGHT AWAY!!
4. The picks looked exactly like we had hoped they would.

We ordered these for our wedding in October, so it was really important that they look "perfect." We were not let down. We will be using this company often!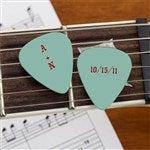 Custom Guitar Picks
By
Shopper

(Charlotte, NC) - July 5, 2011
The custom guitar picks turned out perfect...just as I had imagined.

Great Guitar Picks!
By
Shopper

(Goodyear, AZ) - July 1, 2011
They sent exactly as ordered and was here in a couple of days.

Very Cool
By
Shopper

(West Branch, MI) - July 1, 2011
We had some picks made for a guitar lover in our family. Personalization was perfect. Shipping was quick. Good quality. I only wish the font could of been a little larger to fill up more of the pick. All in all--the item was exactly what we wanted for our friend. Thanks!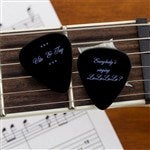 Guitar Picks
By
Shopper

(Newburgh, IN) - June 6, 2011
I ordered guitar picks to celebrate a special occassion. Excellent choice! They turned out absolutely perfect. Great gift to share! Quick turn around. Exactly as I ordered. I will order from here again!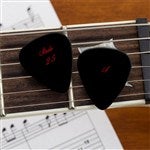 Guitar picks
By
lynn W.

(jesup, GA) - June 2, 2011 (
See all reviews by this customer
)
Great deal. fast shipment. Could not be more pleased.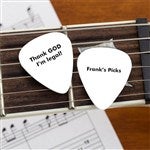 Thumbs Up
By
Dana P.

(Yardley, PA) - May 29, 2011 (
See all reviews by this customer
)
Excellent customer service. I chose white picks with purple writing. The larger the font, the clearer it is. Steer clear of small text!
Very pleased.

Personalized Guitar Pick
By
Erica P.

(Warner Robins, GA) - May 21, 2011 (
See all reviews by this customer
)
These guitar picks were perfect! The order was processed and shipped very quickly. They are good quality and my husband, who is in a band, loved them. Thanks!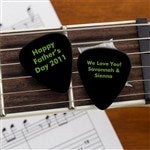 guitar picks
By
Shopper

(downingtown, PA) - May 21, 2011
They looked exactly like the pictures and were good quality pick (says my brother that plays guitar)

Graduation Pics
By
Deborah K.

(Bartow, FL) - May 14, 2011 (
See all reviews by this customer
)
Fantastic job I was totaly amazed at how fast we recieved the pics.

Great gift idea
By
Shopper

(Pittston, PA) - March 29, 2011
A very unique one of a kind gift to remember an important event. I would definitely considering buying this item again.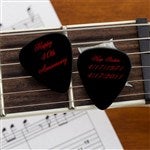 guitar picks
By
Shopper

(Newport, KY) - March 19, 2011
Great and novel idea to gift a guitar enthusiast. Nicely done.

Exemplary Products and Services!
By
Larry G.

(Fort Worth, TX) - March 12, 2011 (
See all reviews by this customer
)
I recently received my Personalized Guitar Picks from you - and I was blown away! They arrived swiftly, and just as gorgeous as your "Design Preview Window" showed.... no, even BETTER!!! I'm extremely pleased and will likely be making subsequent purchases. Thank you very much!! You guys ROCK!!