Great novelty item!
By
Shopper

(Henderson, MI) - August 29, 2011
Ordered these to give to fellow guitarists at a music festival we attend annually and we LUV them! The ONLY negative is that they're pretty thick&rigid so they're not so great for actual guitar playing. GREAT keepsake though!

really cute but couple issues
By
Christina S.

(Louisville, KY) - August 16, 2011 (
See all reviews by this customer
)
I do love these picks for my wedding favors. The only thing I would recommend is to stick with smaller number of characters and I would only go with white or black ink. We bought some in blue and some in purple both with the grey text. The blue shows up better. Thinking we should have just used black. Would recommend the product just tweek your thinking on printing : )
Also the text is a bit small so if you have older people you may want to think of mixing these with something else so that you can have something for everybody. That's what we did.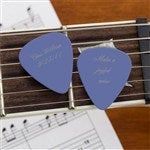 Great buy
By
Shopper

(Shelby Township, MI) - July 11, 2011
They look great! I ordered some for my boyfriend for our anniversary. I had some song lyrics written on one side, then our anniversary on the other side. Super cute!

Very nice!
By
William E H.

(Provo, UT) - June 27, 2011 (
See all reviews by this customer
)
These guitar picks are very nice quality, they play nicely and they are a good size. The color is excellent and they look just like they do in the preview. My only problem is the font is super small (I used Script) and the words are hard to make out unless you look at it super close. Bigger fonts please! Other than that, they are beautiful. I'm super excited to give them to my friend. The quality is excellent and they shipped in 2 days. This was so nice as I ordered them last minute. Thank you, thank you! I will buy from this company again :)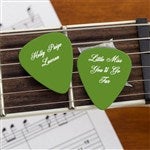 Exciting
By
Sharon D.

(Derby, CT) - June 20, 2011 (
See all reviews by this customer
)
my husband was so excited to see his name on a guitar pic!

Band Re-Union
By
scott S.

(leander, TX) - June 13, 2011 (
See all reviews by this customer
)
I ordered some band logo picks for an up coming band re-union gig. The turned out pretty good. And from the time I ordered them to the day I received them was 5 days. Very fast shipping. Plan on buying more.

guitar pic review
By
Shopper

(Griswold, CT) - April 23, 2011
They were very nice, but my only complaint is that the writing is so small, they are bit hard to read. Other than that, nice!

Good stuff!
By
Michael S.

(Modesto, CA) - March 26, 2011 (
See all reviews by this customer
)
I really like the product I received. It was exactly as I expected it and will definitely use this company for future items!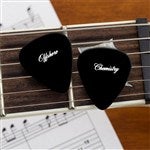 pick a gift
By
kelly G.

(south dennis, NJ) - January 18, 2014 (
See all reviews by this customer
)
Guitar picks were cool could have been a little bigger as far as the writing on the pick...

Tri-color
By
Shopper

(Allston, MA) - March 11, 2013
Picks were made and shipped quickly which was fantastic. The visibility of the writing on the picks was good. Our only complaint is that the pick color is painted on over a white pick, so if you were to use it for playing the color pulls off and reveals white underneath, which can be cool.
If we were to make more picks we would probably choose a white background, or more likely we would find a place that makes them for guitarists/businesses.
All in all, the product was good. Best for party favors.

Great product, but way overpriced.
By
Shopper

(Marion, IA) - December 16, 2012
I've ordered this product twice now. I can't say anything bad about the items. If you enter the information in correctly, it'll be exactly what you expect. Seems like decent quality item.
However, that being said, for what this item is, it is very overpriced. If I wasn't in a hurry to get the item replenished I would have shopped around because surely there is a place that will offer the same product for much less.

Great price, wished it was centered :(
By
Chris P.

(Saco, MT) - March 26, 2012 (
See all reviews by this customer
)
I love the item, it says what I wanted, but everything was off center just a little. No biggie, just a give away momento, but the little extra would have been nice.


Guitar picks
By
Monica H.

(Brookfield, WI) - February 17, 2012 (
See all reviews by this customer
)
I was disappointed the the lettering did not show up clearly on both sides of the pick. The side with the names was very faint.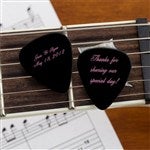 Guitar Picks
By
Sandy H.

(Glendale, AZ) - January 15, 2012 (
See all reviews by this customer
)
Somewhat disappointed in the size of the script on the front of the picks - not as large or as easily read as in the product preview picture. May have been better had I chosen a different font.
Still a unique gift that I'm sure will be appreciated!

The size of the font
By
Shopper

(Greenbelt, MD) - December 17, 2011
I am happy with the promptness of the picks and the picks themselves look good. My complaint is that the font was extremely small. Way smaller than I anticipated.



think twice
By
Shopper

(New York, NY) - December 8, 2011
while it's a cool idea, the product i received did not match the projected picture...the sizing was all messed up, the spacing was off, etc. i'd think twice before buying.

Personalized guitar picks
By
Laura K.

(Staten Island, NY) - October 29, 2011 (
See all reviews by this customer
)
I was a little disappointed in the personalized guitar picks I ordered. The font was very tiny. I ordered the "Script" font and my daughter's name, Liz - looks like it is spelled "Lz", the letter were all scrunched together. The script was so small and her name is just three letters - it should have been more spread out on the guitar pick. When I called to complain, the representative told me I should email her the "proof" that I had accepted. When I looked at the proof, the type was very tiny, however, I thought it would have been more correctly placed on the guitar pick. It did, however, look exactly as the proof which I accepted, therefore I did not pursue my complaint.

Personalized guitar picks
By
Shopper

(Marion, IA) - September 18, 2011
The personalized guitar picks had an extremely easy drop-down details list and ordering process. However the value for the price paid was definitely not the greatest and the shipping cost for this light-weight product were through the roof. Next time I order I will pursue other options to find a better value for the overall price.

font could have been brighter and larger
By
Heather S.

(New York , NY) - August 13, 2011 (
See all reviews by this customer
)
We ordered purple picks with white font for our wedding, we're both guitar players. We ordered half script and half block font. The block is a lot clearer and easy to read than the script, wish we'd ordered them all that way. The picks themselves are fine and the purple color is pretty although the color is more like a raspberry. They are cute enough that we are still happy to put them on our tables at our reception and I bet people will think they are a neat favor.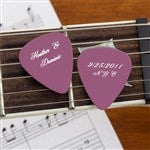 words
By
Kristine W.

(Yuba City, CA) - May 28, 2011 (
See all reviews by this customer
)
I was fairly satisfied with the guitar picks I ordered, except when it came to the print on the back. It was tiny compared to the front & I expected all the wording to be the same size. Besides that, my order was good.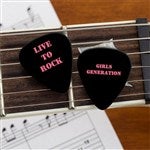 Disappointed
By
Jennifer B.

(Martinez, CA) - February 21, 2014 (
See all reviews by this customer
)
I payed more $$ for shipping for it to be here 'guaranteed' by Valentines day and instead, it got here 4 days after. I liked the way the guitar picks came out and my boyfriend liked the idea, but he says they are too slippery to use. It seemed like a good idea, but for as much as I spent with shipping, and for it not to be here on time, I don't feel it was worth it.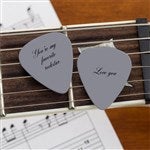 Guitar picks print was too faint
By
Shopper

(Dover, NH) - September 13, 2013
Font was script and red. It came out so faint and small it was hard to read. Delivery time was great and at least everything was spelled correctly, but wouldn't order these again.

LASSWELL
By
Renee Q.

(Tulare, CA) - May 8, 2012 (
See all reviews by this customer
)
The quality of the picks were alright but I was actually very disappointed that the lettering was not centered on one side and the font was different on each side. They were purchased for a gift so I could not return them, otherwise I would have.

wording off center
By
Shopper

(Hayden, CO) - January 17, 2012
I think the guitar picks would've turned out to be a great gift for my boss whom also plays in a band, however the wording is off center. Makes it look cheap. Bummer, no time to order another gift for the hard to buy for person. They arrived extremely fast though.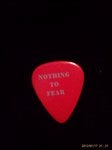 Poor Quality Picture
By Shopper (Manchester, ME) - December 12, 2011
I just received my personalized guitar picks in the mail today. I am disappointed in the picture quality and the color quality on some of them. Some of the pictures came out clearer than others, so I feel as though the ones that were not good quality should have been re done. I believe this is a great idea for a product, and think my fiance will still love them...it's the thought that counts. If you are expecting a great quality picture I would not recommend.

Defective Twice
By
Shopper

(Pinellas Park, FL) - September 24, 2011
I received the picks in light blue. On all the picks, the front writing was off-center. On around 3/4 of the picks, there were black and white splotches. One pick had a large brown smudge across it. When I called Customer Service, they made me take pictures of all the damaged picks (all of them) to see if they were really defective. I did, and they re-sent the order. On the second order, the black and white splotches were still there and another one had a large brown smudge. The writing was even more off-center. There is obviously something wrong with the process in which the picks are made. They were ordered as favors for my wedding and I'm very disappointed :(

Guitar picks!
I am very disapointed in my order! The photo was great but the NAME on the other side Could NOT even read IT! It was a special present for my son! He loved them but it wasn't what it showed on the preview! I have ordered tons from this site Sooooo sad about this!

Nothing like picture
By
Paula M.

(Youngsville, PA) - February 14, 2012 (
See all reviews by this customer
)
The "script" lettering in pictures are much more clear to see. When mine arrived (quickly-which was great) I could hardly read the personalization I requested. Not very happy. The pictures online look great, but the product in hand...not so great.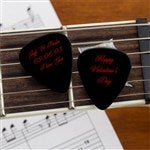 Disappointed
By
Shopper

(Riverside, CA) - February 6, 2012
The picks were dull, not glossy as shown in the picture, and scratched. The font was so faint that it couldn't be read without holding it up close to the eye. The item did ship on time.

Not worth the money
By
Shopper

(windsor, CT) - December 18, 2011
I ordered some guitar picks and what was delivered was both barely usable and not at all satisfactory.

First, the quality of the pick itself was pretty low. The gauge of the pick (which is VERY important to a player) was not at all consistent. (Though it's thickness was specified)

Secondly, the type on the pick was so small that it's virtually unreadable. What's the point of having picks with a name on them if you can't read them?

Total waste of money - I will not be buying here again.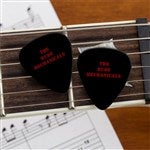 Disappointed
By
keith I.

(broken bow, OK) - August 30, 2011 (
See all reviews by this customer
)
We were do excited to receive our picks with our store name and phone number!! Then we opened the pack. Shear disappointment. The words are so small you need a magnifing glass to read them and they are crooked