Lucky shopper
By
Shopper

(Pittsburgh, PA) - June 24, 2011
This was a great buy! The picture I uploaded came out really nice. The mouse pad was thick, large in size, and the writing on it was really nice.

mousepad
By
Shopper

(Antioch, TN) - April 10, 2011
Turned great. I love it!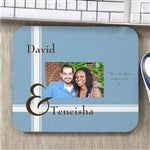 Pleasant Surprise!
By
Laura R.

(Canada) - February 19, 2011 (
See all reviews by this customer
)
This is the first item i ordered through this site, and I was very surprised at the really good quality and fast shipping!!! definitely coming back!

Mouse Pad
By
Tamara W.

(Zuni, VA) - February 16, 2011 (
See all reviews by this customer
)
My boyfriend absolutely lovedddd this gift for Valentines Day. It was simple, practical and cost effective. He loved that I took the time to think of him at work. I have recommended so many people to this website. It is AWESOME! I will shop here again and again. Delivery time and cost was a breeze and reasonable.

Great product!
By
Shopper

(Cicero, NY) - February 15, 2011
I loved this!! The picture quality was amazing. It was a perfect valentine day gift for my boyfriend. He loved it!!! I was extremely impressed!! I will definitely order from here again!

Sweet and Sentimental
By
Shopper

(Spartanburg, SC) - February 15, 2011
Comes out very beautiful but be sure to use a well lightened photo!

Happy with product
By
Shopper

(Canyon Country, CA) - February 7, 2011
Very nice deal, and recieved in a timely matter. Good quality picture, and coloring.

The love from God
By
Pinkie T.

(Phoenix, AZ) - September 16, 2010 (
See all reviews by this customer
)
I sent this to my future spouse who God has brought into my life! My future spouse was caught off guard and so happy and proud and not only that he is not going to use it right away he is show casing it to friends and family because he feels so special regarding the surprise he was not aware of; and it just beam with pure excitement to his heart to know I just sent it just because, no special occasion or anything merely because I love him and can't wait to the day we share our hearts with one another.

Very Nice
By
hilton J.

(arlington, TX) - July 23, 2012 (
See all reviews by this customer
)
I could not have imagined that the picture quality was as good as it came out on the mouse pads, everything turned out great.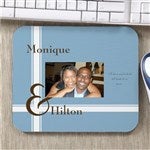 rajibava
By
rajitha B.

(San Jose, CA) - February 7, 2012 (
See all reviews by this customer
)
its a cute valentine's day gift for my hubby.
it arrived as said.it is nice buy .
the picture quality could improve.
I love it.thanks to personalizationmall.com for the cute,, interesting ideas to present gifts to the lovedones:)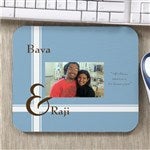 Nice looking mouse pad
By
Dywane W.

(Pearland, TX) - June 19, 2011 (
See all reviews by this customer
)
We received this item almost like we ordered it over night delivery. When it came the quality of our picture was fantastic and the quality of the actual mouse pad was superb. I would definitively recommend this product to anyone interested in good quality work.

Superb
By
Shopper

(Baltimore, MD) - February 23, 2011
First tym mkn an order frm u guys, I liked it n ma boyfriend liked it mo. Will deffinately be makin orders frm you! Grt job!!

Worth the price
By
Gladys C.

(Torrance, CA) - February 15, 2011 (
See all reviews by this customer
)
Affordable, thoughtful, and personalized gift. Picture quality could improve. However, cute gift and worth the price:)

Mouse pad aniversary gift
By
Shopper

(Winter Garden, FL) - February 9, 2011
This was the perfect aniversary gift for my husband. It came just in time.
A great gift for a special ocasion. Highly recommended

Ok Product
By
Shelley M.

(Sacramento, CA) - February 18, 2013 (
See all reviews by this customer
)
Mousepad is a nice size. Photo turned out more grainey and a lot darker than I had inticipated. I used a high quality image, or so I thought. I thought that the preview they showed before ordering was very nice and was slightly disappointed with the finished product. The picture attached is the preview they provided.