Exceeded my expectations
By
Shopper

(Waite Park, MN) - December 19, 2011
I was so pleased with the Season's Sparkle Stocking in White. I ordered it for my future daughter-in-law. Another reviewer commented that they wished the embroidered name was in a different color because the name was hard to see. I ordered the white stocking with the personalization done in silver and it was beautiful! Loved the fabric and detail. It will make a lovely addition to our fireplace mantle!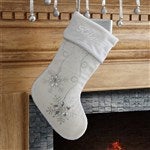 Stocking Review
By
Shopper

(Warwick, RI) - December 19, 2011
The stocking is beautiful but the embroidery is silver and barely noticeable.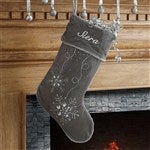 GORGEOUS
By
Ruth R.

(Little Elm, TX) - December 18, 2011 (
See all reviews by this customer
)
My husband and I both have red stockings with snowflakes that we got a couple of years ago. I knew it would be hard to match the reds for our new baby girl. So, I was looking for a pretty white or silver stocking with snowflakes on them and came across this one. When I received it, I was extremely happy with it. It is beautiful and the white makes it look so clean and pure. The addition of her name in silver is a wonderful added bonus! I highly recommend this gorgeous stocking - especially if you love snowflakes. If we have child #2 in the next couple of years, I'm hoping this is still around.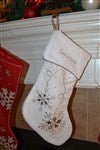 Super Cute Stocking!
By
Avelina D.

(Lowell, MA) - December 18, 2011 (
See all reviews by this customer
)
This stocking is so adorable. The online pic does not do it justice. Very femine with lots of bling. Perfect for all ages. I love it!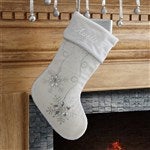 Beautiful stocking
By
Katherine W.

(Washington, DC) - December 17, 2011 (
See all reviews by this customer
)
We bought this for our daughter's first Christmas. The embroidery is beautiful and the details on the stocking exceeded my expectations. The stocking is also the perfect size...not too big and not too little.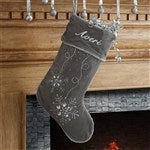 JUST AS PICTURED
By
Julie D.

(woodbury, MN) - December 16, 2011 (
See all reviews by this customer
)
This is a very nice stocking. It shipped VERY quickly. My only complaint is that the name is hard to see and not big enough. And I read that in other customer reviews and still decided to go with it as I have ordered other items from this company and was very happy with the product and shipping time. I like that this stocking is not super "Christmasy" looking. My 17 month old should get many years out of it. I will be buying two more of these for "mom" and "dad". I would highly recommend this company!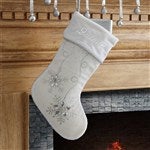 Very trendy!
By
Shopper

(Pearland, TX) - December 15, 2011
This stocking is very cute and of great quality. I wanted to follow the tradition of hanging
Stockings but I didn't want them to look traditional and this stocking helped me to achieve that.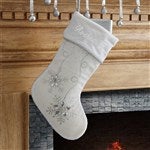 Beautiful
By
Shopper

(Royal Palm Beach, FL) - December 14, 2011
My entire order was perfect! This stocking was so much more beautiful than I ever imagined. The picture does not do it justice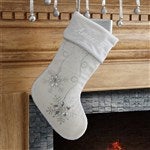 SASSY AND CLASSY
By
Veronica J.

(Schuylkill Haven, PA) - December 13, 2011 (
See all reviews by this customer
)
This Christmas stockingis a gift for my 13 year old granddaughter. I had it personalized with the pet name we call each other. I know she will enjoy that more than seeing her actual name. I can't wait for her reaction when she finds it hanging from the mantel. It's the perfect size for filling with girly surprises. It is well constructed so I know it will retain it's beauty for years to come. Not only is it a beautiful stocking,- it's sassy and classy - just like my granddaughter. I've been very pleased with everything I've ordered from PersonalizationMall.com and this stocking is just another example of the fine products they offer.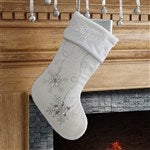 stitching should be darker
By
Shopper

(Fort Washington, PA) - December 9, 2011
The stocking itself is beautiful. But the stitching with the personalized name is too light and can't be seen very well from a few feet away.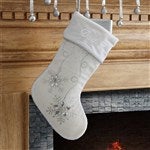 Holiday Sock
By
Shopper

(Manteca, CA) - December 5, 2011
They are beautiful - only regret I have is that the names do not show up. White on white is not good. Wish the names had been in red or green - anything but white.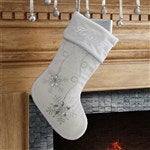 Exactly What I Was Looking For
By
Shopper

(San Francisco, CA) - November 16, 2011
I was looking for sparkly, but not cheesy or cheap. These stockings fit the bill. I got the white with sparkly silver accents - so cute.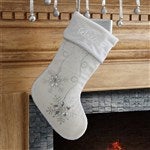 nice stocking
By
Kristi M.

(Pueblo, CO) - November 12, 2011 (
See all reviews by this customer
)
These stockings are great. The fabric is pretty nice, and it looks beautiful with our other Christmas decorations. I bought one for each person in our family. I plan on getting another one if we have another child. It is wide enough for a CD to fit inside.

Great stocking
By
LeAnn P.

(Selma, NC) - December 24, 2013 (
See all reviews by this customer
)
The stocking is great and seems to be of good quality. My only small complaint s the lettering is a bit smaller than I would have liked but overall I am very pleased with my purchase! And I have looked at many websites and in stores before purchasing these but am very satisfied with them, I bought the matching white one as well.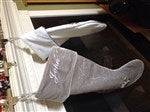 Stocking
By
Shopper

(Columbus, OH) - December 11, 2013
Just a beautiful stocking and the embroidery was very nice. Order 4 of these and will order more in the future.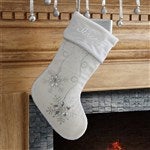 Pretty stocking for my pretty girl
By
Shopper

(Ocoee, FL) - December 8, 2013
This stocking is exactly what I was looking for for my new baby girl. Ordering this from Personalizationmall.com was very easy and I was pleasantly surprised how quickly I received my order. I will definitely be using this site again in the future.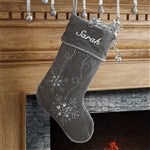 beautiful
By
Sandy C.

(Franklin Grove, IL) - December 8, 2013 (
See all reviews by this customer
)
This was for my granddaughter and it is exactly what I was looking for.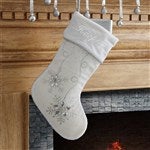 Beautiful Stockings
By
Shopper

(Kingwood, TX) - December 5, 2013
The stockings were very pretty and look so beautiful hanging up for the family. I couldn't be more pleased.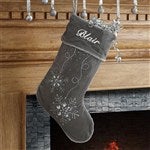 Very pleased
By
Shopper

(Excelsior, MN) - November 24, 2013
I had purchased the stocking and the name was not centered. The company replaced it quickly and without fuss which I appreciated. I have gotten other products over the past few years and have never been disappointed. The stocking is a good quality and looks pretty.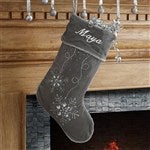 Impressed
By
Megan T.

(Coopersville, MI) - December 18, 2012 (
See all reviews by this customer
)
I bought three of these (one grey & 2 white); One for my husband & I as well as one for our daughter. They are pretty online, but even better quality when seen in person. They're fun and yet work well for elegant décor. One thing I will note is if you put a brightly colored object in the white stocking the color does show through a bit, but not terribly so. I just tucked a piece of tissue down the side and problem solved...helps stop peeking too! :) I hope this style is carried for years to come so I can buy more as our family grows.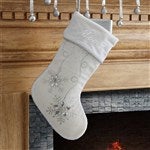 Better than expected
By
Douglas R.

(Burlington, CT) - December 12, 2012 (
See all reviews by this customer
)
We bought both the white and silver stockings. The embroydery on both stockings are great. Would definitely recommend them to anyone looking for a personalized stocking.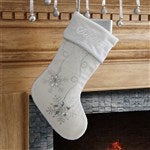 love these stockings
By
Sara D.

(Franklin Park, NJ) - December 9, 2012 (
See all reviews by this customer
)
Very happy with the design and quality. Like that the color is different then usual Christmas colors.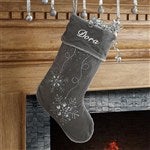 stockings
By
Brenda J.

(Los Angeles, CA) - December 4, 2012 (
See all reviews by this customer
)
Love these stockings. I ordered 2 of the same stockings last year. I had a baby this year so I ordered another one this year.
My only issue would be that the jewels are not sewn/glued on that well.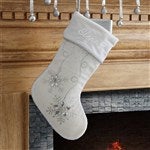 Gorgeous
By
Shopper

(Gainesville, FL) - December 4, 2012
I ordered two in the silver color and they turned out perfectly.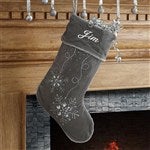 Wonderful stocking
By
Melanie B.

(New Port Richey, FL) - November 11, 2012 (
See all reviews by this customer
)
This is a beautiful stocking for a feminine woman!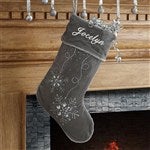 Beautiful!!
By
Keri M.

(Spring Hill, FL) - July 17, 2012 (
See all reviews by this customer
)
Wishing the holiday season would get here quickly just so I can display these stockings. They are beautiful and we will be decorating the house to coordinate w/ them. Better then anything you will find in the stores.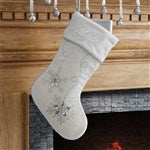 So pretty!
By
Shopper

(Norcross, GA) - January 15, 2012
Great item for the price! I got two after Christmas on sale. The material quality isn't the nicest but I'm happy with the item overall.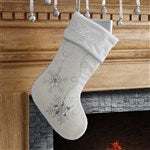 Beautiful
By
Shopper

(Renton, WA) - January 14, 2012
My girlfriend and I were excited to see this item for the price we paid. When they arrived, we looked them over and are satisfied with the build quality and are sure they will last our lifetime.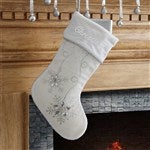 Pretty Stocking and the Price was Right.
By
Wendy H.

(Point Harbor, NC) - January 9, 2012 (
See all reviews by this customer
)
I bought one each in Silver and Grey for my son & his girlfriend for their new home. They are nice looking, not too large not too small, and well worth the sale price at least! Very pretty.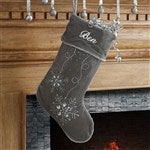 stocking great - personalization disappointing!!
By
Darlene G.

(Sterling, CT) - January 8, 2012 (
See all reviews by this customer
)
I ordered two of these stockings - one gray, one white - with the same personalization on each. The names were crooked, differently spaced on each stocking, all in all VERY disappointing!!! I would return them if I could, almost embarrassed to set them out next Christmas. I've ordered many products from this site, always with amazing results - this is the first time I have had such poor quality in the "personalization".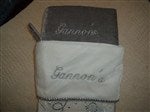 Season's Sparkle Embroidered Stockings
By
Mary Kay G.

(Naples, NY) - December 10, 2010 (
See all reviews by this customer
)
I searched high and low for these 'non-traditional' Christmas colors to compliment the decor in my new home. I am alternating the peweter (for the boys) and white (for the girls) and am VERY PLEASED! Additionally, your website was easy to navigate and my order arrived very promptly. I will shop here again for sure.

Love it
By
Kassandra C.

(Menifee, CA) - December 10, 2010 (
See all reviews by this customer
)
Great product..Love it

Beautiful!
By
Blaine H.

(San Ramon, CA) - November 18, 2010 (
See all reviews by this customer
)
I was concerned about the quality of these for the price, but now that I received them I feel that this was great value and they are beautiful!

Pewter Stocking
By
Thomas P.

(Chester, VA) - December 11, 2010 (
See all reviews by this customer
)
Beautiful high quality stocking with lovely detail. Fast, prompt monogram service as well. This stocking goes perfect with the "Winter Wonderland" theme I did this year. I also purchased another stocking in white and the two constrast very nice together.

Great purchase
By
Lisa L.

(Mesa, AZ) - December 12, 2010 (
See all reviews by this customer
)
Its rare when I purchase something online that when it arrives I'm overly happy with the product. But this purchase was different for a change and I was so glad I spent the money. I bought 2 white, 2 grey and the matching tree skirt so I spent a little bit of money but I can say I got what I paid for. These look great in my home and the white lights if the tree really make these sparkle. I rarely write reviews but was so happy with these that I wanted to share the news. Thumbs up well worth the money!

exactly what i wanted
By
Katrina D.

(Fremont, CA) - December 12, 2010 (
See all reviews by this customer
)
Great stocking... looks great by the christmas tree!

Christmas Stockings
By
Karen J.

(Brookeville, MD) - November 22, 2010 (
See all reviews by this customer
)
I ordered the pewter snowflake velvet stockings for my daughter. She decorates with silver and white and wanted stockings to match. I looked everywhere and couldn't find anything except the traditional red and green theme...until I found Personalization Mall online. My daughter was jumping up and down with joy when she saw the embroidered stockings. They are absolutely gorgeous and elegant looking! I sure hope they are available when we need to add stockings for future kids!

Absolutely Perfect!
By
Krysta I.

(nutley, NJ) - December 13, 2010 (
See all reviews by this customer
)
Quality on these stockings is great! I thought the snowflakes were just embroidered, but there are actually gem stones, which make these a great value! I purchased both colors and they look great hanging together. When you preview the white style, it shows you the embroidery in white, but it is actually silver (which was a PERFECT surprise)

stockings
By
Andrea C.

(Hiawatha, IA) - December 4, 2010 (
See all reviews by this customer
)
Love, love, love them! They are perfect!

Simply stunning - better than what I expected
I ordered three of the white stockings and was a little nervous - even with the stellar reviews. I thought the fabric might be cheap or the embridery might be a bit off and I can say with 100% honesty that these are stunning. The fabric is very soft but not too soft, the piping is simple and elegant in the metallic silver and the front decorations and silver dots here and there are lovely. I have a 10ft white tree (yes... really) and our theme is "white on white". All of our friends have commented on the stockings and how nice they are. Haven't found anything in the stores yet that I like better! Order these with comfort - you will not be disappointed.