Christmas stocking
By
Shopper

(Maumelle, AR) - December 6, 2011
stocking was beautiful. Disappointed in name stitching, so small you can't hardly see it. Name is lost on big stocking.

Holiday Sock
By
Shopper

(Manteca, CA) - December 5, 2011
They are beautiful - only regret I have is that the names do not show up. White on white is not good. Wish the names had been in red or green - anything but white.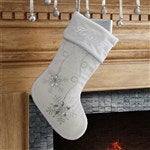 nice stocking
By
Kristi M.

(Pueblo, CO) - November 12, 2011 (
See all reviews by this customer
)
These stockings are great. The fabric is pretty nice, and it looks beautiful with our other Christmas decorations. I bought one for each person in our family. I plan on getting another one if we have another child. It is wide enough for a CD to fit inside.

Very nice product
By
Tonya H.

(San Antonio, TX) - December 9, 2010 (
See all reviews by this customer
)
This stocking is very attractive hanging on the mantal. The names are done in high quality machine embrodery and are very nice size. The silk lining is a bit thin for the price, but otherwise a very nice product.

nice stocking
stocking is very nice, only complaint is the name written is somewhat small in comparison to the overall stocking

Disappointed Twice
By
Shopper

(River Ridge, LA) - December 28, 2011
I ordered stockings and a tree skirt. Order came in, no tree skirt. Also, the gray stocking shows on the website having the embroidery done in white thread. When it came in, it was done in the same color as the stocking so it was hard to read. Wrote the company an email with picture attached and they agreed to resend the stocking correctly. Second stocking came in and it was exactly the same stocking as the first, and you can't read the name embroidered. Very disappointed for my child who was so excited about getting a new stocking! I gave up after the 3 mess ups of my original order.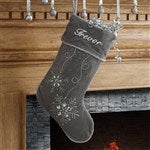 Not exactly what I was looking for
By
Shopper

(Oakdale, MN) - December 22, 2011
I bought the lighter grey/silver stocking for a girl in the family. The stocking itself is beautiful, however, you can barely see the name written on it. I was disappointed in that. I would not get this stocking again in the future because of that alone.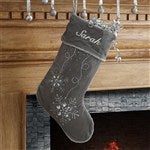 stitching should be darker
By
Shopper

(Fort Washington, PA) - December 9, 2011
The stocking itself is beautiful. But the stitching with the personalized name is too light and can't be seen very well from a few feet away.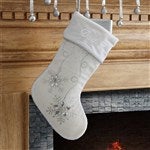 its ok
By
Sandra S.

(Elizabethtown, PA) - December 3, 2010 (
See all reviews by this customer
)
looks much nicer in the picture...name wasnt exactly centered

Not as pictured - PROBLEM
By
Shopper

(Santa Monica, CA) - December 18, 2012
The items are not as pictured. WHY is because they don't hang straight. The loop is not sewn on in a manner that allows them to hang with the (beautiful) front facing forward. They are pretty, but expensive. I was pleased until I hung them and now I do not like them at all.

EXTREMELY DISAPPOINTED!!! VERY POOR QUALITY!!
By
Shopper

(Plano, TX) - November 11, 2011
I am appalled that so many reviewers gave these such high ratings!! I have never been more disappointed in an item I have ordered online. The material is of very cheap quality and the embellishments are attached with glue! And of course since I had them personalized, customer service has informed me that I have no options for even a partial refund. These are NOT worth the price even if you have a discount coupon! You could find the same quality at your local mass retailer. If you are looking for something worth the price they are charging...keep looking!!