Perfect
By
Libby S.

(Conroe, TX) - December 9, 2010 (
See all reviews by this customer
)
My husband and I loved our two stockings so much that we ordered two more for our dog and cat.

Simply stunning - better than what I expected
I ordered three of the white stockings and was a little nervous - even with the stellar reviews. I thought the fabric might be cheap or the embridery might be a bit off and I can say with 100% honesty that these are stunning. The fabric is very soft but not too soft, the piping is simple and elegant in the metallic silver and the front decorations and silver dots here and there are lovely. I have a 10ft white tree (yes... really) and our theme is "white on white". All of our friends have commented on the stockings and how nice they are. Haven't found anything in the stores yet that I like better! Order these with comfort - you will not be disappointed.

Well Made!!!
By
Maerryane J.

(Manteca, CA) - December 8, 2010 (
See all reviews by this customer
)
Love it!!! Wasn't too sure about the price.. thought it was a little pricey for a stocking. But after getting it.. it was worth every dollar!! Great quality.. LOVE IT!

Just Gorgeous!
By
Patricia Y.

(Concord, CA) - December 8, 2010 (
See all reviews by this customer
)
I ordered 2 of the white with silver trimmed stockings to coordinate with my blue, silver and white Christmas theme, and couldnt believe how absolutely beautiful they were. The quality and craftsmanship was way beyond what I expected, and the price was reasonable.

I love this stocking.
By
Nicole G.

(Millville, NJ) - December 7, 2010 (
See all reviews by this customer
)
Great stocking. Made from good material and isnt a cheap stocking.

Will definitely last for Christmas to come.

stockings
By
Andrea C.

(Hiawatha, IA) - December 4, 2010 (
See all reviews by this customer
)
Love, love, love them! They are perfect!

Very Beautiful Stockings
By
Sara W.

(Cherry Valley, CA) - December 3, 2010 (
See all reviews by this customer
)
I wanted to get my boyfriend a stocking to help decorate his apartment. I searched high and low for a nice stocking that could be given to a guy and I finally came across these. They aren't the typical Christmas colors, but they are even better just because of the pewter and grey and the snowflake designs. I got the two of us a matching set and I have to say they are really beautiful. I am very impressed with the stockings and a matching set of the two colors looks great when they are hung up!

Christmas Stockings
By
Karen J.

(Brookeville, MD) - November 22, 2010 (
See all reviews by this customer
)
I ordered the pewter snowflake velvet stockings for my daughter. She decorates with silver and white and wanted stockings to match. I looked everywhere and couldn't find anything except the traditional red and green theme...until I found Personalization Mall online. My daughter was jumping up and down with joy when she saw the embroidered stockings. They are absolutely gorgeous and elegant looking! I sure hope they are available when we need to add stockings for future kids!

Beautiful!
By
Blaine H.

(San Ramon, CA) - November 18, 2010 (
See all reviews by this customer
)
I was concerned about the quality of these for the price, but now that I received them I feel that this was great value and they are beautiful!

name change
By
Cheryl C.

(Murphy, TX) - November 17, 2010 (
See all reviews by this customer
)
the stocking was beautiful, but I would like to thank customer service for making the name change after I ordered. They responded to my request quickly and without hesitation to make this a perfect gift. Thank you.

Really nice stockings
By
Christine L.

(Oak Park, CA) - November 16, 2010 (
See all reviews by this customer
)
These stockings look very classy in person. We ordered them because they were so unique. They seem to be good quality and the rhinestone detail is very nice. We had our names engraved too, and that came out perfect. Overall we are very happy with our stockings.

JUST BEAUTIFUL
By
Tranisha M.

(Plaquemine, LA) - November 15, 2010 (
See all reviews by this customer
)
This stocking is just amazing. It's my newborn's very first Christmas stocking and I was thrilled to say the least. It looks even more spectacular in hand. I purchased the pewter and I may just get another one. Great buy, very pleased!

Exactly what I was looking for
By
Shopper

(Canada) - January 27, 2014
I had been searching for a grey and silver matching pair of stockings. These were perfect. Only downside is that the beading is sewed on loosely.



Nice
By
Shopper

(Costa Mesa, CA) - December 20, 2013
Seems like a nice stocking. We'll see how well it holds up when it's filled.
It is a nice addition to our christmas decor but the spelling was slightly off.


Excellent quality
By
Shopper

(Henderson, NV) - December 20, 2013
This is a great product! I would have given it 5 stars if there was a way to add a year to the personalization, in addition to the name. Otherwise, it is exactly what I was looking for! Fast delivery was great!

beautiful
By
Shopper

(Dudley, MA) - December 12, 2013
Purchased both the white and silver stockings in 2013. They are even more beautiful in person. The decorations used for the "sparkle" are not cheap or cheesy looking. The only reason I gave them four stars instead of two is because of how the personalization on two of the four stocking looked. Three of our names have 7 letters, two were fine and one was off centered. The last stocking had three letters and the personalization made the top of the stocking "scrunch" in slightly. Otherwise we have already received the biggest compliant of visitors to our house asking where they too can purchase them!

Cute stocking!
By
Beth S.

(Queensbury, NY) - October 18, 2013 (
See all reviews by this customer
)
Very cute! Will surely make the recipient smile. It's not fine handwork on the body of the stocking, and it is a bit thin (use several sheets of white tissue paper to hide brightly wrapped gifts), but it is quite festive and the personalization is nicely done. Medium to good value for the money spent.

Christmas stocking
By
Shopper

(Loretto, TN) - December 15, 2012
It's wonderful! Exactly what I thought it would be like!!

Great Stocking
By
John M.

(Merrimack, NH) - December 12, 2012 (
See all reviews by this customer
)
The stocking and embroidery were extremely high quality. Everything seems to be built to last for years.

stockings
By
Brenda J.

(Los Angeles, CA) - December 4, 2012 (
See all reviews by this customer
)
Love these stockings. I ordered 2 of the same stockings last year. I had a baby this year so I ordered another one this year.
My only issue would be that the jewels are not sewn/glued on that well.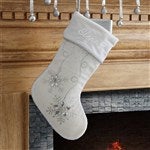 So pretty!
By
Shopper

(Norcross, GA) - January 15, 2012
Great item for the price! I got two after Christmas on sale. The material quality isn't the nicest but I'm happy with the item overall.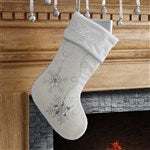 Pretty Stocking and the Price was Right.
By
Wendy H.

(Point Harbor, NC) - January 9, 2012 (
See all reviews by this customer
)
I bought one each in Silver and Grey for my son & his girlfriend for their new home. They are nice looking, not too large not too small, and well worth the sale price at least! Very pretty.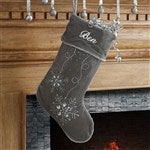 Stocking Review
By
Shopper

(Warwick, RI) - December 19, 2011
The stocking is beautiful but the embroidery is silver and barely noticeable.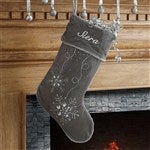 JUST AS PICTURED
By
Julie D.

(woodbury, MN) - December 16, 2011 (
See all reviews by this customer
)
This is a very nice stocking. It shipped VERY quickly. My only complaint is that the name is hard to see and not big enough. And I read that in other customer reviews and still decided to go with it as I have ordered other items from this company and was very happy with the product and shipping time. I like that this stocking is not super "Christmasy" looking. My 17 month old should get many years out of it. I will be buying two more of these for "mom" and "dad". I would highly recommend this company!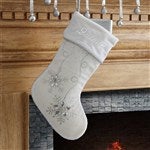 Christmas stocking
By
Shopper

(Maumelle, AR) - December 6, 2011
stocking was beautiful. Disappointed in name stitching, so small you can't hardly see it. Name is lost on big stocking.

Holiday Sock
By
Shopper

(Manteca, CA) - December 5, 2011
They are beautiful - only regret I have is that the names do not show up. White on white is not good. Wish the names had been in red or green - anything but white.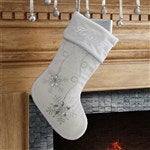 nice stocking
By
Kristi M.

(Pueblo, CO) - November 12, 2011 (
See all reviews by this customer
)
These stockings are great. The fabric is pretty nice, and it looks beautiful with our other Christmas decorations. I bought one for each person in our family. I plan on getting another one if we have another child. It is wide enough for a CD to fit inside.

Very nice product
By
Tonya H.

(San Antonio, TX) - December 9, 2010 (
See all reviews by this customer
)
This stocking is very attractive hanging on the mantal. The names are done in high quality machine embrodery and are very nice size. The silk lining is a bit thin for the price, but otherwise a very nice product.

nice stocking
stocking is very nice, only complaint is the name written is somewhat small in comparison to the overall stocking

A Little Disappointed
By
Janay W.

(Pendleton, SC) - December 13, 2013 (
See all reviews by this customer
)
I looked at many options for a personalized stocking for my little girl. This is her first Christmas. I was a little disappointed in the material used for the stocking. The design is pretty and the embroidery is nice. The material looks a little cheap.

Disappointed Twice
By
Shopper

(River Ridge, LA) - December 28, 2011
I ordered stockings and a tree skirt. Order came in, no tree skirt. Also, the gray stocking shows on the website having the embroidery done in white thread. When it came in, it was done in the same color as the stocking so it was hard to read. Wrote the company an email with picture attached and they agreed to resend the stocking correctly. Second stocking came in and it was exactly the same stocking as the first, and you can't read the name embroidered. Very disappointed for my child who was so excited about getting a new stocking! I gave up after the 3 mess ups of my original order.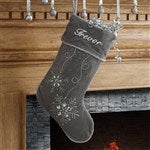 Not exactly what I was looking for
By
Shopper

(Oakdale, MN) - December 22, 2011
I bought the lighter grey/silver stocking for a girl in the family. The stocking itself is beautiful, however, you can barely see the name written on it. I was disappointed in that. I would not get this stocking again in the future because of that alone.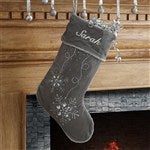 stitching should be darker
By
Shopper

(Fort Washington, PA) - December 9, 2011
The stocking itself is beautiful. But the stitching with the personalized name is too light and can't be seen very well from a few feet away.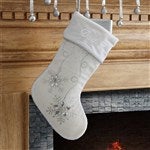 its ok
By
Sandra S.

(Elizabethtown, PA) - December 3, 2010 (
See all reviews by this customer
)
looks much nicer in the picture...name wasnt exactly centered

Not as pictured - PROBLEM
By
Shopper

(Santa Monica, CA) - December 18, 2012
The items are not as pictured. WHY is because they don't hang straight. The loop is not sewn on in a manner that allows them to hang with the (beautiful) front facing forward. They are pretty, but expensive. I was pleased until I hung them and now I do not like them at all.

EXTREMELY DISAPPOINTED!!! VERY POOR QUALITY!!
By
Shopper

(Plano, TX) - November 11, 2011
I am appalled that so many reviewers gave these such high ratings!! I have never been more disappointed in an item I have ordered online. The material is of very cheap quality and the embellishments are attached with glue! And of course since I had them personalized, customer service has informed me that I have no options for even a partial refund. These are NOT worth the price even if you have a discount coupon! You could find the same quality at your local mass retailer. If you are looking for something worth the price they are charging...keep looking!!