Bridesmaid gifts
By
Shopper

(Chico, CA) - October 14, 2012
I recently purchased these for my 3 bridesmaids, they are beautiful and packaged nicely that they could pack them safely to travel. The only downside I would say is the lettering could be a little darker. Overall, very happy with the product and would purchase again!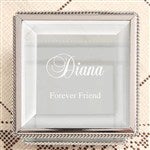 Great product
By
Nataki C.

(Florence, MS) - September 18, 2012 (
See all reviews by this customer
)
Everything I had expected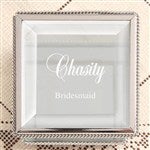 tiny
By
ANA R.

(PHARR, TX) - August 7, 2012 (
See all reviews by this customer
)
so I ordered this for my maid of honor - had I not engraved it with "maid of honor" I might have decided to give it to a 12yr old girl named Elizabeth instead. It's not fitting for anyone other than a flower girl. It's well made and it's pretty - it's just not something you give an adult woman. I will be including jewelery to make it a more fitting gift.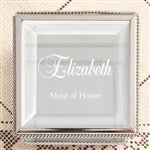 Wedding
By
Kelly G.

(Rush City, MN) - August 6, 2012 (
See all reviews by this customer
)
Beautiful Keepsake Box for my Flower Girls!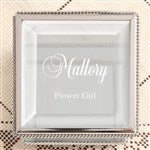 I'd say 4.5 Stars ;)
By
Abigail A.

(Canada) - July 9, 2012 (
See all reviews by this customer
)
The boxes came in looking beautiful! I only had a few qualms: Firstly, the wavy/braided ridges/silhouettes around the box. There were a few points where they didn't fully meet. They were subtle flaws, but noticeable. Secondly, the do it yourself gift boxes had elastics that were too big so they never stayed; so I had to use tape to keep the elastic band on each box. Besides, the boxes that the jewelry boxes were packaged in upon delivery would have made perfectly adequate gift boxes I would have merely needed to wrap them. So take it from me, don't order the gift boxes they were a waste of money. Otherwise, the quality of the jewelry boxes was apparent. Overall I'd recommend these boxes. Awesome bridesmaid gift idea :)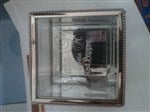 Loved my item!!!!
By
Shopper

(Jackson, NJ) - June 17, 2012
Arrived perfect, can't wait to give this gift away!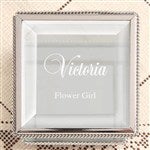 Nice!
By
Donna R.

(Harrisburg , PA) - May 18, 2012 (
See all reviews by this customer
)
Good quality, fast shipping.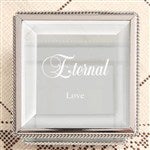 Jewelry box
By
Shopper

(suamico , WI) - May 9, 2012
Love these boxes awesome awesome quality!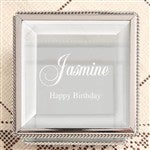 A little box of perfection
By
Shopper

(Mineola, NY) - April 16, 2012
I am so pleased with this jewlery box and I am sure my bridesmaids will be too. The quailty is great and it is the perfect size to fit on anyone's dresser.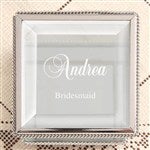 Beautiful!
By
Samantha D.

(Lakeville, OH) - March 20, 2012 (
See all reviews by this customer
)
I bought this for my little sister as part of her Jr. Bridesmaid gift. It is really beautiful and the bracelet I bought her fits in it perfectly.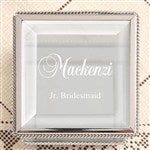 jewelry box
By
Annalisa M.

(chino, CA) - January 27, 2012 (
See all reviews by this customer
)
cute and lovely jewelry box; perfect for placing a jewelry piece inside to give to a bridesmaid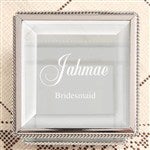 Jewelry Box-Gift for friend
By
genevieve J.

(gaithersburg, MD) - August 2, 2012 (
See all reviews by this customer
)
I always love items I purchased here. I loved the jewelry box however it was a little smaller than I expected. Nonetheless a beautiful item.

Picture somewhat deceiving
By
Brooke D.

(Indianapolis, IN) - April 1, 2011 (
See all reviews by this customer
)
Purchased this box as opposed to other boxes on site because of the silver chain attached to lid. However, it's not included. This box is shown twice (as a Wedding Reflections AND Beautiful Reflections Personalized Jewerly Box). The "Wedding Reflections" picture says "Bracelet shown sold separately" but the "Beautiful Reflections" picture does not. The bracelet is no where to be found on website.
Had to have them send me another box because the silver-plated trim was missing a section on the first box. They were really easy to work with and had no problem sending me a new box that was in much better condition.

Cute item
By
Shopper

(clifton, NJ) - March 9, 2013
I like it but it is alittle smaller than i expected . Besides that it is really nice

Very pretty
By
Rebecca S.

(Bartlett, IL) - April 5, 2011 (
See all reviews by this customer
)
Overall very good purchase and our flowergirl and jr bride really liked them. The only drawback is limited characters, being relatively small there was not a way to put on name, date and their role in the wedding. Or even our names. But again overall very nice and pretty.

WOW!!!!!
By
Cheryl K.

(Redlands, CA) - December 8, 2010 (
See all reviews by this customer
)
It was just be chance that i came across this web site and i was so very excited that i had found what i was looking for personal gifts at a fair price...I ordered quite a few things and was SO!!!! delited when I got them in the mail....they were beautiful.. they came quickly and when i talked to their customer service about one item. they were so great in helping me with it...I have recommended this web site to many of my friends and they love it....Thanks for a site with great gifts at a reasonal price and great customer service...I will be shopping here again...
A HAPPY CUSTOMER!!!

A Little Gift With A Big Applause!
By
Shopper

(Houston, TX) - January 23, 2012
I am well pleased! And so were my receivers. Great for Aunts, Sisters, Mom's, Daughters and Granddaughters, also nieces and cousins. The personalization of each box was and is, very endearing and a big....BIG HIT to all.

Beautiful Jewelry Box
By
Shopper

(Holly Springs, MS) - December 23, 2011
I know this will be a lifetime keepsake. It turned out perfect! Very nice gift and the etching looked beautiful.

Loved the look
By
Michelle M.

(Saint Louis, MO) - April 5, 2013 (
See all reviews by this customer
)
These were Perfect. I had them engraved with the First name big & then the last name's jewelry. They looked amazing & the quality was great. This makes an excellent gift. I will buy again when I need something like this for a gift.

Perfect Bridesmaid Gifts!
By
Shopper

(Joppa, MD) - March 6, 2014
I ordered five of these as gifts for my bridesmaids. I loved them and so did they! Some other reviewers said they are pretty small, but I think they are the perfect size to give as a gift. They are exactly what I was expecting when I received them in the mail. I would recommend these to anyone who wants to give a personal, feminine gift.

wonderful Gift!
By
Shopper

(Bloomington, IN) - June 27, 2013
This was a wonderful gift for my daughters who were bridesmaids in my wedding. The quality is great and the craftsmanship was so pretty and carefully crafted. I am totally happy with my purchase.

perfect gift
By
Shopper

(Clovis, CA) - August 2, 2011
This was a gift for my step sister and niece and it was the perfect size and gift for them for participating in my wedding.

Beautiful!
By
Carolyn M.

(Tampa, FL) - November 1, 2010 (
See all reviews by this customer
)
The box is gorgeous.

Wedding Reflections Jewelry Box
By
Shopper

(Price, UT) - April 5, 2013
This is a beautiful little box to give as a gift. I gave it as a baby gift along with a piece of jewelry. I had it personalized with a little girls name and birth date. They loved it. Thank You!


Really Nice
By
Theresa R.

(Levittown, NY) - November 2, 2010 (
See all reviews by this customer
)
As pictured. Came fast and was just what I was looking for. Great!

Great Box
By
Shopper

(Traverse City, MI) - May 10, 2011
When this jewelry box arrived, it was defective. The hinged top rim came off the glass sides. I immediately called Personalization Mall and they said that was not normal. They immediately sent a replacement. I received the replacement the next day. The box is beautiful. I only wish there was more room for the top name spot. I ended up putting a date on top and the name below the date, due to space. I recommend this special gift. Thanks Personalization Mall for your customer service!

They are perfect
By
Tannia C.

(San Francisco, CA) - December 19, 2010 (
See all reviews by this customer
)
Perfect Gift... I love them i'm sure my made of honers will love them as well