Great product!
By
David M.

(Lake Tapps, WA) - December 2, 2012 (
See all reviews by this customer
)
Fast shipping and a great product! Looks better than I expected, picture quality is excellent and overall quality is great. I definatly would recommend this product for any birthday or holiday gift item!

Arrived Unbelievably Fast!
By
Amy B.

(Fort Myers, FL) - November 7, 2012 (
See all reviews by this customer
)
Although I had this item sent as a gift and so cannot see the finished product in person, I was amazed by the speed of the delivery! I placed my order late on a Tuesday evening and the item arrived to the recipients home that Thursday! I didn't even upgrade the shipping speed. WOW! The last time I ordered a personalized photo item from a different website, it took months to arrive.

Great Product
By
Shopper

(Parkville, MD) - September 22, 2012
I ordered this custom paper note cube and downloaded 4 of my own digital pictures to put on each side of the cube. After printing, all of the images we're in great quality and the questions I had were answered quickly and throughly. I will certainly buy from this site again. Even the shipping was fast. Great all around.

Perfect
By
Mike B.

(Lancaster, SC) - September 4, 2012 (
See all reviews by this customer
)
My wife loved this! Better quality than expected, thanks.

Great Gift Idea
By
REBECCA C.

(LAKEWOOD, CA) - August 28, 2012 (
See all reviews by this customer
)
I purchased 2 of these for gifts to grandparents (from their first granddaughter) and although I haven't gifted them yet, I just received them and they turned out great! The pictures are so clear that I had to tell my husband that it was a notepad and not a block of photos!!

Custom Paper Note Cube- 4 Sided
By
Shopper

(tustin, CA) - August 11, 2012
This was my first time ordering an item from this site, and the first time I've ever ordered an item like this. I'm very pleased with this purchase. When I ordered the item online, the example of what my final product would look seemed "iffy". The pictures looked gray, which made me think that would be what it would actually look like. However, when I got the Photo Cube in the mail, the pictures did not look gray. If there is an even better quality product out there,and cheaper, I would love to know which company to buy from. Otherwise, I would definitely order from this company again. I would recommend this site to friends and family.

Great gift!
By
Jade L.

(Orlando, FL) - July 27, 2012 (
See all reviews by this customer
)
I ordered this as a gift for a work friend. Now she can have pictures of her kitties and a useful office product in one! It turned out exactly as I had pictured. Perfect!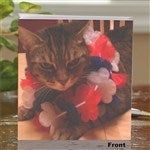 Well done
By
Sharon M.

(Columbia, MD) - June 20, 2012 (
See all reviews by this customer
)
The processes to upload photos and preview the cube were easy and effective. The product shipped just a couple days after the order was placed and looks great. The recipients were thrilled with the photo cube! I would definitely order this again!

Custom Paper Note Cube with 4 Photox
By
Donna Q.

(San Diego, CA) - June 19, 2012 (
See all reviews by this customer
)
The first order I submitted came back incorrect. Customer service was awesome! Immediately corrected the issue and resent my items in time for my big event. I will definitely use PersonalizationMall.com again in the future. Great Job!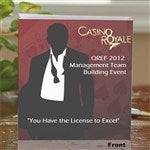 Big Hit
By
Shopper

(Chandler, AZ) - May 20, 2012
My mother-in-law thought it was the best gift ever.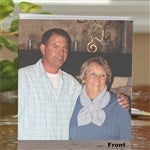 Note cube
By
Gina T.

(Brooklyn, NY) - May 17, 2012 (
See all reviews by this customer
)
The note cube was a big hit...perfect. The picture quality was excellent as was the shipping

Perfect!
By
Shopper

(Westland, MI) - May 2, 2012
This turned out great, and my friend LOVED it! Turned out exactly as shown. I have yet to be disappointed with a purchase from this site. Keep up the good work!

Custom Photo Note Cube
By
Shopper

(Bridgeton, NJ) - April 16, 2012
Nicely done using the four different photos that I provided. Great communication and quickly shipped. Will continue to purchase from Personalization Mall.com

Beautiful Product
By
Korie C.

(Leonia, NJ) - April 3, 2012 (
See all reviews by this customer
)
The photo cube was exactly as ordered. The photos are beautiful and the quality is great. I purchased it as a gift and I know the recipients will love the personalized item.

I also ordered the gift box. I do not recommend spending the extra money on the gift box as it make the product look a little cheap and has personalization mall written on it. I will be wrapping the item in my own gift wrap.

Very good quality!
By
Gloie W.

(Columbia, MD) - March 25, 2012 (
See all reviews by this customer
)
I recently purchased the You Picture It Note Cube. It was very fun designing it myself online. I used 4 photos of my 3 pets--2 shelties and a Ragdoll cat. It arrived much faster than I would have thought and the quality is excellent. The only thing that might have been better would be if I'd asked to have the photos done upside-down so I'd be ripping off the pages feet up instead of head down. I make a To Do list every day on this pad and soon my cat's and dogs ears will go, followed by their heads. I guess that's the case for everyone. But it's a very well made pad and was fun to do. Next time I think I'll just make flowers.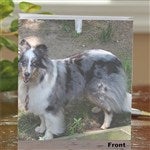 Well worth the purchase
By
Shopper

(Peosta, IA) - February 20, 2012
Absolutely loved this item. The picture was used on all 4 sides of the cube. Turned out really nice. I will most likely purchase another one in the future!!

Awesome Item
By
Roberta S.

(Lake Forest, IL) - February 11, 2012 (
See all reviews by this customer
)
Personalized this cube with a picture of our dog for a silent auction basket for the breed health and rescue foundation. Was extremely pleased with the result. Exceeded my expectations in terms of quality. Only downside of the item -- thought it was a little pricey.

Gift idea
By
Shopper

(Benicia, CA) - January 21, 2012
Amazing! Great gift.

Excellent gift idea for special memories
By
Cindy K.

(Graytown, OH) - January 15, 2012 (
See all reviews by this customer
)
Purchased 5 of these cubes to share with my family about recent special memories to sit on a desk or table in their homes as a reminder - practical gift!

AWESOME!!
By
Justus A.

(APO , AE) - January 7, 2012 (
See all reviews by this customer
)
My aunt loves it so much she didn't want to use it, so she made me promise to make another one for her in a few months!! Haha :)

GREAT GIFT!!
By
ashley Y.

(cedar lake, IN) - January 4, 2012 (
See all reviews by this customer
)
i gave this as gifts to my father in law, father, and husband for christmas. they all loved them very much! this is a cute, un-ordinary gift for the person who has everything or is tricky to shop for!!

Awesome Product!
By
Hannah D.

(Cottage Hills, IL) - January 2, 2012 (
See all reviews by this customer
)
This note pad is a wonder gift idea. I put my brothers wedding pictures on it and my sister in law flipped over it!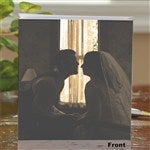 GREAT GIFT
By
Phillip J.

(Hartfield, VA) - December 26, 2011 (
See all reviews by this customer
)
This item makes a great gift. Excellent quality and very fast turn-a-round time once ordered. Personalization Mall is the best place to find that one of a kind gift for any occasion!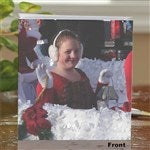 Very unique gift for all ages!
By
Lisa C.

(Staten Island, NY) - December 25, 2011 (
See all reviews by this customer
)
This is the most unique useful customized personal gift I have ever purchased! just love it! Bought for my Significant other who is always writing notes and sticking them around. I will be purchasing another in the future. And, as the other reviews mention, he does not want to use it because it's so nice.

This is the best gift I gave this year!!
By
Alisa B.

(Portland, OR) - December 25, 2011 (
See all reviews by this customer
)
I absolutely love these gifts --- the photos look fantastic and everyone I gave them to loved loved loved them!!! I will order these again and again --- thank you!!!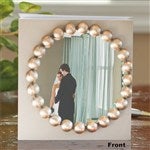 Beautiful!!!
By
Shopper

(North East, MD) - December 24, 2011
Honestly when I placed this order online as a small Xmas gift for my sister (pic of her and my son, her fav and only nephew) I was a little hesitant due to the quality of the picture on the preview but WoW it came out so beautiful I felt bad not haven gotten one for myself! You don't even have to use it as post it's...it's nice enough to just sit there like a picture in a frame...even my husband loved it and he usually has no opinion on things like this!!! Very nice and def would recommend!!!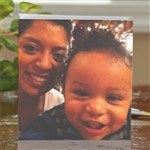 Love it!
By
Shopper

(CARENCRO, LA) - December 16, 2011
Bought 2 of these-one for each "grandmother" for Christmas. Arrived within 2 days of ordering and they came out better than I even expected. I actually plan on ordering another one in a few months for my dad's birthday :)

Very Fast! Very Good!
By
Kathryn A.

(Waynesville, NC) - December 11, 2011 (
See all reviews by this customer
)
I ordered three photo cubes on Wednesday. They were delivered on Monday--just what I ordered, and each tightly and nicely wrapped in clear cellophane. When uploading photos, the site will let you know if one will not work on the product. I will definitely use Personalization again, and tell others about these wonderful gift items!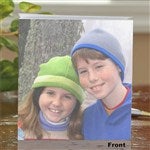 Great Customized Gift
By
Colleen K.

(Oro Valley, AZ) - December 8, 2011 (
See all reviews by this customer
)
This is a great unique gift for family and friends. It arrived within a week even though it's holiday time. Easy to download picture and you see the finished product before purchasing! Great service and great price.

Better than I expected
By
Shopper

(Claremont, VA) - December 8, 2011
The ordering was easy with the automatice cropping of your own pictures to fit the cube and, although they looked a little blurry on line when ordering, the pictures were crisp and the product is wonderful! Great gift for anyone who has everything

very nice
By
Shopper

(Haymarket, VA) - December 4, 2011
pictures turned out beautifully. very nice gift.

4 photo cube
By
Jody D.

(Minocqua, WI) - December 2, 2011 (
See all reviews by this customer
)
I love the photo cube. Didn't know what to get and I decided on that and I can't wait till they see it. They will love it. You always can use paper.

Love it
By
Theresa C.

(Highland Lakes, NJ) - December 1, 2011 (
See all reviews by this customer
)
Beautiful workmanship...The pictures are just fabulous on the cube....

Note Cube is awesome
By
DAWN A.

(IDABEL, OK) - November 15, 2011 (
See all reviews by this customer
)
I love it!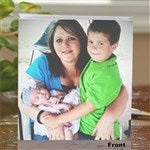 OMG!!
By
Sherry N.

(Bronx, NY) - October 11, 2011 (
See all reviews by this customer
)
I just ordered this last Friday and today is Tuesday, after a 3 day weekend and I have it in my hands! Not only was the turn-around expediant, the quality was amazing! My bosses are going to love this and thank you VERY much for such amazing service.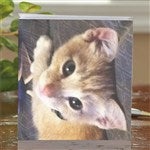 So personal and unique!
By
Shopper

(Hercules, CA) - September 26, 2011
Ordered for mom's b-day gift with pictures of her grandkids. She totally loved it, and she is hard to please since she has everything you can imagine! Everyone wanted one too and curious where it was purchased. It's too nice to use, but we all know it's for display. The quality of the pictures turned out well and it was so easy to upload the pictures. We will definitely order from PersonalizationMall.com. The website is under our favorites!

Grandparents Day Personalized Cube
By
Shopper

(FREDERICK, MD) - September 19, 2011
Once again, Personalization Mall helps keep us close to our Grandparents who live miles away. Thanks again!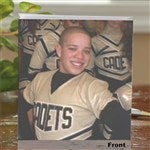 Superbly pleased!
By
David J.

(Johnstown, PA) - August 22, 2011 (
See all reviews by this customer
)
I got this Paper Note Cube for my wife's desk (she's a pre-school teacher). She LOVED it and many of her co-workers wanted to know where she got it.

Love Photo Note Cube!
By
Shopper

(Chicago, IL) - August 5, 2011
I am so happy that I found Personalization Mall.com.
It is my go-to spot whenever I need a gift. It is quick and easy to create the items-even for someone like myself who is not great with computers.
I gave the photo cube as a gift at a Birthday lunch I recently attended with 16 other people.
Everyone at the table passed it around and wanted to keep it for themselves.
Even those who didn't know the people in the photos.

Thanks Personalization!
-A Very Happy Customer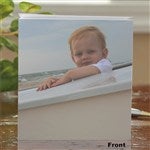 Exceeded Expectations
By
Shopper

(Waukesha, WI) - August 2, 2011
I ordered this as a memory for my husband's recent trip to Montana. The 4 pictures look great, even though they came from disposable cameras. The cube arrived sooner than promised, and it will be a great gift.