great quality
By
Shopper

(Virgin Islands (U.S.)) - March 26, 2012
this calendar is beautifully designed, and is a nice gift idea

Pretty cool items/gifts
By
Shopper

(Vista, CA) - January 10, 2012
I bought this personalized wall calendar for my mother in law and she loves it. We love that we could place a picture for every month with a personalized message. Great calendar!

Gorgeous!
By
Kora-Lee T.

(King of Prussia, PA) - December 28, 2011 (
See all reviews by this customer
)
This a wonderful product and an even better gift for a family member. The process was so easy and it allows you to crop and add creativty to the product which made the end result so nice!! My mom loved this calendar that showcased her and her grandson. This is a keeper procduct and I will buy more in the future.

Awesome
By
Shopper

(Leominster, MA) - December 23, 2011
I love this calendar. We ordered one for my mother, father, mother-in-law and for us. Shipping and creation was super fast.

UNBELIEVABLE!!!
By
Shopper

(Vienna, VA) - December 22, 2011
I have ordered several items from your website for this Christmas season. Each item has been beyond my expectations for quality and price......but these Photo Wall Calendars are unbelievable. I ordered these on 12/19 on the slim chance that they would get here in time for Christmas. They arrived today 12/22 and are exceptional. The photos I uploaded of my granddaughter are bright and vivid on the calendar and the personalized writing on each month makes it all the more special. I am consistently pleased with the ease of navigatating and ordering from your website. Ordering a year-long calendar with individual pictures and personalization is confusing at best, but your website is direct and concise and made the process easy for even "un-technical" grandparents....and to have it completed and delivered in two days is beyond customer service....thank you so much. I would recommend your site to anyone who is looking for quality products....ease of ordering....and great, quick delivery.

Follow directions to the last detail
By
Ann J.

(West Chicago, IL) - December 21, 2011 (
See all reviews by this customer
)
It took longer to make than expected but the end result is GREAT! The only hitch we ran into was cropping the photos. We didn't realize that, even tho the pictures we downloaded were exactly as we wanted them, when the prompt asks you to crop, you MUST crop, even just a little bit. That wasn't explained in the directions and made completely clear that cropping was absolutely necessary. That was our misunderstanding; otherwise, a great product!

Wonderful!
By
Shopper

(Hopewell, VA) - December 1, 2011
Very nice quality! Very satisfied!

Ready to order more
By
REBA H.

(TULSA, OK) - August 22, 2011 (
See all reviews by this customer
)
This turned out GREAT! So easy to do at home from your own computer. I added all the birthdays and they print in a column to the right of the month. Pictures turned out great also.
Makes a great Christmas gift. I'm planning to order more for Christmas gifts.It's a gift they will enjoy and remember you throughout the year.
The only complaint would be that they match the color of the ocassion list to the color around the photo of that month. A couple of the months are on very light colored frames (yellow, etc) making the list you created hard to see.


Personalized Calendar
By
Shopper

(Duncanville, TX) - August 13, 2013
This calendar was complete, correct, & special

Even better quality than I expected
By
Shopper

(Eagle Mountain, UT) - December 22, 2012
I was very impressed with the thickness of each page for durability and the quality of the pictures were excellent. The only thing I would have liked is if it allowed more than one picture on each month.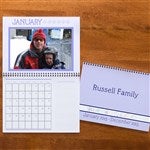 Very well made! Awesome gift to others or yourself
By
Shopper

(Jenison, MI) - January 2, 2012
Awesome quality and presentation. Very well done, very easy to create.
One thing I regret is to not be able to choose any portrait picture that would be surrounded by more graphics. The only option is to crop as landscape... It would also be AWESOME to be able to select 2 portrait pictures to make a "landscape montage" for the calendar...

Even with that "restriction", the calendar is EXCEPTIONAL, and again made of very nice quality paper. A success for sure!!! :)

Misspell word
By
Ashmeeda S.

(Woodside, NY) - December 22, 2011 (
See all reviews by this customer
)
I know I'm suppose to double check my spelling but god forbid i miss one letter, like Ssister instead of Sister..don't ever think anyone is reviewing your order before placing and or shipping.