Great Gift
By
Shopper

(Decorah, IA) - August 16, 2011
I ordered the crystal bowl for a wedding gift recently. It is a high quality bowl and very heavy. The personalization looked great on the bowl and I was impressed.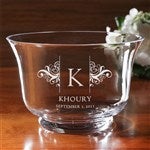 100% Satisfied
By
Dhaval S.

(Poughkeepsie, NY) - May 18, 2011 (
See all reviews by this customer
)
I am very much satisfied with the product. It was very good. It was as expected. Thank you.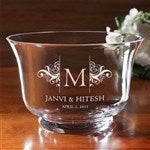 Much larger that the picture looks
By
Elaine M.

(Sunnyvale, CA) - November 27, 2013 (
See all reviews by this customer
)
It is a beautiful piece. My only complaint is that the bowl is MUCH larger than it looks in the picture. Read the dimensions and make sure it fits your needs. We were planning to fill it with candy and we ended up filing it with a lot of fruit.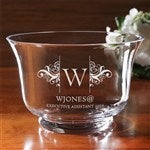 Beautiful Wedding Gift
By
karen H.

(Westerville, OH) - May 15, 2013 (
See all reviews by this customer
)
I was scared to purchase this glass bowl because I didn't know if it would be appropriate as a wedding gift, but once I received it, I was extremely happy. It is VERY heavy and a quality piece of glass. The only thing I wish I could change is the depth of the inscription. It's lightly done and I would love to have the inscription more deeply imbedded in the glass. But overall, I would buy this item again. I would love one to commemorate my wedding. It's a wonderful dish that will last a lifetime and can be used a million different ways.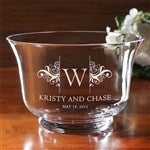 Exactly what I wanted
By
Natasha L.

(Cary, NC) - September 24, 2012 (
See all reviews by this customer
)
I ordered this for our best friends who are getting married. It's gorgeous! I'm thinking about ordering one for our home now!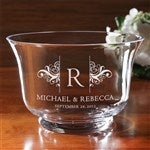 BEAUTIFUL
By
Patricia M.

(Yarmouthport, MA) - May 14, 2012 (
See all reviews by this customer
)
What do you give a couple who's getting married when they have everything. So this beautiful bowl I had done with their initial and then the wedding date. It's lovely and will make a wonderful wedding gift.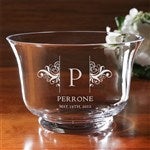 My favorite bridal shower gift!!
By
Mallory H.

(Kingsport, TN) - April 17, 2012 (
See all reviews by this customer
)
My grandmother ordered this bowl for me as part of my bridal shower gift, when I opened it, I about cried! This was such a sentimental and heartfelt gift, I love it. Everyone else at my shower loved it as well. I have no doubt that this crystal bowl will become a family heirloom and keepsake for years to come. It looks wonderful on our buffet in the dining room. Very classy and timeless design! Wonderful product, Personalization Mall! Thank you so much! I cannot wait to order my bridesmaid gifts from you.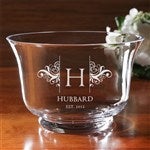 SATISFIED CUSTOMER
By
Linda C.

(Manchester, NH) - March 21, 2014 (
See all reviews by this customer
)
I BUY A LOT OF XMAS GIFTS FROM YOU AND EVERYONE ENJOYS THEM

Beautiful Bowl
By
Shopper

(Cincinnati, OH) - January 21, 2011
This bowl is a very nice size bowl and you can do alot of things with it. It is very elegant with the monogramming and would make a very nice gift of any type of occassion. It is very nice glass, nice weight and it came packaged very nicely.

Just OK
By
Shopper

(Downey, CA) - May 14, 2012
I normally only have positive reviews for this website and still will purchase from here. However, the bowl was not as nice as I expected for the price. I was expecting thicker glass and a bit heavier. This is a wedding gift and I don't think it looks like I spent what I did. Overall, it is just OK and not worth the price.

Beautiful gift
By
Shopper

(HESPERIA, CA) - May 27, 2014
I ordered this as a gift for a family wedding. I included the couple's last name and "Est. 2014" on the personalization. I thought it came out beautifully. The bowl was a good size and weight and the engraving was nicely done. I think the couple will really enjoy it.

beautiful bowl
By
Shopper

(Powell, WY) - May 23, 2011
This is a beautiful bowl. The engraving is very elegant and really makes the bowl special for a wedding gift. I love how it has the initial then the names of the bride and groom and date of the happy event. This is a keepsake that will be displayed forever.

A glass class act
By
Nancy M.

(Athens, GA) - June 14, 2013 (
See all reviews by this customer
)
I ordered this for my neice's wedding gift. I loved how I was able to SEE the personalization on the bowl before it shipped. It arrived on the exact date I was told, and I was amazed at the quality of the bowl. It is a medium sized bowl, perfect for desserts, and has a nice weight to it. It is not too light (cheap) nor too heavy (hard to manage). Overall, I loved the bowl and the couple were more than delighted. I would definitely order this product again.

Wedding crystal bowl
By
sherry T.

(New Berlin, WI) - August 11, 2012 (
See all reviews by this customer
)
Very beautiful. But to bad it didn't have the option of gift wrapping.

pleased
By
Shopper

(Gowanda, NY) - October 26, 2013
Item was beautiful and great gift

Excellent Gift
By
James P.

(Temperance, MI) - April 29, 2012 (
See all reviews by this customer
)
Got this for my wife and she absolutely loves it. Came in just a few days just like promised.