great item for the price
By
Shopper

(edmeston, NY) - January 15, 2012
arrived quickly . Looking forward to Christmas 2012 to give to my daughter.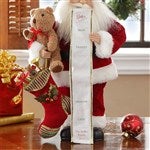 An heirloom
By
Wilma H.

(clovis, CA) - January 7, 2012 (
See all reviews by this customer
)
This will soon be a family treasure to be displayed during every Christmas season. I am excited to see the magic it will bring when the children see their names on Santa's list.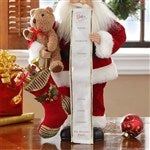 Great family Christmas gift!
By
Shopper

(Forest City, NC) - January 7, 2012
Beautiful. Great detail. Perfect Christmas family gift. This will be a decoration that each family will love to display year after year!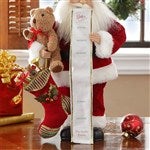 Disappointing Santa
By
Amy S.

(Cookeville, TN) - January 4, 2012 (
See all reviews by this customer
)
I have been 100% satisfied with all of the items that I have purchased from here, well.... until I received Santa. The only thing I was happy about with this purchase was the fact that I didn't pay the original full price for it. If I could return it, I probably would! The nice list doesn't fit or stay in his hand, his 'arms' are cheap/thin wires,his beard was a total wreck and he is not very steady on his feet. I would not recommend this item to anyone. He looked real nice in the photo, do not be fooled.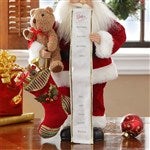 Santa
By
Amy R.

(Florence, KY) - December 21, 2010 (
See all reviews by this customer
)
I purchased 2 of these, one for my self and another for my sister. I thought they were a wonderful gift idea. I wanted to order a third for my mother in law, but it was $20.00 higher then the first two I ordered.

Just as sweet
By
E Carlene M.

(Redwood City, CA) - December 13, 2010 (
See all reviews by this customer
)
Santa's rosy cheeks are just like they are shown. The words were printed clear and big enough to read. I was very pleased and I hope my mother enjoys looking at it each year with all our names on the list.

family Santa
By
Shopper

(Wheaton, IL) - January 4, 2012
Bought him on the after Christmas sale and I am pleased. Not crazy about his face, a little too "rubbery" looking, but I love the personalized "nice" list.

Cheap but expensive
By
Shopper

(Virginia Beach , VA) - December 21, 2011
very cheap, poorley made prices is way to expensive for this product.

NOT WORTH THE MONEY
By
Charmaine D.

(Algonquin, IL) - December 22, 2010 (
See all reviews by this customer
)
This item is a disappointment..especially from Personalization.com their products are outstanding..but, this item is made so cheap and to charge OVER $47.00 is not good..the body is flimsy plastic and the fabric is bad as well...the strip for names will not stay on his hand..
The names on the strip is barely noticable..
Sorry all thumbs down on this Santa

The not so nice Santa
By
Shopper

(Biloxi, MS) - January 10, 2012
I was disappointed upon opening the Santa Claus that we were initially going to give as a gift to my parents with the names of all their grandchildren. The original box Santa came in was too small and his head was poking out. The lid was taped to keep it closed. The Santa is lightweight and is constructed poorly. The painting on his face has chips in it. The bear that Santa is holding is missing fur in places. From the picture shown, it was adorable and in person it is very cheap looking. Needless to say, I will not be giving this out. It is certainly not worth the price.

Save your money !!
By
Shopper

(Philadelphia, PA) - January 30, 2012
I am usually satisfied with gifts from Personalization Mall.com but not this time. Santa's beard was a fuzzy mess with sections of his beard missing material. The small teddy bear he is holding looks nothing like the picture online. And the bears two eyes are practically hanging off. Santa's mustache was falling off and there were stray white hairs sticking up that refused to go down. The list comes separately and you have to "insert" the list in his hands. Good luck trying to keep the list in his hands. Overall a huge disappointment. Hopefully, I can return this item and get a refund.


Cute by stocking flimsy
By
Kathy M.

(Wildomar, CA) - December 14, 2010 (
See all reviews by this customer
)
Stocking is a bit flimsy and the bear falls out.

Fun!
By
Raelynn R.

(Lebanon, MO) - August 3, 2012 (
See all reviews by this customer
)
This will be so fun to set out at Christmas, when the family is gathered together. My grandchildren will love it! This santa is just the right size and has very nice features! Love all the products I order from your company!

Great Santa!
By
Shopper

(Lindale, TX) - January 7, 2012
Better than I even expected. Very happy with purchase!

Very good Christmas decoration
By
Tommy N.

(Memphis, TN) - December 28, 2011 (
See all reviews by this customer
)
Realistic clothing makes Santa a very good decoration for the holidays.

Great Keepsake Gift!
By
Shopper

(Rising Sun, IN) - December 28, 2012
Purchased 3 of these for Christmas gifts. The personalized list makes it a really nice keepsake gift. Santa's clothing and accessories are very detailed and great quality. Would highly recommend this product.

Wonderful
By
Elissa B.

(Lakeland, FL) - December 26, 2012 (
See all reviews by this customer
)
The Santa was wonderful. The attention to detail was perfect. I gave this to my mother for Christmas and she loved it so much she cried.

Can't wait for the Holidays
By
Susie T.

(Vacaville, CA) - August 11, 2012 (
See all reviews by this customer
)
Perfect. I want to put it out now (Aug), but will just have to wait. Is exactly as it is pictured in the ad. Thanks.

beautiful!
By
silvia A.

(MYRTLE BEACH, SC) - December 22, 2010 (
See all reviews by this customer
)
It is really well made and is a perfect gift for someone special! Wonderful touch having names on Santas list.
Looks great with all holiday decorations.


Love this Santa
By
Susan D.

(Lyndhurst, NJ) - December 10, 2010 (
See all reviews by this customer
)
I bought this for my brother's family. While I haven't given it to them yet, I know they're going to love it. It looked awesome when it came. One of the things I loved about it was the number of names you could include. For a family of any size, you need more than the usual 3 or 4 names you can put on a lot of personalized items. This is something I would definitely order in the future if I have the right family to give it to.

Collectible Santa
By
Darlene B.

(Chesterfield, VA) - November 22, 2010 (
See all reviews by this customer
)
As always, I was extremely happy with the Collectible Santa. If you are a Santa collector, he is a "must have"! I had the names of my grandchildren placed on the list and it is a good thing I only have 8 because that was all I could add to the list. It might be a good idea if you increase the number of names that can be listed by either printing them closer together or making the list longer. Grandparents can easily have more than 8 grandchildren and I would hate to see you lose sales because there was not enough room for all of the names of someone's grandchildren. Thank you once again for a quality product!

Perfect Grandparent Gift!
By
Jill G.

(Lemont, IL) - November 15, 2010 (
See all reviews by this customer
)
Great Gram is 90 years old, needs very little, and our huge family will avalanche her with gifts. This is something she can enjoy and then put away.
Since her children, grandchildren and great-grandchildren are too numerous to fit on the list I used the families last names and it was perfect!
The kids will enjoy seeing their family's name on the "nice" list. I am going to give it to her early so she can enjoy it the is season as well!

Love this Santa!
By
Nancy S.

(Pace, FL) - December 20, 2010 (
See all reviews by this customer
)
I bought this for my sister, she collects Santas, she has over 100 of them. I can't wait for her to see it. I love it! Sure she will also. Merry Christmas!

PERFECT!!!!
By
Teresa H.

(Chuckey, TN) - December 17, 2010 (
See all reviews by this customer
)
I ordered for my mother. She is starting a Santa collection and WHAT A WONDERFUL start!!! Personalized with her grandchildren and her FIRST great-grandchild! The Santa is made quite well. The personalization puts the gift OVER THE TOP!!!!

darling!
By
Elizabeth D.

(Phoenix, AZ) - December 16, 2010 (
See all reviews by this customer
)
This is a perfect gift for someone who has everything. "Santa's List" makes it very personal and re-creates memories over the years. Love it!

Elizabeth
Phoenix, AZ