loved it
By
Shopper

(muscatine, IA) - September 2, 2012
this was the best gift to give to my best friend it helped me to let her know how important our relationship and she is to me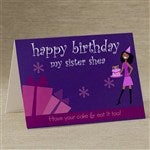 Personalized Birthday card
By
Francine T.

(San Bernardino, CA) - May 23, 2012 (
See all reviews by this customer
)
I absoultely loved the quality of the card and the envelope!! The card that I had personalized was for my daughter's 19th birthday. She adored the card and the personalized message! The big smile on her face as she read and admired the card was confirmation of the choice I made to purchase a personalized card. Very happy!! :)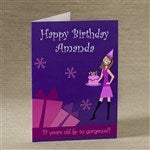 Cute card !
By
stacey N.

(kernersville, NC) - March 20, 2012 (
See all reviews by this customer
)
So cute- not any more than a card at the store , but it's personalized ! My friend will love it !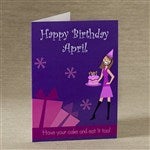 Very fun!
By
Susan H.

(Henderson, NV) - January 8, 2012 (
See all reviews by this customer
)
Fun to send a personalized card - it was a big hit!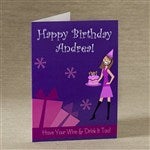 GREAT PLACE TO SHOW SOMEONE HOW MUCH YOU LOVE THEM!
By
Shopper

(LONGVIEW, TX) - September 18, 2011
HELLO! I HAVE USED THIS SITE SEVERAL TIMES AND I AM ALWAYS PLEASED, AND SO ARE THE RECIPIENTS OF MY GIFTS. I SENT THE BIRTHDAY GIRL PERSONALIZED FRAME AND CARD TO MY 90 YEAR YOUNG AUNT IN LOS ANGELES CALIFORNIA. SHE WAS ECSTATIC. SHE SAID EVERYONE WHO SAW IT WANTED TO KNOW HOW I GOT THE FRAME AND CARD PERSONALIZED TO MATCH. IT WAS WELL MADE, NOTHING SHABBY ABOUT IT. IT COST PENNIES, BUT LOOKED AS IF IT WAS WORTH AT LEAST 50 PLUS DOLLARS. I HAVE THEM SAVED IN MY FAVORITE PLACES. YOU CAN NEVER GO WRONG IF YOU ARE WONDERING WHAT TO GET A LOVED ONE, AND NO SHORTAGE OF CHOICES TO CHOOSE FROM EITHER. BEST MONEY I'VE EVER SPENT! THANKS PERSONALIZATION.COM, YOU'RE AWESOME!

Unique Birthday Card
By
Shopper

(Holland, PA) - April 1, 2013
I was so excited to make my friend a unique card. It was nice to have something personalized for the same price I would by any regular card at the pharmacy. This was more personal and heartfelt. Totally worth it :)

helpful tips
By Shopper (Desoto , TX) - April 7, 2013
I ordered the card for my friend and she loved it.

Gift for my Niece
By
T.P. B.

(Cordova, TN) - August 9, 2013 (
See all reviews by this customer
)
Great gift for 8 year olds!

Nice Card!
By
Shopper

(New York, NY) - December 27, 2013
The recipient liked the card, the color and the personalization!

Beautiful!
By
Shopper

(New York, NY) - August 14, 2011
A personalized card always a hit!

Greeting cards
By
anne dee H.

(watkins, CO) - February 17, 2011 (
See all reviews by this customer
)
Since I often send my purchases as gifts, this is a nice option and saves me from having to shop elsewhere for a card. Being able to personalize it adds to the fun for both the sender and the receiver!

Super Awesome
By
Salofi T.

(daly city, CA) - March 9, 2014 (
See all reviews by this customer
)
Its makes you feel extra special when you open up your card and it has your name on it. And you can write something personal from the heart to that special someone. Instead of standing in a Target, Walmart or Kmart store looking for a card that fits that person. Thank you!

I just love Personal(zation Mall ,Com
By
Shopper

(Reynoldsville, PA) - March 18, 2011
Awesome Birthday Cards! Just love this site! Thank You for the Great service!

I like the service provided
I really like the card, we can create our card and write our own stuff. That's interesting.

Great item fast
By
Tyler W.

(Clinton, NC) - March 15, 2013 (
See all reviews by this customer
)
Great personalized card arrived quickly.

High quality card
By
Jo Ann A G.

(Sahaurita, AZ) - December 21, 2012 (
See all reviews by this customer
)
The receiver immediately commented on the high quality of the card and how fun it was. So this is a real winner for just a little bit extra.

The perfect card!
By
Janet R.

(Scottsdale, AZ) - January 25, 2013 (
See all reviews by this customer
)
The card is beautiful. It is absolutely perfect, even better than I expected. And I expected a lot! I have purchased from your company before, and highly recommend the products and service. Thank you!

Making it personal counts!
By
Gina J.

(Dothan, AL) - May 19, 2012 (
See all reviews by this customer
)
BFF loved getting a card made especially for her... great quality too.

Special apprciation!
I have purchased many gifts from this website. All the reciepents of these personalized items have expressed how much they LOVE these items. The quality and creative style cannot be found anywhere else. The customer service and rate at which they are received are better than any other website.
Thank you Personalization mall!


Very Happy
By
Laura L.

(Plant City, FL) - March 18, 2013 (
See all reviews by this customer
)
Love how it was made

The Perfect Touch
By
Shopper

(Houma, LA) - April 27, 2012
When giving a gift, I always like to make it as personal as possible and I have never been disappointed with the many personalized cards I have ordered. The price compares favorably with retail stock cards and they are always received within 2 to 3 days of order. Only con is I wish there were a few more choices in each category.

Personalized cards are a hit!
By
Shopper

(Severna Park, MD) - March 20, 2012
This came out perefectly. What's better than a personalized card? And the price was great. I highly recommend this item. It came out just as I'd expected (as do most items I order from this site).