Very well made
By
Shopper

(Jupiter, FL) - November 5, 2011
This is very well made. It is adorable and I know the grandparents will love it. I would order it again!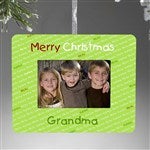 Great gift from a child!
By
Laura P.

(Macungie, PA) - December 30, 2010 (
See all reviews by this customer
)
We ordered 8 of these for family members for our son's first Christmas. They came out wonderful! They are a little bit bigger than a normal ornament for a tree (but we hung ours there anyway!) but they can also be used as a regular standing frame. The good thing about the size is that you can put a decent picture in there instead of trying to squeeze a nice picture into a tiny space. You can also get creative with the spaces for the names in the background and put a message in there by putting a word or two in each name space. I did that to personalize them even more rather than just put a name there. All-in-all a great product!

Love this
By
Carolyn D.

(Staten Island, NY) - December 30, 2010 (
See all reviews by this customer
)
Gave it to my Mom for Christmas from the Grandkids, she LOVED it!!

ornament
By
Kathleen N.

(Jacksonville, FL) - December 29, 2010 (
See all reviews by this customer
)
Great result!

Great Christmas gift
By
Carrie B.

(Newport Beach, CA) - December 22, 2010 (
See all reviews by this customer
)
I ordered this for my sister to put a picture of my daughters. The size is great, maybe a little large for some trees but there is a stand on the back so it can stand on a shelf or something. Great quality as always from Personalization Mall.

Grandkids Chritmas Tree Ornament 2010
By
William S.

(Jefferson City, MO) - December 21, 2010 (
See all reviews by this customer
)
We have been putting Family Photos on our tree for about the last 6 years, including the entire family. Well, this year we have been blessed with more grandkids, enough that they needed their own ornament on the tree. What a keepsake!!!!!! I recommend all grandparents to get on this website and develope that "PERFECT" photo frame and/or ornament. Thanks again, I think highly your services.

Great quality
By
Helen A.

(Stratford, CT) - December 15, 2010 (
See all reviews by this customer
)
This frame is extremely well made and I was pleased by the quality and appearance for this price. Very happy with my purchase. I order photo Christmas ornaments of my grandchildren every year from Personalization Mall and wouldn't think of looking anywhere else for them!

Personalized X-Mas Ornament
By
Julie Z.

(Fresno, CA) - December 13, 2010 (
See all reviews by this customer
)
Very easy to customize and my friend loved the gift. Turned out great!!!

great stocking stuffer for the grandparents!
By
Jamie W.

(Canada) - November 23, 2010 (
See all reviews by this customer
)
I ordered 2 of these for the grandparents, they will love these as they have loved all the items I have sent them over the years from personalizationmall.com!

Adorable!
By
Erika G.

(Wilmington, DE) - November 9, 2010 (
See all reviews by this customer
)
I can't wait to give this. This is the perfect option for someone who wants to do Christmas shopping and would like to put a picture into the ornament later.

Will Definitely make any Receiver Smile!
By
Judith B.

(Canada) - November 3, 2010 (
See all reviews by this customer
)
As always, my order arrived quicky and in perfect shape. I personalized this for Great Nana so all her grandchildren and great grandcildren as well as the pets are all on the frame. It is so amazing how every name is clear and repeated so many times. I am sure this will be displayed proudly year round as it is not only an ornament to hang on the tree but a picture frame that can stand alone! I order each year and can see no reason to stop as each year something new and exciting is introduced.

cutest gift!
By
jodi J.

(jenks, OK) - November 3, 2010 (
See all reviews by this customer
)
Very cute little frame! We personalized it saying 'sisters 1st christmas' as we are having our 2nd girl this christmas and now have sisters! Great gift for grandparents and ourselves... It is very nicely done and will be loved by all!

Cute
By
Shopper

(Branford, CT) - January 1, 2012
This frame was cute but I just wish that you could see the names better in the background.

Mini frame ornament - so cute!
By
Shopper

(Fenton, MO) - December 28, 2011
When I received this item it exceeded my expectations. The front of the ornament is very cute and good quality. Size is perfect! The back of it is a bit cheap (thus 4 stars) but once a photo is in there you should be fine. I just don't see the back lasting if you change photos every year. Really, really cute.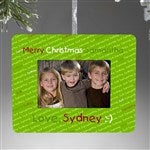 Nice Ornament
By
Christine H.

(Manteca, CA) - December 18, 2011 (
See all reviews by this customer
)
We are giving this ornament as a gift to the grandparents. It is nicely made, good quality. It's not too big for the tree. The only small complaints I have is that the green writing does not look as nice with the green background,I would have preferred only red and white writing; and I wish the picture hole was a little bigger. But I love the idea of this ornament. I know the grandparents will love it.

Nice ornament, but the plastic protector falls into the ornament
By
Tracy M.

(Sellersburg, IN) - December 13, 2011 (
See all reviews by this customer
)
I ordered two of these for my mother in law for Christmas, one for grandsons and one for granddaughters. They are pretty, but the plastic picture protectors fall down into the ornament and so does the picture itself. I had to glue the plastic protector into place. Another thing to note is that I don't like how the computer must choose the names to stand out in a color like red or dark green. On the one of the granddaughters it kept cutting off the first letter of a name that was in red to stand out making it look awkward to read because it was on the edge of the ornament. Also, I wish it used every name at least once to make it stand out, but it didn't. How it showed the names on the ornament on the screen when I ordered was not like the one I received. I don't think a real person checked what it was going to turn out like.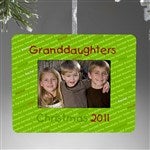 Good idea...
By
Shopper

(Knoxville, TN) - November 8, 2011
A great Grandparents gift - getting all the grandkids names on there... Make sure to get a picture made of everyone at Thanksgiving and then your gift is complete. You can change the Title at top to include both Grandparents - ie: To: Nana & Papa - you can customize them as you wish which is what will make it special for "your family".

Good gift but trouble personalizing
By
Carrie S.

(Quakertown, PA) - December 31, 2010 (
See all reviews by this customer
)
I purchased two of these as grandparent gifts for Christmas. The quality was good but it took quite some time to personalize the frame. It says you can put up to 12 names on the frame but only certain names will show up in the highlighted colors of red or green. I was only working with 6 names and I had a hard time getting each of the names to be highlighted. It did eventually work out and the frame looked good. The picture opening is on the small side so be prepared with a small picture.

Poor printing
By
Jill G.

(Cortland, OH) - December 14, 2013 (
See all reviews by this customer
)
A very cute idea but I'm not happy with the execution. The printing of the names was too faint and needed to be bolder.