Too cute!
By
Shopper

(Hilton, NY) - August 2, 2012
This little t-shirt is simply too cute! The colors are vibrant and fun.

Cute shirt
By
Shopper

(Camp Verde, AZ) - July 16, 2012
I ordered this for my grandson. I had to order size 2-4 which was quite large for my little 2 year old, but he will grow into it.

Well made
By
Shopper

(Holbrook, NY) - May 11, 2012
Love this romper! My son looks so cute in it. It's well made, and it's him great.

SUPER CUTE!
By
Theresa B.

(Naperville, IL) - May 8, 2012 (
See all reviews by this customer
)
I ordered this shirt for my triplets for their 6 month photos. The boy and girl versions are both so cute! Love them and can't wait to get their pictures taken!

Hooded Sweatshirt
By
Shopper

(Pekin, IL) - March 12, 2012
The quality is great. Very pleased with the speedy delivery.

Can't wait for my child to grow into this!
By
Shopper

(Mendota, IL) - March 10, 2012
Adorable! I thought this would be a cute outfit for my son in the summer. He is going to be 6-9 months in the summer. I wasn't sure what size to order. I ended up ordering the 12 months size (worrying if it would be too big), and I'm glad I did. It seems equivilent to the 6 month sizes that I have purchased from other stores. It is very cute! Lightweight and comfortable. Can't wait to see him waddle around in it!


Perfect..as always!
By
Shopper

(Cottage Grove, MN) - February 20, 2012
I always buy my baby gifts from Personalization Mall. They are unique and everyone loves them!

Alphabet animal bib
By
Shopper

(Hillsdale, MI) - January 28, 2012
Good quality and bright colors. So cute, everyone loved it.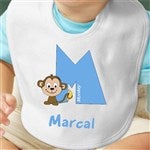 wonderful gift
By
dawn J.

(southfield, MI) - January 1, 2012 (
See all reviews by this customer
)
this item was purchased for a toddler, the parents loved it!!!!! and stated it was too nice for the child to wear :)

CUTE "T"
By
Cynthia R.

(Suitland, MD) - December 27, 2011 (
See all reviews by this customer
)
Nice T-Shirt...
Bought it for my 2 year old boy...Just perfect for him.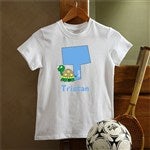 Every new mom loves personalized items!
By
Melanie G.

(St. Paul, MN) - March 5, 2011 (
See all reviews by this customer
)
This was a big hit at my daughter's baby shower. She received a lot of baby clothes, but this was the only one personalized with her baby's name. It was a huge hit.

Great Quality
By
Maria B.

(Delran, NJ) - January 28, 2011 (
See all reviews by this customer
)
I am very pleased with my order. My grandson will just love his sweatshirt. The graphics on the sweatshirt is just adorable.

So Cute
By
Linda C.

(Woodstock, CT) - November 26, 2010 (
See all reviews by this customer
)
The personalized shirt is adorable! I could not locate any merchandise with my new grandson's name on it. It will make a perfect holiday gift!
~Linda C.

For our little nephew
By
Elaine S.

(Litchfield Park, AZ) - November 16, 2010 (
See all reviews by this customer
)
Loved the fact that it was a quality t-shirt. So often the t-shirts are thin and droopy. A perfect little Christmas gift!

First Birthday Present
By
Ellen B.

(Fair Lawn, NJ) - July 19, 2013 (
See all reviews by this customer
)
Very happy with this tshirt for my grandson's 1st birthday....I knew it would be big, but he can wear over his suit at the beach!! Of course, personalization always makes a big hit when opening presents. It reflects that you put a little extra thought into gift selection.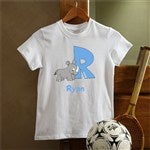 Cute little Shirt
By
Shopper

(North Baltimore, OH) - August 13, 2012
I ordered this shirt as a birthday present. Landon's mom was very impressed & thought the shirt was very cute.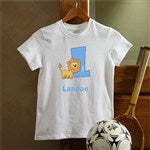 loved it but.....
By
Dorothee O.

(Lumberton, MS) - April 9, 2012 (
See all reviews by this customer
)
Design was adorable. Would have given a 5 star if it didn't have those silly ties. Velcro or snap would be much better. Busy mothers don't have enough hands to tie. I am hoping the new mom's grandma will be able to convert it.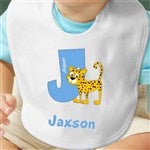 Cute T-shirt
By
Kathleen S.

(Lakeland, MI) - December 16, 2011 (
See all reviews by this customer
)
It's a cute shirt. I wish it came in other colors. White for kids is harsh. It seems like a good quality shirt although I haven't washed it yet.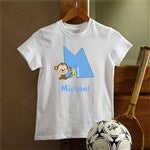 His first hoodie
By
Jodie B.

(Saint Joseph, MI) - October 23, 2012 (
See all reviews by this customer
)
I was excited to get something for my Grandson with his name on it. His name is different so this worked out well. I guess I was expecting more than a large decal placed on a white hoodie. But none the less... I think its pretty cute.
Have not washed it yet because his birthday is not for another month but the quality of the hoodie seems okay. I think your company has some wonderful ideas so I'll be back.

Thank you
Jodie B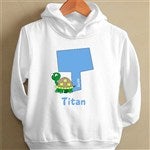 Not that great for the price
By
Shopper

(Downey, CA) - April 1, 2013
Name was ok but the JAGUAR name was the problem, it looks like Jaquar with a "Q" instead of jaguar with a "G" thats the problem and its a big problem because it just looks weird. I had to get a special ink for the t-shirt so i can fix the problem of the jaquar...not good for the price. I wouldn't recommend this product at all!