nice
By
Shopper

(Manasquan, NJ) - June 23, 2011
Very nice, got it for an 8th grade graduation gift...top is loose but is held by a magnetic inside so it works. The kids were happy and engraving was nice.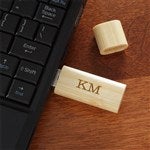 Chic!
By
Shopper

(Jackson, SC) - June 7, 2011
This thumb drive is ultra chic. It has a nice design and the top is magnetic. I wish the top snaped to offer more secuirty but I guess I just need to get over it. I plan to order my husband one since when he saw it he liked it.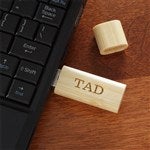 Nice product
By
Shopper

(Greeley, CO) - March 22, 2011
Nice gift for a boss. Product looks good. Only complaint, the lid does not fit properly, the magnet does keep the lid on though.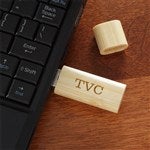 Flashdrive
By
Shopper

(Niantic, CT) - January 25, 2013
While I like the "package" of a personalized flashdrive, more information on its size/capacity both online and in the packaging would have been appreciated.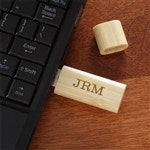 great personalized item
By
Shopper

(Richmond, VA) - December 19, 2012
What a unique idea-- a personalized Flash Drive. I am looking forward to giving this as a Christmas present.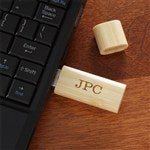 Good gift for anyone who has a computer
By
Shopper

(Fort Worth, TX) - January 5, 2012
It is a good gift idea for everybody. I got it for my boyfriend, he likes that, but he asked me why there are not dots between letters? Really, why? His initials look like somebody's name...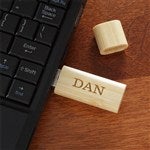 Nice
By
Sylvia R.

(Sulligent, AL) - May 15, 2014 (
See all reviews by this customer
)
These USB Flash Drives make a very nice gift. I purchased several and the only thing that I don't like about them is that the caps do not stay on well.

christmas gift
By
Jennifer A.

(Anderson, IN) - November 10, 2010 (
See all reviews by this customer
)
very pleased with flash drive. He will love it.

Awesome gift for young executive
By
Steve B.

(Niceville, FL) - November 3, 2010 (
See all reviews by this customer
)
Our son just got his first "real" job after graduating. This is perfect and we know he will enjoy the gift.

great gift idea to complete a set
By
Daphne D.

(Valley Stream, NY) - December 28, 2010 (
See all reviews by this customer
)
the usb flash drive was very classy . I bought it for my boyfriend with other equipments for his laptop . Sadly I couldn't find any 4 or 8 gb but he really did love having his initials written on it . I'm just afraid he'll loose it because there is no hole on the bottom to put it in a chain :(.

just so so
By
joshua K.

(Fremont, CA) - February 4, 2012 (
See all reviews by this customer
)
the cover for the port was somewhat eschew from the main portion, so it looks like it's going to fall off at any second, even though it is securely fastened with a nifty magnet. Only comes in the 2GB size, there are commercially available thumb drives out there that hold way more. I don't see why they can't offer something with more space.

Monogram flash drive
By
Jodi S.

(Taylorsville, KY) - August 27, 2011 (
See all reviews by this customer
)
A nice gift for a high school or college student.

Very nice
By
Charlene R.

(Tilton, NH) - November 29, 2010 (
See all reviews by this customer
)
I just received 2 bamboo USB flash drive. It looks just like the picture. I love it and I think the men I got this for will have the same reaction I did.

Practical and personal
By
Shopper

(Clarksville, IN) - December 28, 2011
I needed something to add to that Holiday Money gift. I am always amazed at how quickly I receive my orders. What takes sometimes weeks from other vendors, I receive in just days.

Truly Unique Gift
By
Shopper

(Hicksville, NY) - November 14, 2011
This monogrammed flash drive is the perfect gift for someone special. The bamboo has a quietly elegant look.

usb
By
Shopper

(Carrollton, TX) - October 26, 2012
great

pleased
By
Shopper

(Thaxton, VA) - December 29, 2013
good quality and arrived in time for gift giving

Shopper Middletown IN
By
Shopper

(Middletown, IN) - December 11, 2013
Very happy with the USB Flash Drive and especially the magnetic top as it will be less chance of it getting lost. Just the right gift for a college student or business professional. Sturdy and very professional looking. Would recommend this for a unique gift.

Great
By
Shopper

(tallahassee, FL) - June 24, 2011
It was as perfect as i expected and i think my friend liked it


Flash for School
By
Laurel M.

(Sparks, OK) - December 23, 2010 (
See all reviews by this customer
)
I bought this for a grandson so that he could do work on the school computers and take it home and always know WHICH flash drive was his. He loves it, but I wish they carried a few larger sizes. He would have liked more memory.

Sharp!
By
Traci B.

(Broken Arrow, OK) - December 1, 2010 (
See all reviews by this customer
)
I am giving this as a gift for Christmas. I know that he will love it. So nice and professional... and such a unique gift for people who are difficult to buy for! I recommend!!!

FOR MY BRO THE COMP DUDE
By
Balenka E S.

(new york, NY) - December 26, 2010 (
See all reviews by this customer
)
I KNEW HE WOULD LOVE IT, BUT NOT AS MUCH AS HE DID. IT HAS A MAGNET ATTRACTION TO HELP THE COVER CLOSE THE USB. THE PERSONALIZATION WAS VERT WELL DONE.

Personalized USB
By
Cheryl H.

(Canada) - January 24, 2011 (
See all reviews by this customer
)
This is a really great product. It comes as shown and explained. I really liked the lazer engraving. It was really well done.

Personalized USB Thumb Drive
By
Jimilyn W O.

(Winchester, VA) - December 26, 2010 (
See all reviews by this customer
)
Very Nice. My husband loved this little stocking stuffer this year. At first, he had no clue what it was; he quickly conquered this curiosity and immediately smiled saying " this is great! I can't tell you how many of these I get "borrowed" by others all year long -- and they never get returned. This one has no room for confusion -- or LOSS." Then, he immediately stopped pening presents and ran up to his study to load it up. I think he has loaded/reloaded it three or four times since then; I deefinitely think he likes it. And I like it so much, I ordered me one after the fact. Thanka for yet another unique gift for my best friend!