Cupcake Wrappers Rocked!
By
Michael R.

(San Francisco, CA) - January 28, 2012 (
See all reviews by this customer
)
I ordered personalize cupcake holders for my wife's birthday. I took them to a Susie's Cupcake in the Marina neighborhood in San Francisco and they help me wrap their yummy delights. My wife was amazed and thrilled by the personal touch and I must admit having her beautiful smiling face on each of our guest cupcakes was stunning!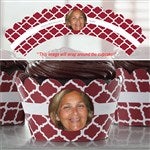 Perfect cupcake holder
By
Kathleen S.

(West Chester, PA) - February 20, 2011 (
See all reviews by this customer
)
I purchased these for my 7 year old granddaughter's birthday. I am more than delighted. Her picture is so clear and bright. She loves them. Can't wait to give them out at her party.

Perfect for any holiday, birthday, or weddings !
By
Kathy P.

(Amherst, VA) - February 19, 2011 (
See all reviews by this customer
)
I was looking for something personalized that was different. These were definitely a hit ! The photos come out so clearly as does the wording. I can't wait to have an opportunity to order them again. Thank you.

cupcake wrappers
By
Shopper

(Port Charlotte, FL) - April 22, 2011
i purchased 2 sets, one red, one blue. quality is good, photo was simple to uplad and printed well. These are for our son's 1st birthday & we are excited to share them with our guests.

Perfect
By
Shopper

(Hoosick Falls, NY) - June 12, 2011
Very happy with the cupcake wrappers. Quality is great and will certainly dress up the cupcake for the occasion.

greatest gift for a friend who makes cupcakes often
By
meagan C.

(wantagh, NY) - May 12, 2011 (
See all reviews by this customer
)
My good friend makes very fancy cupcakes, so OI decided these would be a great gift for her! They look exactly as they did in the picture. I was so pleased with the product and am looking forward to giving them to her!

Personalized Cupcake Wrappers
By
Beverley F.

(Canada) - January 22, 2011 (
See all reviews by this customer
)
I have spent a considerable 'fortune' in the past few years having a delightful cake chef make many great cakes for me for different events - problem is - no one wants to cut into them - they're too beautiful - I have now decided to make my own cupcakes - instead of specialized cakes - using these personalized wrappers - make them an ideal 'kitchen baking'investment!

Very Cute!
By
Shopper

(Miami, FL) - June 12, 2011
Was unable to use for the cupcakes that I had purchased. To big for mini cupcakes and to small for regular cupcakes, was able to cut the edges and use them to decorate other things @ the party. They are very cute and different.

Personalized Cupcake Wrappers
By
Shopper

(Charlestown, MA) - October 15, 2012
The description of this product is a little misleading. I thought they were actual wrappers/holders not realizing I had to purchase the holders and wrap them around the cupcakes individually. The picture turned out great that was printed on the wrappers.

Make sure your spelling is correct
By
Debbie O.

(South Lyon, MI) - June 22, 2011 (
See all reviews by this customer
)
I bought these for a party and they are as pictured. I hit the pay for item button and realized on one side of the cupcake holder I had mis-spelled birthday. I tried to cancel my order as soon as I placed it and I could not. I kind of think the company should have some smart software that will pick up on mis-spelled words. Of course they would not replace the product since it was my fault. 4 stars for the item. 1 star for customer service (yes, I did talk to them)

The Perfect combination for a perfect Occasion
Excellent Idea.I loved to Bake cupcakes I was looking for something like this..Thank You everything you have here are what i was looking for.keep the good job....

Love them..
By
Shopper

(Plantsville, CT) - April 9, 2013
I was very happy with the way they look. The photo was done very well. Wish you had more colors or themes. They will be a big hit at her 1st Birthday.

a very unique product at a great price
By
Carey H.

(Greenville, SC) - March 11, 2012 (
See all reviews by this customer
)
I used 4 different photos to personalize 4 different flavors of cupcakes for my husband's 50th birthday. They were the hit of the party and everyone loved seeing photos of my husband through the ages. I would highly recommend this reasonably priced way to personalize a monumental occasion. I will use them again for graduations, etc. The paper board was high quality and the photos were reproduced with clarity. And they shipped within a few days.

Cupcake wrappers
By
Shopper

(Mesa, AZ) - May 11, 2012
The cupcake wrappers were amazing! The quality was beyond my expectations! People raved of the personalized picture and sayings! This is the most superior product for any occasion! I'm so thankful I found this website! They were shipped extremely fast also! I'm looking forward to ordering more products through this company because they are A+ in my book!!

Personalized Cupcake Wrappers
By
Shopper

(Madbury, NH) - March 16, 2012
I am so happy with the cupcake wrappers I ordered. I had them personalized with a picture of my son and the words "Happy 7th Birthday Tyler" and they arrived looking exactly as shown on your website. I also waited until the week before his party to order them, and was not sure if they would arrive in time. I used standard shipping and they still only took 3 days to be delivered after they were created! So happy with the results and would definitely order from you again!

Love it :)
By
Shopper

(SOMERVILLE, MA) - April 3, 2012
Cute wrapper ever !!! Perfect for my son prince Birthday party :)

Cutest ever!
By
Julie K.

(Austin, TX) - March 19, 2012 (
See all reviews by this customer
)
I ordered these cupcake wrappers for a birthday celebration. They were a big hit. A picture of the cupcake in the wrapper was put on facebook and from around the interworld comments like "cutest ever", "those are awesome", and "I want those"...came in. Definitely worth it. The order process was a breeze and they showed up exactly when personalizationmall.com said they would. Couldn't ask for more. This I will do again..and again.

Love these.
By
Amy K.

(Brooklyn, NY) - February 2, 2013 (
See all reviews by this customer
)
I ordered these for my sister's wedding shower, with a photo of the happy couple. They came out GREAT. They do seem like they'll be a slightly tight fit on our regular-size cupcakes. They'll go on, but I think the cupcake may sort of sit in it, rather than have it wrap around exactly over the cupcake paper. It's only off by a teeny bit, though. Very excited to use them and I will probably get more for my son's upcoming birthday party.

well made cupcake wrappers
By
Shopper

(Stratford, WI) - February 12, 2013
This is the second time i've ordered these cupcake wrappers. and have been very saisfied both times. They came very quickly, also.

phenominal
By
LISA T.

(FORT WASHINGTON, MD) - August 6, 2011 (
See all reviews by this customer
)
this was so perfect and so different and i am so grateful to have been introduced to this company. they have met and exceeded all expectations on all 20 of my orders

WOW!!!!!
By
Barbara H.

(Langhorne, PA) - September 24, 2011 (
See all reviews by this customer
)
I made cupcakes for my husband's birthday and wrapped these creative wrappers around each cake and what a special, extra treat they were, a real conversation piece. My husband was pleased I went the extra mile to be sure his birthday was a memorable one.

Hit of event
By
Shopper

(Jacksonville, FL) - December 15, 2011
These wrappers were the hit of the evening. This was for a gathering for a couple who had a fabulous wedding. They had nothing like this.
Will use this site for other events. The timeframe was outstanding.

Exceeded my expectations!
By
Barbara H.

(Langhorne, PA) - September 29, 2011 (
See all reviews by this customer
)
I bought these cupcake wrappers and filled them with delicious cupcakes. It was my husband's birthday so I took them to his job. I placed a candle in each cupcake and we sang happy birthday to my husband. Everyone marvelled at the creativity of the wrappers and the quality. The wrapper fit perfectly around the cupcake.

This was an inexpensive, creative way to celebrate my husband's birthday besides the traditional full cake and candles. My husband had a big smile on his face the entire time.