This was PERFECT!!
By
Patricia G.

(San Diego, CA) - November 6, 2012 (
See all reviews by this customer
)
I purchased this for a co-worker as a little Bon Voyage gift for her bridal shower. And the best part was being able to personalize it to fit them prefectly. She LOVED it!!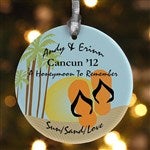 they loved it !
By
Regina B.

(Danville, IN) - November 5, 2012 (
See all reviews by this customer
)
the bride and groom loved it. i was very pleased with the ornament and the fast turn around time from day of order to delivery.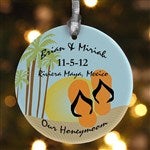 Darling ornament
By
Shopper

(Garland, TX) - September 28, 2012
Although this ornament seems to be designed for newlyweds, I purchased it for my young grandson to commemorate our extended family's trip to Hawaii this past summer. I changed the wording to say "Maui Memories." I wanted him to always have a personalized remembrance of this outstanding trip. The ornament turned out just great. Excellent quality as always, of course. A real keepsake.

Perfect keepsake!
By
Bonnie M.

(Clermont, FL) - April 22, 2012 (
See all reviews by this customer
)
I purchased the Honeymoon Paradise Personalized Ornament for my son and daughter-in-law as a Christmas gift right after their honeymoon. I looked at a lot of ornaments online and this particular one caught my eye because the picture in the description had the same honeymoon spot where they honeymooned. This made me look at the details closer and I knew that this was the perfect ornament for their first Christmas as husband and wife. The personalization was perfectly written and it arrived expertly packaged to avoid any breakage. Thank you Personalization Mall for a great shopping experience!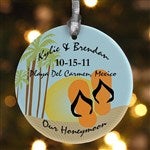 Great Gift
By
Shopper

(Turnersville, NJ) - April 6, 2012
Purchased these as gifts for our family to commemorate a family vacation. They look great!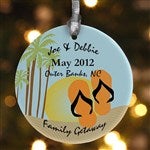 Perfect!
By
Shopper

(Nashua , NH) - March 7, 2012
This is perfect to hang all year round and perfect for my tree in december!

Wedding Present!
By
Shopper

(Clinton, IA) - January 27, 2012
Turned out exactly how I thought it would! Personalization Mall always delivers ;)

Good Quality
By
Shopper

(Mount Laurel, NJ) - January 15, 2012
No complaints, just a really unique ornament. Made of porcelain I believe, heavy and sturdy.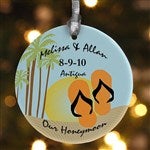 Love Love Love!!!!
By
Lindsey P.

(Cumberland, RI) - January 10, 2012 (
See all reviews by this customer
)
We love this ornament! Persolnalization mall has exceeded our expectations for the millionth time!!!! I am obsessed with this website!!!!!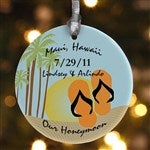 New Home Ornament
By
Allison R.

(Hesperia, CA) - January 9, 2012 (
See all reviews by this customer
)
We just purchased a new home by the beach & I had been looking for a "new home" ornament for our tree without any success. I saw the honeymoon paradise ornament that was personalized & thought it would be great to personalize it with our name, the date we bought our house & our address along with the palm trees & flip flops on the ornament. It turned out great & I am very pleased! It came in a velvet bag & will forever adorn our tree every Christmas. Thanks for fast shipping & a great ornament!

Great gift!
By
Brittni U.

(Port Jefferson Station, NY) - December 27, 2011 (
See all reviews by this customer
)
This was perfect. Exactly what I wanted and received it within the week. Made a great little gift.

Very Pleased!
By
Alicia C.

(Middleburg, FL) - December 25, 2011 (
See all reviews by this customer
)
I was very pleased with my purchase and will definitely order from personalization mall again. I really liked how you are able to see what your product would look like before finalizing your order. This was the only website I found that did that. The ornaments were beautiful and all recipients loved them!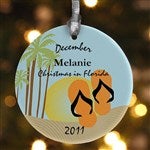 Just how i expected it
By
Shopper

(Boynton beach, FL) - December 20, 2011
From the delivery time to the ornament itself everything met my expectations. It was great!!!

Beautiful!
By
Shopper

(Montgomery, TX) - July 11, 2011
I was thinking it was going to be too small but it was actually bigger than I thought. I just loved it! Excellent quality! We have been happy with all the products we have ordered.

Great!
By
Shopper

(Tucson, AZ) - July 4, 2011
This is an awesome way to remember the perfect beach honeymoon! I also bought the bride/groom one for our wedding so this was a perfect touch! I can't wait until christmas so I can use these on the tree! perfect!

Honeymoon Paradise Ornament
By
Shopper

(Louisville, KY) - April 8, 2011
I was getting ready to order the wedding ornament, but was bumming that the traditional clothes didn't work for my son's wedding on the beach in Jamaica. Then I came across this beach scene and I just personalized it with "Our Beach Weddingmoon", which was absolutely perfect. Love it!

Nice Ornament for Honeymoon
By
Shopper

(Newberry, FL) - March 15, 2011
Really nice and well liked.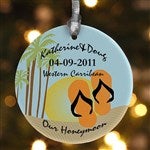 Perfect Design for a Tropical Wedding
By
Angie C.

(Canada) - March 6, 2011 (
See all reviews by this customer
)
Personalization Mall does not disappoint! I love the way one can see on the web site what the finished product will look like before ordering. This is a wonderful feature! The items I received are exactly as I had hoped for. I am totally impressed and now a bonafide fan!

Perfect!
By
Rachel D.

(New Orleans, LA) - December 28, 2010 (
See all reviews by this customer
)
Great quality and exactly as I ordered!

very cute
By
Dina W.

(Utica, NY) - December 28, 2010 (
See all reviews by this customer
)
pretty much exactly as pictured! I had a Christmas wish written instead of the honeymoon, for my MIL who goes to the Caribbean 3x a year

Great gift
By
Nicholas M.

(Cape Coral, FL) - December 19, 2010 (
See all reviews by this customer
)
I got this for my dad and his girlfriend. I changed the bottom line to read "The Good Life!" because they are both retired and living in sunny Florida. It came out great and I highly recommend it.

Honeymoon ornament
By
Megan D.

(Ontario, CA) - December 15, 2010 (
See all reviews by this customer
)
The ornament is perfect. It looks just the the photo

Love this website
By
Margaret C.

(Weldon Spring, MO) - December 11, 2010 (
See all reviews by this customer
)
I can always find something that I am looking for and sometimes things that give me ideas for the perfect gift. The quality of the items and the personalizations is excellent.

Co-Worker Gift
By
Bernadette B.

(Woodbine, NJ) - December 3, 2010 (
See all reviews by this customer
)
Bought these for my Co-workers. We are a beach community and I could personalize with their name, the date and from me. They are so cute and will top a plate of yummy treats for the Christmas holiday. I would like to suggest they come with a hanger though.

Honeymoon Ornament
By
Emilie K.

(Minneapolis, MN) - November 24, 2010 (
See all reviews by this customer
)
This turned out great!

Paradise Personalized Ornament
By
Reda B.

(Minden, NV) - November 4, 2010 (
See all reviews by this customer
)
These are perfect and look great! I purchased 2 of these ornaments- one for my son & daughter-in-law who had gone to Jamaica for the first time and also one for myself/husband since we went to Cancun. They are both Christmas gifts. Can't wait to give it to my husband since he loved Cancun and now we'll have a personalized ornament to hang on our tree to remind us of the wonderful, paradise vacation!

Beach theme personalized ornament
By
Kimberly S.

(Mohnton, PA) - November 1, 2010 (
See all reviews by this customer
)
Very nice quality. Worth the cost!!

Perfect ornament for my situation
By
Faith M.

(Kansas City, MO) - August 2, 2012 (
See all reviews by this customer
)
This was the perfect ornament to give to my daughter and her new husband who were married on the beach in Key West and wore flip-flops to their ceremony which took place between the palm trees.

My only complaint is the font on the date -- that is not changeable and it does not match the other font - which is so perfectly beachy looking - that is on the rest of the ornament. Otherwise, it is exactly what I wanted.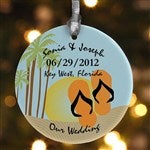 Great Purchase
By
Tiffany T.

(Concord, NC) - December 16, 2010 (
See all reviews by this customer
)
I loved this ornament. It was perfect since we got married on a beach in Jamaica. I love it. My only disappointment was it is a little smaller than I thought it would be. Otherwise, I truly love this! Get one!

Fun memory ornament
By
Amanda I.

(Tampa, FL) - November 3, 2010 (
See all reviews by this customer
)
I get an ornament every year to commemorate something exciting we did for that year. This year we're going to Hawaii for the first time and this ornament was perfect. I wish I was able to change the font around and the amount of lettering to have it EXACTLY how I wanted it. Other than that, it will be a wonderful addition to our memory Christmas tree.

Cute But Not Enough Space for Long Names
By
Shopper

(Merrillville, IN) - January 1, 2014
This item is cute, but the name space does not allow room for long first names as well as the "&" sign. My husband and I have 7 letter first names and do not go by nick names, so I had to settle for just our names with a space between and no "and" or "&."