Christmas shopper
By
Shopper

(Martin, SD) - December 21, 2011
Just what I ordered, and shipped very quick.

Great Ornament
By
chantay T.

(liberty, MO) - December 17, 2011 (
See all reviews by this customer
)
Every year since my daughter was born I get her a personalized ornament this one is great, just wish the cap color could be changed to match school colors instead of basic black, but awesome size & value.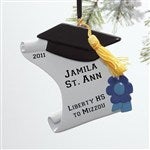 Nice to find a graduation cap ornament
By
Shopper

(Jacksonville, FL) - December 11, 2011
Every Christmas we buy an ornament to reflect something monumental that took place that year. It was so hard to find anything anywhere reflecting graduation until I looked here. Really wish there was more than one option though. Also, the certificate in the lower right corner looks a lot like a flower...not very good for a boy. I bought one for both a male and female. It would also be nice if we could pick a tassel color.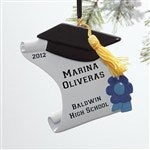 ornament
By
Shopper

(Titusville, FL) - May 30, 2011
Was very happy with this product. Can be used year round as a wall decoration or hanging on the christmas tree.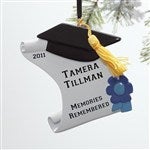 Graduation ornament - very pretty
By
Shopper

(Birmingham, AL) - April 3, 2011
I ordered this to commemorate the successful end of a long struggle. It is very nice to look at - personalization is clean and clear. It is a bit heavy in weight, but if lighter then perhaps the personalization might not be able to be done. It will not be put on a Christmas tree, but hang on the wall with the rest of the graduation memorabilia, so the weight is okay for that. I ordered 3 to share with the family.




Very Happy Graduate
By
Shopper

(San Bernardino, CA) - January 14, 2011
I surpised my husband with this ornament. He worked hard to get through required schooling for his career change and I wanted it to be something that we always remember. I was very happy with the spacing and letting on the ornament. It really does look amazing. My husband absolutely loved it.

Graduation Diploma
By
Carolyn R.

(Plano, TX) - December 19, 2010 (
See all reviews by this customer
)
I love this item. The only drawback for me was the fact that I could not choose the color of the tassel. I would have like it to be his school colors.

If I could have chosen a color, I would have rated it 5 stars.

Like the ornament & great customer service!
By
Holly C.

(Tempe, AZ) - December 10, 2010 (
See all reviews by this customer
)
This ornament arrived just days after being orderded. The quality and size is good - this is the 3rd ornament I've ordered. Would have liked to have had a choice in graduation ornaments as the blue ribbon makes it seem more for elementary school. I love that items can be personalized. I'll be back to shop some more!

Graduation ornament
By
Shopper

(Castle Rock, CO) - December 22, 2012
The ornament is darling but some of the printing was poor. I had to fill in a few letters with a sharpie.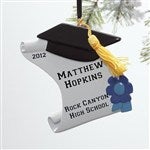 ok
By
Jewelli S.

(Rocklin, CA) - July 25, 2011 (
See all reviews by this customer
)
I was a little disappointed witht the ornament as it had left over black from the engraving machine. It won't be noticeable on the tree but if you get up close to read the ornament you will see it.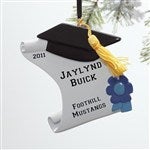 Good product
By
Lisa A.

(Carrollton, TX) - December 17, 2010 (
See all reviews by this customer
)
The ornament is a nice gift, given the price spent. I would purchase again, but the only complaint is that there is a large chip/scuff mark right in the center. I would return it if I could and ask for a new one, but it's a gift for someone and time will not allow.

Poor Quality Ornament
By
Shopper

(Frankfort, KY) - January 1, 2012
Although most things I order from PersonalizationMall.com are of high quality, these ornaments are not. I ordered three as gifts and I was unable to give any of them due to their poor quality. They are very rough and don't appear to have been sanded before they are fired. I would not recommend ordering this particular ornament.