Great quality item
By
Shopper

(Nicholasville, KY) - August 25, 2014
I was really impressed with the size and quality of the etched bowl. Very beautiful!

50th Anniversary Bowl
By
Shopper

(East Elmhurst, NY) - July 8, 2014
The bowl was wonderful, and the couple loved it.

Diamond Wedding Anniversary Glass Bowl
By
Shopper

(San Rafael, CA) - March 11, 2014
My recipients loved the item; quality of the glass and etching was excellent.

My only comment to customer service was that 2 day shipping, which is from the company then to UPS for shipping and delivery was not clearly set out on their website, and it appeared to be 2 day shipping from the company out to the recipient.

However, I placed my order Friday morning, they sent it to UPS on Monday, and it was delivered on Thursday, which was exactly when I wanted it delivered, without expedited delivery charges.

I would suggest they tighten that information up on their website; otherwise, I am very impressed that the item was engraved over a weekend for shipping out to UPS on a Monday. I would certainly use them again.


Beautiful Bowl
By
Brenda T.

(Lugoff, SC) - September 6, 2013 (
See all reviews by this customer
)
I ordered the crystal bowl as an anniversary gift. The engraving is lovely. Beautiful gift. I will order again from this website, but I hope you can make it where you can order from wireless devices. It wouldn't let me finish my order because I was not on a computer so I called customer service.

EXCEEDED expectations
By
Shopper

(Lake Forest, IL) - August 31, 2013
This was grand for our centerpiece bouquets and the service was wonderful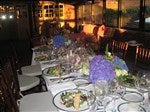 Beautiful & Awesome purchase
By
Shopper

(Stratford, CT) - July 5, 2013
First time ordering from personalization mall, and the experience and costumer service was extraordinary. For now on I'm ordering my church anniversary from here. I recommend this website 100%. Beautiful and great quality products.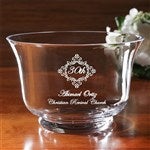 Satisfied Customer
By
Shopper

(Tallahassee, FL) - May 16, 2013
I not only love the personalized writing on the bowl, but the quality of the bowl is excellent. The couple that received this bowl was very pleased and promised to treasure this "very sensible" gift. Very sensible is how they described it. I am also pleased with the available assistance I received from your online help. I would definitely use this company again if the need arises and recommend Personalization mall.com to my friends.

They Loved It
By
Nancy M.

(Wellington, FL) - May 12, 2013 (
See all reviews by this customer
)
I sent this to dear friends of ours for their anniversary and they loved it. Said it was very classy and special.

Anniversary Memento
By
Shopper

(Elmont, NY) - April 15, 2013
We were very pleased with the quality of this product.. The delivered product lived up to the picture on the website.. We were also happy with the fact that this bowl can be used in so many different ways.. Sleek and classy.. we are very proud to present it as our anniversary gift to relatives...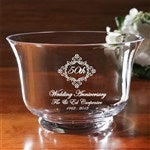 thoughtful and loved it
By
Shopper

(Lillian, AL) - March 31, 2013
This was an anniversary gift and they loved it. I have bought wedding and anniversary gifts and they have been correct and well appreciated.

As flower vase
By
Shopper

(Kingsville, TX) - March 17, 2013
This is a beautiful 50th anniversary gift. It looks gorgeous with water and fresh white roses. Perfect centerpiece.


Totally satisfied
By
Mary E.

(Denison, IA) - September 14, 2012 (
See all reviews by this customer
)
This was my first time buying this bowl. Loved it. The bowl and engraving were beautiful.

anniversary gift
By
Shopper

(Valley Center, CA) - August 14, 2012
I ordered the bowl for a wedding anniversary party for my son and daughter-in-law. The bowl arrived in good condition...correct spelling and is a lovely bowl.

Gave as a gift
By
Shopper

(Yankton, SD) - August 1, 2012
This bowl is a great gift for someone special to you. It was etched very nicely and looked awesome.

very nice
By
Shopper

(Essex Junction, VT) - July 24, 2012
Item was very nice and shipping was very fast

An elegant gift
By
Shopper

(Essex Junction, VT) - July 24, 2012
I am extremely pleased with the speed of shipping, care of packaging and the quality of this bowl. It exceeded my expectations and I am sure the recipient will enjoy placing this on their dining room table. The glass has clear quality, thickness, and the bowl has a good weight to it. So pleased with this company that I placed another different order today!

Expectations Exceeded
By
Dennis B.

(Roswell, GA) - May 7, 2012 (
See all reviews by this customer
)
I ordered a personalized crystal bowl to be presented to dear friends on their 50th wedding anniversary. I could not travel to attend their family gathering so my order was shipped directly to their address. The gift was safely delivered on time, the family tell me that the couple were delighted with the gift. In summary every thing went according to plan; a quality product and a quality service. Thank you.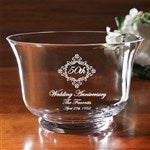 Great Service and Beautiful Product
By
Judith L.

(Israel) - April 2, 2012 (
See all reviews by this customer
)
The bowl was produced and delivered so quickly, that I wasn't sure if it would be of good quality. My brother and his wife were so pleased with the gift and they told me that it is just beautiful.

Always the favorite gift for my friends
By
Dennis S.

(Dardenne Prairie, MO) - September 19, 2011 (
See all reviews by this customer
)
The last Anniversary Crystal Bowl I purchased brought tears to the eyes of my close friends. This is the fourth bowl I've purchased online for cross-country delivery, and all are received with fondness. In my opinion, the inscribed crystal bowl is the finest gift one could give in commemoration of a wonderfully shared life!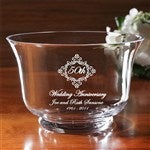 Exceeded expectations
By
Shopper

(Mankato, MN) - August 28, 2011
Absolutely wonderful purchasing experience...I knew what to expect as far as the "look" of the bowl based on the image created by my personalization choices, and the actual bowl looked just like the picture when it arrived. What I was really amazed by was the speedy delivery! Ordered on Tuesday and at my doorstep Friday-wow! The packaging was great and the bowl was much heavier/higher quality than I had imagined it would be. This was my second time placing an order and I was just as happy last time around. I heartily recommend doing business with this company.

nice gift
By
David T.

(Turlock, CA) - August 7, 2011 (
See all reviews by this customer
)
Thank you for the beautiful engraved bowl. Presented it to my wife for year #42 and she loved it. Top quality and top value. Everything I have purchased from you has been right on. I remain a satisfied customer.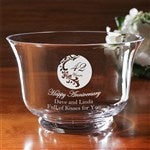 Anniversary Bowl
By
Shopper

(Croton-on-Hudson, NY) - August 5, 2011
I was very pleased with the quality of the bowl. I can't wait to give it to our son and daughter-in-law for their anniversary!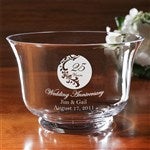 25th Wedding Anniversary Crystal Bowl
By
Shopper

(Henderson, CO) - June 15, 2011
This is the perfect 25th wedding anniversary gift. The crystal bowl is a nice size and the personalization looked great. I really liked being able to play around with the design and see how the finished product would look before I purchased it. The item was ordered on a Tuesday and I paid a little more for shipping, but had it delivered to my door by Friday morning. You just can't beat that kind of service and it saved me hours of driving around shopping for the perfect gift. I highly recommend this company to everyone and will definitely use them in the future.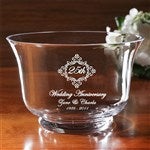 100% Satisfied
By
Dhaval S.

(Poughkeepsie, NY) - May 18, 2011 (
See all reviews by this customer
)
I am very much satisfied with the product. It was very good. It was as expected. Thank you.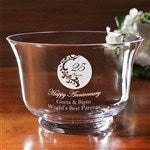 Lovely bowl!
By
Shopper

(Prescott, AZ) - April 12, 2011
Love this bowl! arrived wayyyy quikly! and its a nice hefty item. will be a great gift with kisses in it for 10th anniversary!

25 Anniversary Crystal Bowl
By
Carmen V.

(Madison, AL) - February 17, 2011 (
See all reviews by this customer
)
I bought this for my sister & husband for their 25th anniversary.
I have not seen it personally because they live in Florida. But the response I got was they love it. No cracks or chips. They said it is beautiful and setting on their fire place.

Anniversary serving bowl
By
Debbie S.

(Gainesville, TX) - December 2, 2010 (
See all reviews by this customer
)
It is beautiful. A wonderful present to mark a special day.

Small writing
By
Craig T.

(Brunswick, GA) - June 3, 2012 (
See all reviews by this customer
)
The work was fine on the item. The only thing disappointing was the size of the engraved words. They are so small making it tough to read any wording.

Anniversary personalized bowl
By
Debbie S.

(Gainesville, TX) - November 22, 2010 (
See all reviews by this customer
)
The bowl was packed well but had an air bubble in the glass and a piece of glass also missing at another spot. I called and they are shipping another one. Thank you