Unique
By
Shopper

(Huntingtown, MD) - December 26, 2011
The engraving and personalization on this item was great. It was in the mail within two days. What a great place to get personalized gifts!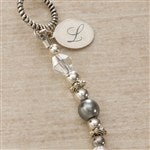 Friendship
By
Shopper

(Idaville, IN) - December 17, 2011
I was very pleased with the bracelet, as were my frinds.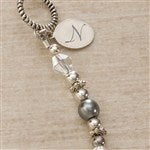 Love, Friends, Trust Charm Bracelet
By
Kate B.

(Canada) - December 15, 2011 (
See all reviews by this customer
)
Beautiful. The bracelet would please any friend. Great quality and simple design can be worn with anything.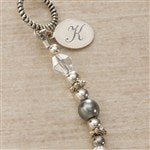 Friends Forever
By
Shopper

(Raeford, NC) - November 29, 2011
I finally got in touch with my very first best friend and was looking for something special to give to her. I bought two of these bracelets. I gave her the bracelet with my initial and kept one with her initial. She had tears in her eyes when I was putting it on her wrist for her. These bracelets are really pretty, and seem durable. Both my friend and I have complained about the clasp. She almost lost it the first day she wore it. Make sure you pull the bar all the way through. But it is a very nice bracelet, and it's a reasonable price that if we do lose it, it can be easliy replaced, and I would buy it again.

Braclet
By
Shopper

(Wayland, MA) - April 26, 2011
Piece of junk, was so disapointed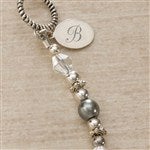 Good gift!
By
Nancy R.

(New Waverly, TX) - December 7, 2013 (
See all reviews by this customer
)
I purchased 2 of the bracelets as gifts. They were a hit.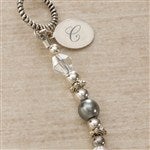 engraving
By
Roxanne B.

(sulphur, LA) - November 6, 2012 (
See all reviews by this customer
)
The engraving for the letter A & 2012 was not at all as it seems. You can barely tell its engraved.
Thank you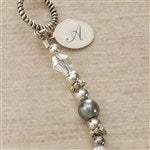 disappointed
By
Shopper

(Red Bank, NJ) - November 2, 2012
Product looks cheap and not as presented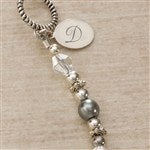 gift for a very special friend
By
Rita W.

(St Paul, MN) - October 1, 2012 (
See all reviews by this customer
)
I purchased this for a very special friend. It was such a lovely bracelet! I will definitely be purchasing other items with the holidays coming up. Thank you so much.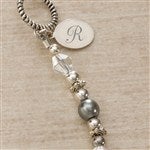 my best friend loved it
By
Sandra C.

(Glendale, AZ) - September 24, 2012 (
See all reviews by this customer
)
I didn't get to see the actual bracelet, but my friend said it arrived packaged beautifully and fits perfect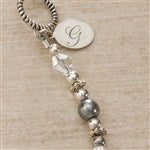 Great girft
By
Karen H.

(Lima, OH) - April 16, 2012 (
See all reviews by this customer
)
I have purchased this charm bracelet for Daughter, Mother, Grandmother, Sister and Friend. All gift recipients LOVE it. What a great way to let someone know how you feel about them. Once again Personalization Mall has managed to make my loved ones HAPPY. I love all of the purchases I have ever made through your website. Thanks again PERSONALIZATION MALL :)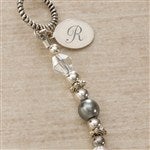 Good buy for the price
By
Deborah M.

(Aurora, IL) - April 6, 2012 (
See all reviews by this customer
)
Good price, the engraving was light but OK,not as flexible as I would have wanted but my friend loved it and for the money, a nice gift. Arrived in timely manner.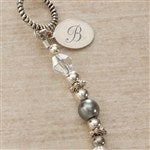 it something to someone ou hold dear is your heart.
By
Shopper

(myrtle beach, SC) - March 17, 2012
i found thuis to be will sone and in some reeseptes. even bettter than i thought it woukld turn out. ir=t actullaly made me feel good that i decided to give to a very dear friend.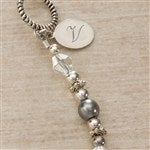 Not good engraving
By
Emily C.

(Cincinnati, OH) - November 27, 2013 (
See all reviews by this customer
)
The silver beads on the bracelet that read "love, friend, etc." are quite pretty, as is the bracelet itself. However, the small engraved piece that attaches to the end leaves a lot to be desired. The text is small, and the engraving is very shallow, so you can barely see it even from close up. The small silver plate also does not match the silver color of the beads with words, which really stand put on the piece. If you are looking for a piece with nice engraving, skip this one.

Disappointed
By
Shopper

(Houston, TX) - June 10, 2013
Very disappointed in the quality of the charms on this bracelet . Small and pot metal looking.

Friends Bracelet
By
Misty P.

(Highlands Ranch, CO) - August 23, 2011 (
See all reviews by this customer
)
Slightly disappointed in this bracelet. It's very small - so unless you have small wrists do not purchase this item. I think this is a great gift for kids/teens to give each other but it's too cheap looking for adults. Also, the engraving on this is hard to read...it's very small and light, and the S I requested looks like a Y.

Cheap!
By
Lori M.

(Cedar Springs, MI) - November 30, 2010 (
See all reviews by this customer
)
Very cheap looking.If I could send it back, I would! Sorry!

poor
By
Shopper

(Mechanicsville, MD) - December 23, 2011
The bracelet was a great deal smaller in person than it looked online. the personalization piece was tacky and very tiny as well.

Disappointment
By
Shopper

(Osage Beach, MO) - December 16, 2012
Very dissapointed in the quality of this Bracelet.

friends bracelet
By
Shopper

(United Kingdom) - January 13, 2014
this was very nice but size could have been a little bigger.

Nice Bracelet
By
Sandra R.

(Tyler, TX) - December 24, 2013 (
See all reviews by this customer
)
I really like this bracelet. It's not gaudy, but cute, and says just enough. I feel the quality and price matched.



Lovely Bracelet
By
Roberta S.

(Kill Devil Hills, NC) - March 6, 2011 (
See all reviews by this customer
)
I purchased this item as a gift for my best friend. I was amazed at the quality of the product for the price. She was thrilled with the bracelet as it was a personal and dated. You will be happy with this product and was engraved and delivered much, much faster than originally stated. She had it several days prior to her birthday and I had waited til the last minute to purchase her gift because I just could not decide what to get her. I made an excellent choice.

A great gift for many.
By
Ricardo L.

(San Diego, CA) - December 13, 2010 (
See all reviews by this customer
)
With the several personalizations, it can be a gift for a mother, friend, grandparent, niece, granddaughter, etc. It is a wonderful piece but isn't too big. It will fit most girls unless they're obese (not to be mean, but true). Lower than that, it will fit and they will love it (: it fit my wrist with just a bit of wiggle room.

Love, Friends Trust Charm Bracelet
By
Shopper

(Australia) - August 15, 2011
My daughter got for her best friend

Small Charm
By
Shopper

(Elgin, IL) - December 14, 2011
Love the bracelet, but the engraved charm is really small. The engraving is done lightly. I had to really look to see the letter. Disappointed. Looks nothing like the photo preview.

Color is different from what it appears in the picture
By
Shopper

(Knoxville, TN) - September 9, 2011
The stones look gray in the picture, they are actually green. Also the engravable tag looks much bigger in the picture. I was dissapointed in the braclet which was a Christmas gift for my friend. I will give it to her but I will have to find a necklace or something else to go with it to make it a good gift.

Beautiful at a great price!
By
Shopper

(Geneva, IL) - August 26, 2011
I bought this for my friend for her birthday, and she absolutely LOVED it ... it made her cry :)

Not happy with charms
By
Ellen H.

(George, IA) - March 15, 2013 (
See all reviews by this customer
)
The charms on the bracelet were stiff and didn't lay nice on the wrist. The charms need more space from the bracelet to lay nice.