Fast and Effortless Gift
By
Jeremiah B.

(Los Angeles, CA) - January 3, 2011 (
See all reviews by this customer
)
Ordered this as a gift for a family member, product was personalized and shipped within a week and arrived with more than enough time before the holiday. Cannot speak to the specifics about the make and quality of the piece, but got a very good review from the recipient and I was VERY happy with the service and turn-around time of this website. My 5-star rating is more for the service, but i imagine the jar was beautiful as well!

Love it!
We received this item from our niece for Christmas. I absolutely LOVE it! We have it sitting on our end table in the living room for anyone to take a kiss from. It fits in with the Christmas decor and I love the personalization. When the jar is full, it is a little hard to read from a distance, but that just invites someone to pick it up and take a closer look!

candy jar
By
Carmen C.

(Ball, LA) - December 23, 2010 (
See all reviews by this customer
)
It was exactly as described

Great Gift!!
By
Nancy S.

(Taunton, MA) - December 22, 2010 (
See all reviews by this customer
)
This makes a great Christmas Gift. I got this for my son to gift to his Godmother for Christmas. I personilized it with "Kisses for my Godmother" Great quality item!!

Nice size candy jar
By
Shopper

(Manalapan, NJ) - December 26, 2013
Very nice candy jar. The personalization made it a cute gift. Bright colored candy is needed to view the personalization easier. I added a jumbo bag of red and green candy kisses and that worked. I would recommend this product.

candy jar
By
Debbie M.

(Pittsburgh, PA) - December 6, 2012 (
See all reviews by this customer
)
It's a cute candy jar. my dad will love it it shipped
quickly and in one piece..

nice gift
By
Arlene M.

(Philadelphia, PA) - November 17, 2012 (
See all reviews by this customer
)
I thought it came in two jars, it was only one.

Christmas gifts well received
By
Lisa D.

(Summerville, SC) - January 1, 2012 (
See all reviews by this customer
)
Our relatives in Colorado and Massachusetts loved the personalized candy jar and even plan on keeping them out all year long! I may have to create one for myself. :)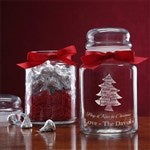 Just as the Picture and desciription said
By
Shopper

(Mission Viejo, CA) - January 1, 2012
When I recieved this item, I was very pleased with the quality. The message looked just as it was displayed on the demo picture before I ordered it, and everything was very nice. The only trouble I had was the shipping- it took much longer than the 5-8 business days that had been said; and lastly i had ordered the do-it-yourself packing/wrapping kit to come with it, and that was not easy to figure out and put-together. If you are not insanely handy with things like that- I would suggest just paying the extra couple dollars to have them do it for you, or not at all.

candy jar
By
Shopper

(El Paso, TX) - December 25, 2011
Adorable but engraving difficult to read.

adorable!
By
Mari F.

(Billings, MT) - December 19, 2011 (
See all reviews by this customer
)
This was really cute. Loved that they put the kisses in it, but I suggested to my daughter that she put in the red and green kisses that come out at Christmas to make the personalization more visible. It kind of blended in with the silver wrappers. But it was really cute. I may get one for myself!!

Christmas Jar w/Kisses
By
Shopper

(Midlothian, TX) - December 15, 2011
This item was exteremly cute! The only down side is that the candy kisses that were included in the jar were silver, the green or red kisses would make the engraving on the jar pop! I purchased the multicolor kisses and exchanged them for the silver. Great price for the product!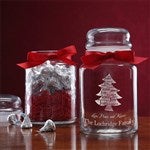 Nice
By
Lillian C.

(Canada) - November 11, 2010 (
See all reviews by this customer
)
It is very nice - however it is hard to read the name at the bottom - I was surprised it came with chocolates - nice touch

Candy Jar
By
Jennifer K.

(Maplewood, MN) - December 23, 2013 (
See all reviews by this customer
)
It was hard to see the wording on the glass. I had to point it out to everyone who looked at it. It is a pretty glass jar, but without pointing out it was personalized - they couldn't see it. I also would like to use it year-round so I am not sure I would have choosen the "christmas" tree design for it.

Engraving
By
Shopper

(CIRCLEVILLE, OH) - December 21, 2012
Engraving was very light and hard to read. Needs to be darker.

CHRISTIMAS KISSES CANDY JAR
By
Maria C.

(Pineville, NC) - December 19, 2012 (
See all reviews by this customer
)
while the jar was pretty and the kisses added an extra touch, I was disappointed in the lettering, not clear..could have been a little larger as well.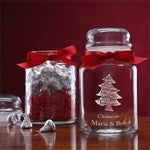 Christmas Kisses Candy Jar-lettering not clear
By
Maria C.

(Pineville, NC) - December 15, 2012 (
See all reviews by this customer
)
While the jar was pretty and I liked the filling of the kisses, the inscription on the jar was very light and small. I could hardly read it. I, did, however, put in some yellow candies on the bottom and then the kisses so that that lettering would show up more...overall it is OK. I have ordered other personalized jars from you and they have come in much clearer. Nonetheless, I will continue to order from Personalization Mall in the future.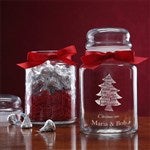 Hard to read when filled
By
Carol K.

(Overland, MO) - December 17, 2011 (
See all reviews by this customer
)
It's a good idea, but when filled it's hard to see the engraving, so it looks like just a regular candy jar. I may present it without the insides.

Will not purchase again..
By
Shopper

(Phoenix, AZ) - December 16, 2013
I was pretty disappointed with this jar.
The writing isn't very visible, and it doesn't look like there is much quality to it. To top it off, there was less than half a jar full of Hershey kisses when this product arrived.

OVER-PRICED
By
Shopper

(Keene, NH) - December 15, 2011
THIS ITEM IS OVER=PRICED AND CERTAINLY NOT WORTH THE PRICE. THE PERSONALIZATION IS OK BUT HARD TO READ BASED ON THE WHITE ETCHING. I WOULD DEFINITELY NOT BUY THIS AGAIN.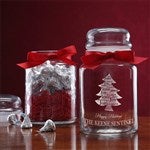 disappointed
By
jennifer G.

(bethpage, NY) - October 19, 2011 (
See all reviews by this customer
)
when i saw this item i was like this is a perfect gft.. i just received it and i am so disappointed - you cannot even read the personalization or really see the christmas tree on it. everything is clear... the personalization should have been done some other way- and the hershey kisses was a nice gesture- but they made it even worse. i am wondering if i do red & green kisses will that make the personalization "pop"
i really dont want to give this gift now - very upset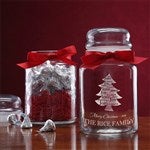 disappointing gift
By
Linda L.

(Carson City, NV) - December 29, 2010 (
See all reviews by this customer
)
The jar itself is cute but the engraving is done in white and very small that you really can't read it. I feel it should have been done in color and much larger.Very disappointed and too late to order another gift.Linda