amazing
By
lindsey H.

(Fresno, CA) - February 11, 2010 (
See all reviews by this customer
)
just got my order in the mail and i can't wait to give them to my boyfriend...i know he is going to love them

Silk Boxers
By
kimberly W.

(houston, TX) - February 11, 2010 (
See all reviews by this customer
)
These are absolutely the best in boxers.The material feels so soft and silky.My boyfriend adores his boxers,especially the personalization.

:0) :0) ;0) Need I say more???
By
Bonnie E.

(Ukiah, CA) - February 2, 2010 (
See all reviews by this customer
)
Can't wait to give these to him, Valentine's Weekend will be UNFORGETABLE!! :0)

Rich
By
Martha B.

(Lancaster, PA) - January 25, 2010 (
See all reviews by this customer
)
I bought this item for a Valentine's gift and they look very 'rich'. I haven't opened up the package yet, but they look good through the wrapping.

great website
By
Shopper

(orannge, CA) - August 22, 2013
I love it and can't wait to give it to my boyfriend
I will come back and shop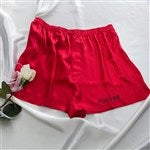 Wonderful
By
Pilar F.

(Stockton, CA) - March 22, 2012 (
See all reviews by this customer
)
I bought these for my boyfriend for our anniversary. I was extremely pleased with the shipping. It came within the 3-5 day range as advertised. The fabric is incredibly soft. I ended up opening it when one of my girlfriends was around, and we both cooed at how soft the boxers were. Seeing as I was giving them as a gift, I found the plastic smell of the packaging to be annoying, so I sprayed my perfume on them (an added present to my boyfriend. being in a long distance relationship, it's nice to give him things that smell like me). My boyfriend absolutely loves them! The added bonus being that they smell like me, but he remarked how soft they feel and how comfortable they are. I'm giving this four stars instead of five stars because they were bought as a gift and I didn't wear them myself to be able to comment on how comfortable they are to wear.

good product
By
Shopper

(Melbourne, Victoria, WA) - February 4, 2012
Exactly same as what has been described! highly recommended!

Vibrant Color
By
Cheryl C.

(Eureka Springs, AR) - February 16, 2011 (
See all reviews by this customer
)
Bright true red color always pleases...monograming was actually larger than anticipated...fabric was silky but would have preferred it to be more so, although for the price still a good deal....


Very nice silk boxers.
By
Shopper

(High Point, NC) - January 21, 2011
Ordered for a Valentine gift for my special man. Think he will like them and be happy to wear for me. Very nice quality silk.

Stain
By
Rosa V.

(Van Nuys , CA) - February 21, 2012 (
See all reviews by this customer
)
I was happy that my order arrived on time.. My husband liked the boxer.. but we where very disappointed that the boxers stain his skin and his clothes.. not good for the price.

Fun gift
By
Shopper

(Weehawken, NJ) - February 16, 2011
I loved it, but my boyfriend didn't like the material much.
overall, a fun valentine's day gift!

Sizing
By
Shopper

(Carencro, LA) - February 15, 2011
the silk boxers look great, good quality, the monogramming looks great! Shipping was fast! Only problem with the boxers is they dont run true to size. I was very disappointed his valentines gift didnt fit.

disappointed with size/length
By
Shopper

(Georgetown, TX) - January 21, 2012
The boxers were good quality and soft, but the size medium is way too small and not long enough. They were too tight and more like a size small.

Legal!
By
Shopper

(Dallas, TX) - February 16, 2011
When I saw the product and found it pretty interesting! I was reading the comments of those who bought and decided to give the gift to my boyfriend.
First of all, the delivery of the product does not have the agility that they guarantee.
second: the gift arrives in a plastic bag, and not in a pretty package, or at least presentable. I mean, that some of the comments that are here, is not exactly correct!
towards the product was ok! Nothing spectacular, but I was ok.


Not really silk boxers.....
By
Herminia H.

(Cleveland, GA) - December 24, 2010 (
See all reviews by this customer
)
The picture makes it look like they are silk boxers but when you get the item it seems cheaply made. The embroidery is cool but the fabric is not silk feeling. They are not red smooth silk boxers, but instead they have line designs on them. The picture is a lie. Those will not be the boxers you get.