Very nice chart
By
Shopper

(Scott Depot, WV) - December 29, 2012
Gave it as a gift and recipient loved it.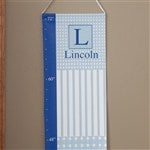 beautiful, special, quality item
By
Shopper

(Henrico, VA) - December 25, 2012
beautiful, special, quality item

Quality work!
By
Diana W.

(La Salle, MI) - December 15, 2012 (
See all reviews by this customer
)
Amazingly fast delivery! Very nice quality. This will be a keepsake! Thank you.

Just what I expected
By
Katrina H.

(Lansing, IL) - November 27, 2012 (
See all reviews by this customer
)
It is a simple design, but that is why I chose it. Simple but elegant. It is well made, durable canvas. Easy to write on with permanent marker. Quick service and shipping. Couldn't ask for anything better!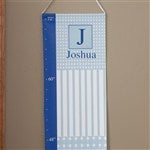 Very nice product!
By
Shopper

(Fairview, OK) - November 25, 2012
We can't wait to use this for our son. The material is a nice sturdy canvas and the personalization is perfect!

Excellent quality
By
Janet S.

(Glendora, CA) - June 7, 2012 (
See all reviews by this customer
)
I am thrilled with the Gingham Growth Chart. The fabric is heavy duty and excellent quality. The personalization lettering was beautifully done. I am sure this is going to last my Grand Nephew for many, many years. As a side note, I had to contact customer service on this order and they could not have been nicer or more professional. I highly recommend this product and the site in general.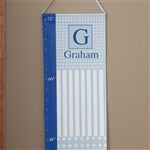 Adorable!!
By
Elvira K.

(New York, NY) - May 21, 2012 (
See all reviews by this customer
)
I got this growth chart in green to match my son's nursery, it's absolutely adorable! Great quality and so pretty, I almost don't wanna write on it:-) A great addition to any kid's room. Highly recommend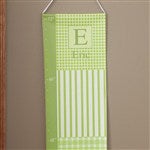 Love it!!
By
Rachel C.

(Chambersburg, PA) - May 7, 2012 (
See all reviews by this customer
)
I absolutely LOVE the growth charts I bought! I bought 2 of these one in blue an done in green and I just love them so much. Thay are exactly what I wanted and perfect for my boys! The only issue I had was the green name is hard to see because of the shade used but its not a huge deal! Would definitly reccomend this to friends...actually I already have!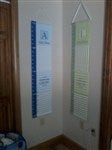 Growth Chart
By
Bernadette M.

(Bergenfield, NJ) - May 3, 2012 (
See all reviews by this customer
)
This growth chart is awesome..very durable if the child grabs it, very sturdy material..the print was high quality..I bought two one for my grandson and one for my great nephew..The parents were very pleased..and are enjoying marking the boys growth. I highly recommed it ...Being a Grandma of 3 I shop here very often and have never been disappointed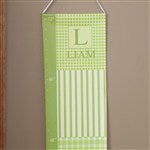 I love it
By
Shopper

(Harahan, LA) - February 28, 2012
I love the growth chart! I had been looking for a while and all I could find were ones that were hand painted and very costly. When I can across the Personalization Mall while browsing the web. The item is well made and was easy to hang. The hardest part was deciding where to hang it.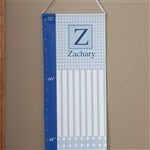 my daughter loved this!!
By
lee anne L.

(danville, CA) - January 15, 2012 (
See all reviews by this customer
)
sent this growth chart to my daughter for her newborn
son max. i thought it would be something to use for many
years. she said it was soooooo cute and that the quality
of the product was first rate.
it's hanging in his room just waiting for him to grow.
by my daughter's comments i would highly recommend this
gift.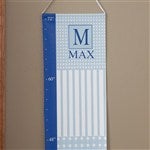 Excellent Gift
The quality was excellent and exactly what I wanted.
Babies get so many toys and clothes their first Christmas, and they out grow both very quickly. This was a great gift that they can keep for many years to come that shows how quickly they grow! I plan to buy more for any future neices / nephews! (Buying one now for my 5 month old son!)


Beautiful!!!
By
Claudia C.

(South Ozone Park, NY) - January 5, 2012 (
See all reviews by this customer
)
This is a Beautiful growth chart. The personalization looks very nice and the quality is very good! I'm thinking of buying one for my daughter!!! I highly recommend this product.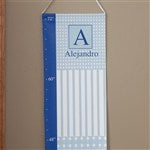 Great 1st christmas gift
By
Amanda F.

(Lenexa, KS) - December 21, 2011 (
See all reviews by this customer
)
We wanted to get our nephew a gift for his first Christmas that he could grow with since they don't really care about anything but the bows, paper and boxes this first year:) When we received this we were pleased with the quality, and our nephews parents loved the gift!

Wonderful!
By
Shopper

(Eau Claire, WI) - September 9, 2011
This is excellent quality--durable, well-constructed canvas. Very happy with this purchase.

very good product
By
Shopper

(Franklin, OH) - August 12, 2011
Great quality, wonderful price.

Great Product
By
Shopper

(San Leandro, CA) - July 31, 2011
Very nice.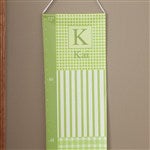 even nicer than expected
By
Shopper

(n grosvenordale, CT) - June 27, 2011
i'm very happy with this purchase. it's crisp, clean, and made well. it's a vinyl material that can be wiped clean. i have no doubt it'll hold up nicely throughout my son's life.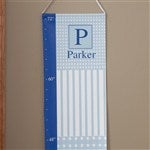 First Birthday
By
Shopper

(Aurora, CO) - March 12, 2011
This was a present for my grandson on his first birthday. His mom and dad hung it on the wall, and he walked up to it stretching his arms up as high as they would go. A picture we will all cherish for years to come.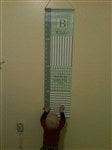 Classy
By
Shopper

(Deland, FL) - February 10, 2011
I liked this so much I not only bought one for my daughter but one for a friend. It's a nice, classy design that matches any decor. Great product!

great service!
By
Rachelle H.

(St. Louis, MO) - December 13, 2010 (
See all reviews by this customer
)
created and shipped so quickly!
great value!


Satisfied customer
By
Donna B.

(Glasgow, MO) - December 10, 2010 (
See all reviews by this customer
)
I ordered two personalized growth charts and they came surprisingly quick. They are adorable and I am completely satisfied with my purchase.

EXCELLENT
By
Barbara H.

(Coplay, PA) - December 9, 2010 (
See all reviews by this customer
)
I was very impressed with the quality of this growth chart. It is something that my grandson can grow into and not be outdated as he grows up.
It was perfect and I am extremely pleased with the quality and how fast it was delivered. I would highly reccommend this.

Reaching New Heights!
By
Patti M.

(Dillon, MT) - December 8, 2010 (
See all reviews by this customer
)
This beautifully personalized growth chart can hang proudly as the "growing attraction" in a room to watch growth or can conveniently be hung on the back of a door or rolled up on a shelf for easy storage. A forever keepsake for the parents & child to enjoy. We love the durable surface for marking new heights!

Great growth chart
By
Erin J.

(Brentwood, TN) - July 30, 2014 (
See all reviews by this customer
)
I liked these and the kids really liked their names on them. The material seems somewhat durable though time will tell. It has a ribbon that's used to hang it with and that could get some wear and tear if you have a youngster that likes to pull on things. :) You can use a pen on this but a sharpie is better. Enjoy!